Is 'The Long Island Medium' A Fake?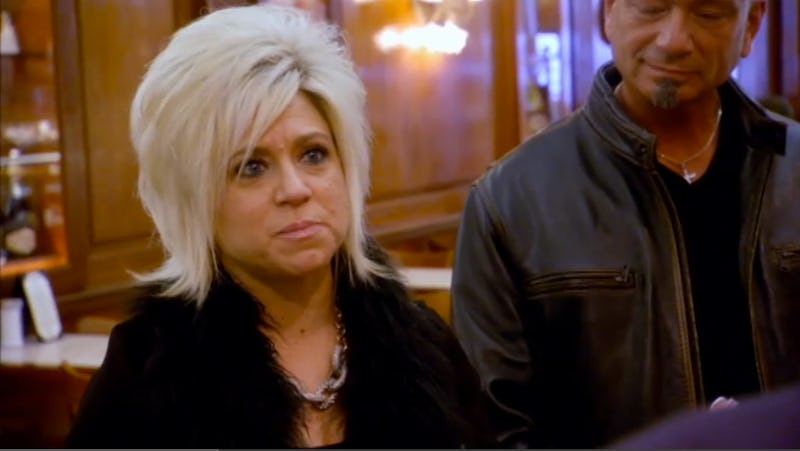 Every show on TLC really knows how to tug at your heartstrings, but The Long Island Medium does it pretty much better than anyone else. That is because the Long Island Medium herself, Theresa Caputo, has an amazing ability to connect strangers with their loved ones who have passed away. By communicating through "spirit," Caputo can learn how someone died, his or her nickname, and even deliver a message to the living. Her readings are so spot-on, it's freaky.
Maybe even a little too freaky for some people. When a person has a supernatural ability like this, there are of course going to be skeptics. Caputo encounters them all the time on her show, like when one self-proclaimed skeptic, Brian, started to believe after Caputo's tape recorder magically stopped without any prompting. Like with most issues in our society, the debate has mainly been alive and well on the Internet, the trolliest of troll-y places, since the show premiered back in 2011. Whether it's through opinion pieces, blog posts, or videos, there are plenty of people online who make it their mission to debunk Caputo's ability. So who are these people, and why do they think Caputo is not for real?
Caputo's main opponent is James Randi, a former magician and escape artist who now spends his days "as the world's most tireless investigator and demystifier of paranormal and pseudoscientific claims," according to his website. Randi is famous for his "One Million Dollar Paranormal Challenge," where anyone who can prove "evidence of any paranormal, supernatural, or occult power or event" will be awarded $1 million.
Randi claims Caputo uses a technique that many mediums employ called "cold reading," where it may look like Caputo is simply chatting with the person, but she's actually picking up information that she'll use to make what she says seem very specific to the person she's reading. He says Caputo's questions about initials and life events are basically just guesses that she hopes turn out to be true. Randi, who has also taken on the famous mediums John Edward and James Van Praagh, awarded Caputo a 2012 Pigasus Award, which is awarded to parapsychological frauds who are most harmful to society.
Inside Edition performed an entire investigation on Caputo in 2012, which found that she was much less accurate in her live readings than she is shown to be on her TV show, as she would "strike out time and again." Inside Edition had former psychic Mark Edward perform the "cold reading" techniques he believed Caputo uses, and the audience believed him. Caputo sent a statement to Inside Edition that read:
I respect and understand skeptics. I'm not trying to prove anything to anyone, that's not why I do what I do. I feel, and have been told by my clients, that my gift has really helped them, and that's all that matters to me.
After Caputo appeared on his talk show, Anderson Cooper also wasn't sure if her ability was legitimate. "I am skeptical. I think people so want to believe in things," he said in a behind-the-scenes video. Just this March, one skeptic named Rebecca Watson wrote an open letter to Ellen Degeneres asking her not to have Caputo on her show because she shouldn't be promoting people like Caputo who cannot really communicate with the dead.
We may never get definitive proof that Caputo is really a medium as she says she is, but whether you believe Caputo is genuine or not, doesn't the fact that she helps people find peace after their loved ones have passed count for something?