Remember When Seth Rogen was on 'Dawson's Creek?'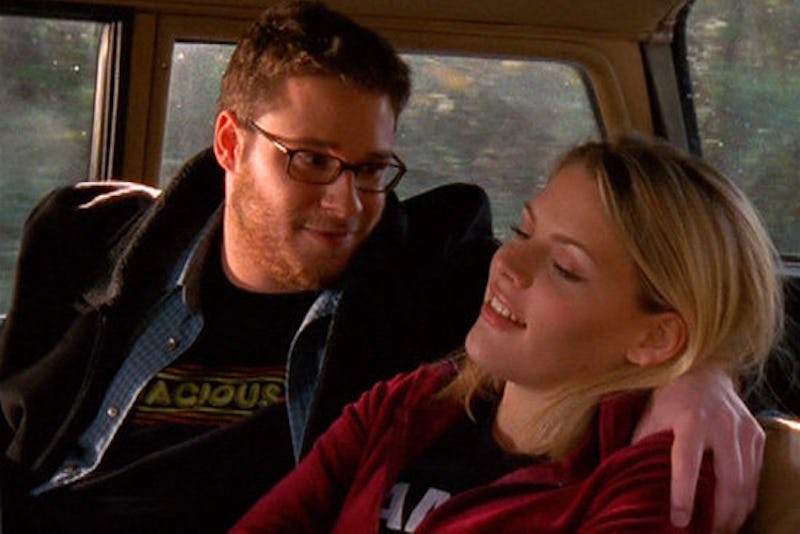 For a little WB show about teenagers, Dawson's Creek boasts one impressive legacy. In addition to all the teen soaps, high vocabularies, and Tumblr memes it's inspired, its four lead actors — James Van Der Beek, Katie Holmes, Joshua Jackson, and Michelle Williams, plus supporting member Busy Philipps — have all gone on to hugely successful Hollywood careers. With its "racy" material and frequent monologues, Dawson's might be something of a joke within today's TV circles, but there's no question that without it, Holmes, Williams, and the others would never have found the fame they have now or developed such long-lasting friendships. And, as it turns out, those five actors aren't the only ones who benefited from Kevin Williamson's teen drama.
If you haven't added Dawson's to your Netflix queue anytime recently (but really, why haven't you?), it might be hard to remember the insane amount of guest stars who appeared on the show over the course of its six seasons. While some of these actors never made it big, a surprising number of them went on to huge careers, if they hadn't had them already. In the name of nostalgia, let's take a look back at some of the best guest stars to ever grace Dawson's Creek:
Seth Rogen
Guest spot: Season 6, episode 13
Played: Bob, an obnoxious stoner who accompanies Joey (Holmes), Audrey (Philipps), and Eddie (Oliver Hudson) to Los Angeles. He farts a lot.
Memorable line: "Well, we didn't really do much talking, you know what I mean? We porked."
Chad Michael Murray
Guest spot: Season 5, several episodes
Played: Charlie Todd, the cheating ex of both Joey and Jen (Williams). Known for his hotness and debatable musical talent.
Memorable line: "I want you to want me," sung terribly off-key to Joey in an attempt to win her back.
Jane Lynch
Guest spot: Season 4, episode 12
Played: Pacey's religious, passive-aggressive mother.
Memorable line: "No matter how many times you let us down, sweetie, my faith will be there to pick you right back up."
Scott Foley
Guest spot: Season 1, several episodes
Played: Cliff, Jen's boyfriend, who plans an elaborate, terrifying prank on his date because some immature classmate told him she liked being scared. She did not.
Memorable line: Cliff: "So I went to Dawson and I asked his advice —"
Jen: "Wait, you asked Dawson's advice?"
Tony Hale
Guest spot: Season 4, episode 14
Played: Dr. Bronin, a doctor who informs Dawson (Van Der Beek) that he has to choose whether to take Mr. Brooks (Harve Presnell) off life support.
Memorable line: "Dawson, maybe you want to call your parents."
Julie Bowen
Guest spot: Season 3, episode 19
Played: Dawson's aunt Gwen, who invites her nephew, Joey, Pacey (Jackson) and Andie (Meredith Monroe) to spend Spring Break at her Vermont home.
Memorable line: "One thing worse than the pain of loss is the aching void of inaction." Because in the Dawson world, that's clearly how people speak.
Jonathan Lipnicki
Guest spot: Season 3, several episodes
Played: Buzz Thompson, an adorable, sarcastic kid who Pacey mentors.
Memorable line: "But when they really get to know you, they discover under the rough exterior lies a vulnerable, beating heart. Get real! I'm not like one of those kids on Seventh Heaven, and I'm not like you, Pissy."
Jennifer Morrison
Guest spot: Season 5, episodes 2 and 11
Played: Melanie, Pacey's old girlfriend who offers him a job working on a boat while sailing around Greece.
Memorable line: Pacey: "You ever heard of Civilization?"
Melanie: "As in the hippest restaurant in town?!"
Jensen Ackles
Guest Spot: Season 6, several episodes
Played: C.J., Jen's college boyfriend who sleeps with Audrey and gets into a fight with Pacey while at a No Doubt concert. The early '00s, guys.
Memorable line: "We haven't had sex in a week, Jen. Not since Grams went to bingo, that was a week ago today."
Images: The CW