How Will 'The Originals' End?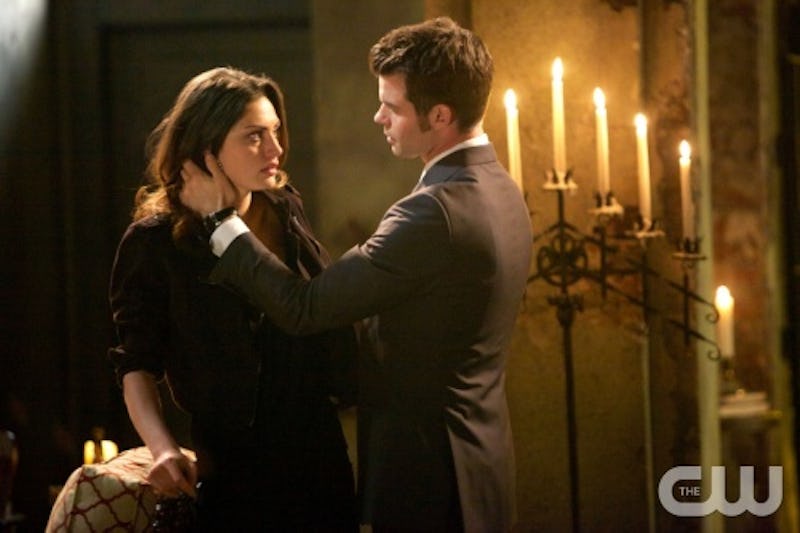 Ah, the drama of season finale double-booking. On Tuesday night the CW's freshman vampire drama The Originals will air its finale at 8 PM — during the very same time slot as FOX's veteran, somewhat struggling, musical dramedy Glee. And I know, you're kind of invested in what will happen with Rachel Berry's FOX development deal — but how can you resist the birth of the world's first hybrid baby? Choose wisely, people. Also, Originals star Joseph Morgan will be live-tweeting the sure-to-be-epic finale event. You don't want to pass that up or an opportunity to see another Hayley and Elijah kiss.
The past two weeks of Originals episodes have been game-changing, fast-paced doozies. And with the promise that the Season 1 finale will be the result of all of that drama coming to a head and taking everyone down in the process, you're going to want to be watching in real time. Or, as soon as you can. "From a Cradle to a Grave" is already boasting the birth of the long-time-gestating hybrid baby and a surprising, heartbreaking death that I'm willing to bet will be administered by Klaus.
Seriously, people, how are you going to pass up tuning into this level of drama? You're going to need something to talk about on Wednesday morning at work that's not the ill-fated engagement of Kurt Hummel and Blaine Anderson.
(Everyone on social media that will reveal spoilers all night.) If you do choose not to tune in live to The Originals finale (which is a HUGE mistake), there are other options available to you. Because, well, the Internet is a merciful place.
Online
The CW understands that you're a busy person with a busy TV schedule to match. Luckily for you, the network's official website allows you to stream current episodes a few days after they air. (This is also a great way to catch up if you're behind.) But, on the downside of convenience, you'll have to wait a few days — during which the entire episode will probably be spoiled for you. So, you probably should just watch in real time.
(This is what spoilers say to you trying to hide from them.)
On Demand
DON'T RELY ON ON DEMAND. I'm serious. Because your cable provider does not offer The CW's shows On Demand. If you're one of the many lucky cable subscribers, I'll assume you have a DVR box — so, I would go that route if you really can't tune in.
Buy It
Single episodes of The Originals are available on iTunes and Amazon.com for $2.99 in HD and $1.99 in SD (Amazon only). You'll probably have to wait a little while for them to become available and, yes, it'll cost you a few bucks — but a few dollars is a lot less than the emotional distress of a spoiler. Think about it.
Seriously, just watch The Originals' finale in real time. It'll be worth it. That's the best advice I can give you.
Images: The CW, wonderlandgirlforever/Tumblr, thedailyprophecy/Blogspot, cwtheoriginals/Tumblr (2)