He's Getting Emotional On Season 2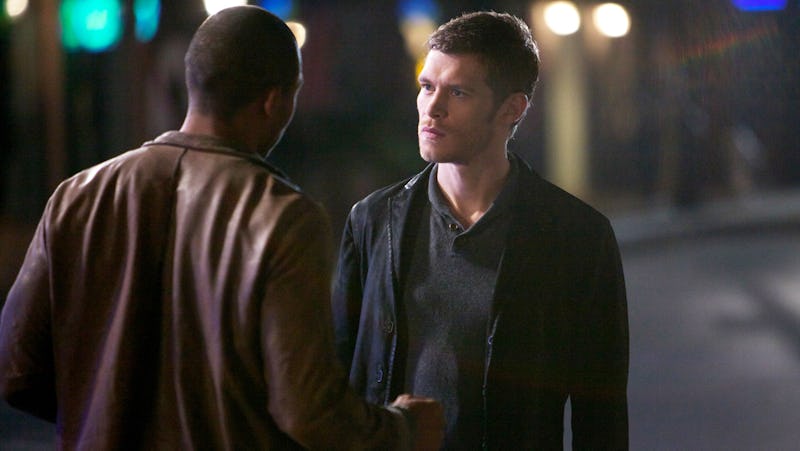 When you think of the CW's The Originals' main man, do you think — "Wow, that guy is sensitive?" Probably not, because Klaus Mikaelson is far from sensitive and emotional. The Originals has been renewed for Season 2 for a long time, so obviously, just ahead of the anticipated Season 1 finale, we're scrambling for as many spoilers as possible. We have to know if Klaus will be a good father to that soon-to-be born hybrid baby, right? Or, at the very least, whether or not he's going to rip Elijah's head off for kissing Hayley. And series star Joseph Morgan has dropped us some hints.
Here's the thing about Klaus — he's a wild card. We've seen hints throughout Season 1 that suggest that there's a sentimental, emotional man underneath that hybrid exterior. But though hints are usually coupled with Klaus making violent, fatal decisions — like ripping out hearts or throats. And, well, there was that one time in the pilot episode when he told the witches to kill Hayley and his future daughter. We've come to expect this type of behavior, but in recent interviews, it appears that Joseph Morgan — who's played the Mikaelson hybrid since Season 2 of The Vampire Diaries — is hinting at a major character shift in Season 2. And I'm pretty excited about it.
Why? Because The Originals has spent a long time following an emotionless Klaus. In Season 1, he killed a handful of people, banished his sister, entered relationships with women just to manipulate or use them for his own personal gain — Klaus was just a mess. And, though we're not calling for him to become the World's Number One Dad anytime soon, it will be interesting to see what Morgan does with the character when his walls are beginning to crack.
So where are we at, heading into Season 2 of the series? Morgan spoke to TVLine about what we can expect from our favorite, vindictive hybrid during the Season 1 finale and beyond and we're kind of surprised. First that, whether this baby lives or dies, Klaus will be changed for ever. Now, we've seen Klaus warm up to the idea of becoming a dad over the past few weeks — but, considering the fact that the show has been all about his constant paranoia, lack of emotion, and desire to fly solo, that's something very new. When asked about whether or not we'd see his child this season, Morgan told TVLine:
You know, I hope so. It's the one thing that's kept Klaus' humanity. He's slowly coming around to the idea of this baby, and if that baby isn't born — or is killed after it's born, or is taken from him — that will send him down a very dark path. And he's made so much progress this season, it would be a shame.
He's throwing around words like "progress" and "humanity" and explicitly stating that this baby is going to send him spiraling out of control if it's harmed. That's more or less saying that we're looking ahead to doting father Klaus in Season 2. Because there's no way that The Originals is going to kill that baby — they just won't. And that really might not be so bad. I've championed this series for steering clear of melodramatic romance in the past, but seeing Klaus struggle with who he was and who he is now, as a father, will be a fresh and welcome change.
But these aren't the only new words Morgan's thrown around while discussing Klaus' Season 1 finale role. The actor told the site that there's a necessary "heartbreaking decision" on the table for the hybrid. I didn't even think Klaus had a heart — okay, I know he did, but he seemed to have locked it away when he left Mystic Falls and Caroline Forbes behind. And yet, here we are seeing words that are suggesting that Klaus is a lot more emotional than we thought, deep down in that Mikael-damaged soul.
What does this mean for Season 2 Klaus? Potentially that we're going to see a lot more sulking or we're going to see him channel all of his emotional damage and pain into being the best father possible. The actor confirmed that we'll see Klaus find out about the kiss during the season finale. And Morgan went on to reveal that Klaus definitely believes that Hayley and Elijah could handle this baby thing alone. The actor revealed that the pair wouldn't even need Klaus because Elijah would be a much better father. So we might get to see him actually try to prove himself and grapple with the budding romance between Hayley and Elijah. The actor said of the big reveal of their relationship to Klaus:
I don't think it's going to go down too well. Klaus is very possessive over his siblings, and he wants to be the center of attention. That comes from his childhood, from being the outcast of his family. He tries to force his siblings' affection and love, and someone else being the subject of that won't sit well with him. Also, the fact that it's Hayley and she's carrying his child will be really difficult for him to get his head around. The truth is, they'd probably be better without Klaus. In a time of peace, when they could make a go of it as a family, Elijah would make a good father.
This sounds a little bit more than the Klaus we know — starving for attention and being possessive. But normally, he'd just forbid them from seeing one another, like he did with Rebekah and Marcel. And he's not. It appears that he'll actually try to come to terms with this relationship and allow for Elijah to live out his days without a White Oak stake through his heart. Now, that's progress.
Images: The CW, Fanpop, Giphy, Whifflegif