'Glee' Is Going Out With a Bang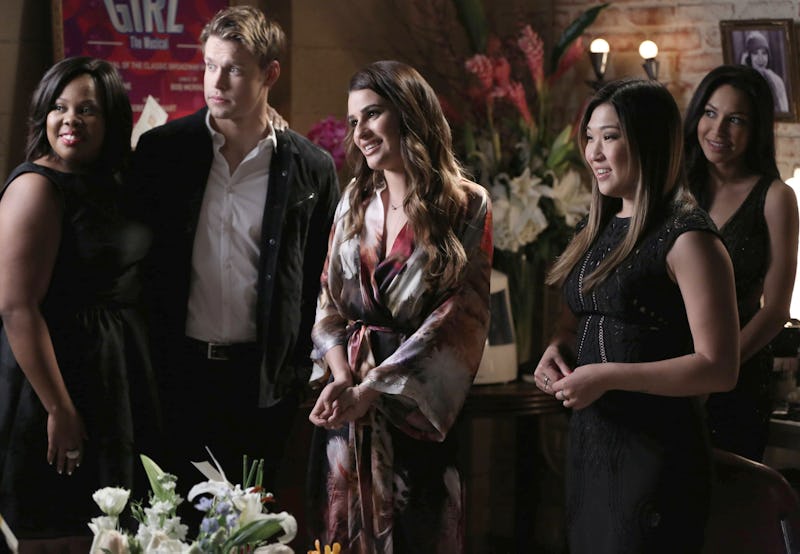 Another year, another season and Glee is about to air its last episode before its hiatus. With new beginnings in New York City for some, high school graduation for others, and the loss of Cory Monteith and his character Finn Hudson felt by all, this has been a season of transition for our beloved Glee characters like no other.
So Tuesday night's Season 5 finale is sure to be a doozy. Creator Ryan Murphy has already teased that something major is going to happen. Last week's preview showed Brittany and Blaine possibly hooking up and Kristen Schaal (The Daily Show, Bob's Burgers) and Shirley MacLaine are set to guest star. Um, ah-mazing. What more could you ask for in a season finale? We'll tell you: absolutely nothing.
If whatever excuse you have keeps you from watching the finale live (and it had better be a good one), luckily modern technology has afforded us such conveniences as streaming and on demand viewing. Here's how you can keep up to date with the crazy hijinks of this ragtag bunch and have a social life, if you're into that sort of thing.
Stream It For Free(ish)
Sometimes, you just gotta go to the source. Fox.com streams new episodes of Glee the day after they air. The catch is that in order to do so, you have to sign in with your TV service provider information. If you're one of those free spirits who doesn't like to be tied down to a cable box, then you'll have to wait to get your Glee on eight days after the finale airs. You could also try Hulu, but it's the same deal with the TV provider connection. But if you have a Hulu Plus subscription, you're good to go a day after the episode airs. And we all know someone with a Hulu Plus subscription, nudge nudge.
Demand It
Most cable providers offer Glee On Demand the day after the new episode airs, so if you don't have a DVR or are too lazy to record it (no judgment), get on that remote and click the "On Demand" button. You'll be transported to a magical world of TV and movies, and Glee should be nestled somewhere in FOX's programming list. Now the challenge is going to be feeling the urge to do something other than watch On Demand for the rest of the day. But, that's your misfortune.
Buy It
Anything can be yours... for a price (muahaha). Sorry about that. Anyway, save up a couple bucks and you can purchase the Glee finale from iTunes ($2.99), Amazon Instant Video (from $1.99), and Google Play ($1.99) right after the episode airs. But can you really put a price on happiness? Well... like we said, about $2.
Get a DVR, Already
This will seriously change your life. Never miss a moment of your fave shows and be able to leave the house once in a while? (We're not pushing it.) It's really better than your wildest dreams. Unless your wildest dreams are about watching last night's shows. In which case, it's exactly like your wildest dreams.
Image: Tyler Golden/FOX; klaineandcrisscolfer4ever/Tumblr; lopesberry/Tumblr;