Sia and Maddie Make a Good Team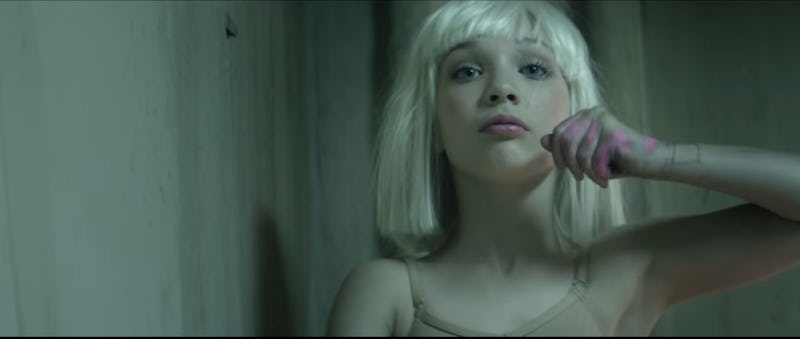 Last week, the music video for Sia's wonderful single "Chandelier" popped up on the Internet, and people be LOVING it. It's a hit! The video, which features be-wigged Dance Moms star Maddie Ziegler, combines three of my favorite things: 1) pop music, 2) reality TV, and 3) dance. It, like the song, is haunting and mesmerizing. And, as Popdust notes, the video has helped "Chandelier" make its way up the iTunes charts. This week, it cleared the iTunes top 40, and it's about gosh darn time! "Chandelier" debuted back in March, and it's crazy that it's taken this long for the phenomenal track to catch on.
Ziegler isn't the only reality TV star in the song's corner: The Voice's Kat Perkins performed "Chandelier" Monday night for over 10 million viewers, and her rendition has cracked the iTunes top 60. You bet your buns I'm diggin' all of this "Chandelier" buzz.
If you told me back in 2011 that the crown jewel of the Abby Lee Dance Company would one day flawlessly execute Ryan Heffington's choreography in a Sia music video, I'd stare at you for about thirty seconds. And then, I'd say, "That sounds too awesome to be real, but I hope you are telling the truth."
IT'S AWESOME. IT'S REAL.
So how does Abby Lee Miller feel about Ziegler's big music video performance? I was fortunate enough to interview Miller* about the "Chandelier" vid:
(*Haha, just kidding. I "chatted" with some GIFs.)
Hey, Abby? Did you see the Sia music video?
I know, right? That Maddie is something else.
People love the music video! And the song! And Maddie is a part of all of it!
What do you think of the choreography?
It's a bit of a departure from Abby Lee Dance Company style choreo.
Do you dig it?
Aw, that's so supportive!
Thanks for chatting with me! Anything else you'd like to add?
I... uh...
Yes, Miss Abby.
Goodbye, Miss Abby.
Images: Sia/YouTube; realitytvgifs/tumblr (8); palebluepink/tumblr (2)