'The Originals' Finale Cliffhanger Was Chilling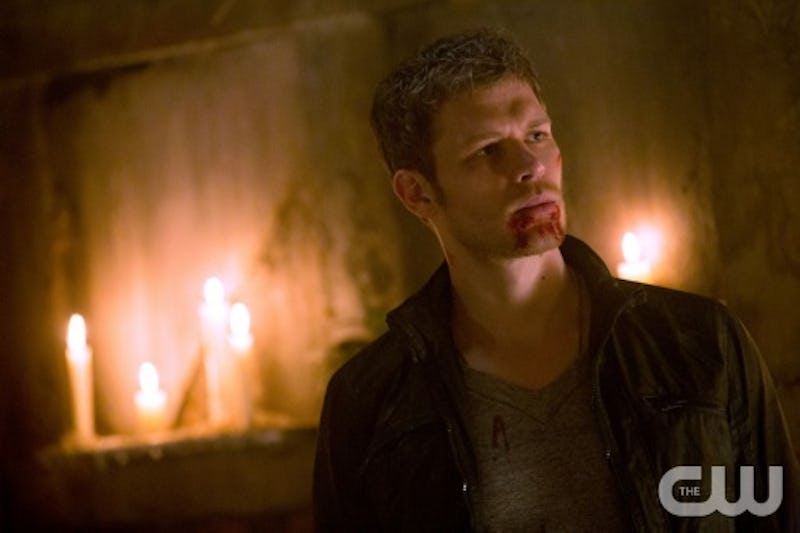 Holy finale cliffhanger — no one knows how to do it like Julie Plec. The Originals Season 1 finale was everything it promised to be. It was terrifying, it was emotional, and it went out with a bang. Well, except for the big death part. And, just like Joseph Morgan teased, its cliffhanger was off the charts — even for a series helmed by Plec. Tuesday night's finale, "From a Cradle to a Grave," had Davina finally give in and bring back Mikael Mikaelson, but it didn't stop there. In the final moments of the finale, the show revealed that the Original Witch, Esther Mikaelson is back as well. And we're in for yet another version of hell in Season 2.
There was mention of completing The Harvest during this episode. Monique was the first to mention it when she revealed that she wanted Genevieve to fail to sacrifice the hybrid baby. The raging sociopath hoped that she could then complete the ritual and kill Genevieve, so as to resurrect the fourth witch killed during The Harvest ritual — Cassie. Monique ended up dying, as did the other young Harvest witch, and Genevieve, so when we saw Cassie walking creepily through the cemetery during the final moments of the episode we weren't concerned. It made perfect sense that Cassie would come back to life now that Genevieve had ceased to take her place in this world.
Except, that witch isn't Cassie — well, it's Cassie's body but there's someone else inside. Much like when Celeste inhabited Sabine's body in secret during the first half of Season 1 — Esther Mikaelson has taken up shop in Cassie's body. AND she's somehow brought someone else back with her. The final moments of the episode showed Esther-as-Cassie laying a single red rose on the plaque marking where her consecrated remains are buried. A young man she's with says, "May you rest in peace," and Esther chuckles before asking what fun would that be before asking him to come along and replied with, "Yes, mother."
Are you confused? Because I was. I actually needed to re-watch the final few moments of the episode a few times before I made the connection. We don't know who the young man is that's with Esther-as-Cassie, but there's someone else inside of him as well — someone extremely dangerous to Klaus and Elijah — Finn Mikaelson. Esther's prodigal son that tried to help her exterminate her children a few seasons ago on The Vampire Diaries.
Everyone thought Esther would control the witches from The Other Side and force them to search for the hybrid baby, who was officially named Hope Mikaelson on Tuesday night. But, apparently, she's going to head that search herself — and Hayley, Elijah, and Klaus have no idea what's coming for them.
Okay, so does Season 2 start next week? Even though I still haven't shaken the chill up my spine from watching Esther-as-Cassie walk through the cemetery. Exceptionally creepy.
Image: The CW