Where's Ferguson from 'Clarissa Explains It All'?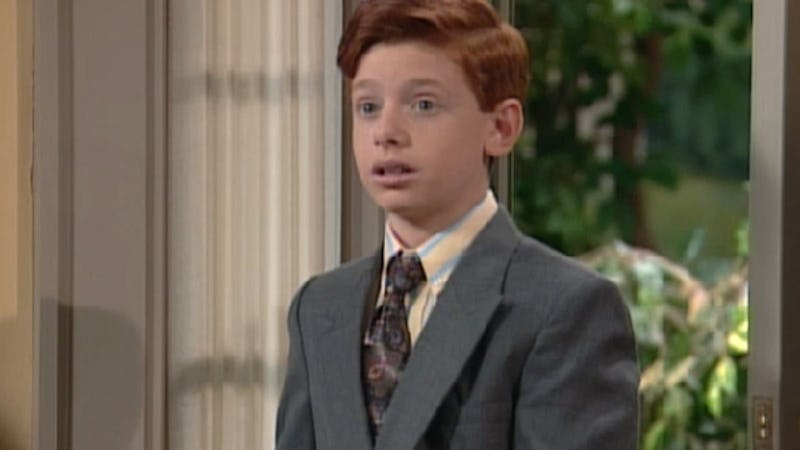 If you were to ask some now-grown '90s kids who their favorite character from Clarissa Explains It All was, plenty of people would remember their idolization of Melissa Joan Hart's Clarissa Darling or the secret crushes they had on her neighbor Sam. Some people might even choose one of Clarissa's parents, who looking back, were actually kind of awesome. But odds are, no one would choose Clarissa's younger brother Ferguson. Poor Ferg, the kid was easily one of TV's most annoying younger siblings and considering the slate of '90s family sitcoms, that's really saying something.
Ferguson also stands out from the rest of Clarissa's cast for something besides being the series' least favorite character. He's the only one who's pretty much disappeared since Clarissa Explains It All ended in 1994. Of course, most of us have followed Hart's career from Clarissa to Sabrina and beyond, while Mr. Darling plays Pete's father-in-law on Mad Men and Mrs. Darling has had a few small roles in film and television.
But what happened to Ferguson? Or rather, what happened to Jason Zimbler, the child actor who played Ferguson with bratty perfection?
That's Ferguson, I mean, Zimbler, in 2007. Since his Nickelodeon days ended, he's been about as boring as you would expect a grown up Ferguson to be. Clarissa Explains It All was Zimbler's last TV role. He was 17 when the series ended and decided to go to college, graduating from the University of Notre Dame in 1998. After that, he turned his focus to theater, acting in the Broadway musical Shenendoah and directing some shows for the Impetuous Theater Group.
The photo above is taken from a cool thing he's done since Clarissa Explains It All, starring in a music video for the band The XYZ Affair alongside some other former Nickelodeon stars. It's actually worth watching, since you also get a look at an older Big Pete from Pete & Pete (Michael Maronna), Bobby from Salute Your Shorts (Danny Cooksey), and Marc Summers.
After that, Zimbler started a theater company in Portland called The Re-Theatre Instrument that produced unique adaptations of classic plays. It ended in 2010, however, when Zimbler's search for a temporary job in New York landed him a full-time position at HBO and he decided to accept it. Without a Twitter or public Facebook page, that's the last we've heard of Ferguson, working as a software designer for HBO.
It may not be the traditional path for a child star, but if you had to pick one Nickelodeon character to end up working as a software designer far from the public eye, wouldn't it be Ferguson?
Image: Nickelodeon; The XYZ Affair/Youtube