15 Dating Lessons We Learned from SNICK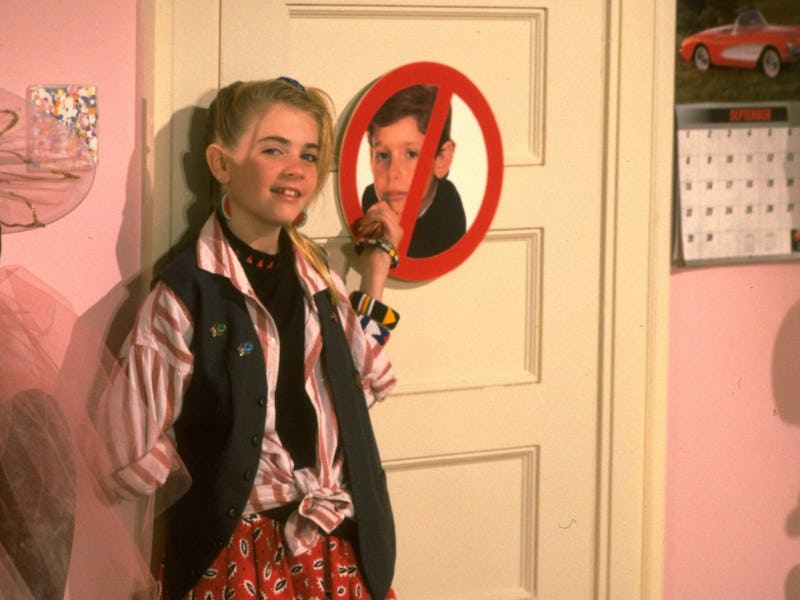 Back when you were too young for two-for-one drink specials, bad decision-making, and other adult Saturday night pleasures, you had to make do with SNICK. Yes, that's right, we're talking about Saturday Night Nickelodeon. You remember, the weekly block of programming that ran from 1992 to 2004, featuring classics like The Adventures of Pete & Pete , All That , Are You Afraid of the Dark? , Clarissa Explains It All , The Secret World of Alex Mack , and Kenan & Kel? The weekly evening of cosmopolitan entertainment convinced you that you were a hip, sophisticated young person who was practically a teenager, even though it often included Rugrats. And it was wonderful. In addition to keeping you busy while your parents got snockered on white wine spritzers, SNICK also served as a one-stop basic cable shop where you could learn about all facets of the human experience: terror, adventure, and a guy who kept an unreasonable amount of fish and tires in his pants. All of life's biggest mysteries were explained on that big orange couch. And those mysteries, much like Clarissa Darling's polka-dotted bike shorts, had more of an impact on our developing minds than we'll probably ever be able to truly understand.Thankfully, the lessons that SNICK taught us about dating were all totally true, and can be easily and effectively applied to our adult(ish) lives! Lessons like...
ALL ANYBODY REALLY WANTS IS A LITTLE ATTENTION
Whether human, ghost, or otherwise, we all just really want one thing: for someone to make us feel special. So make sure to read your crush's blog, solve the mystery of their untimely death, or ask about the marathon they're training for. And if your crush is actually emotionally unavailable because s/he is a ghost eternally trapped inside an enchanted mirror, best to find out now.
LET PEOPLE KNOW HOW MUCH YOU CARE
Yes, we know it's better to go to jail for shoplifting hemorrhoid cream than to admit to someone that you actually like them. But you know what? Screw that. You'll save your fans a lot of time.
BE DIRECT
Maybe it'll work out (like Pete and Ellen that one time) or maybe it won't (like Pete and Ellen that other time), but you'll never know until you try.
MAKE SURE YOU DON'T OVERLOOK THE options CLOSEST TO YOU
I'm not saying you have to go marry your second grade boyfriend (though he did have quite a way with his K'Nex...). But do check to make sure that 'platonic friend' who is always emotionally supporting you and taking your phone calls in the middle of the night isn't actually the love of your life. Can you believe Clarissa spent five seasons so distracted by her pet alligator and collection of 'statement' headbands that she overlooked this neon-clad man-babe?
When in doubt, eat (or drink) your feelings
You, like Kel, might just then find yourself in the most successful relationship of your life.
ONCE YOU FIND SOMEONE, DON'T LOSE ALL YOUR COMMON SENSE
It's a serious piece of Vital Information.
BEING A DECENT HUMAN BEING IS THE BEST APHRODISIAC
People around you notice, if even if you think they don't.
CUT LOOSE EVERY ONCE IN A WHILE
Dating is supposed to be fun, right? At least, you thought it was going to be fun, back when you were a kid and you could only hang around and watch SNICK on a Saturday night and not date anyone. Don't let that innocent child down! Appreciate the cool life you lead! Keep your spirits up even when things seem hard. Ren and Stimpy always did.
MAKE SURE YOU KNOW HOW TO GRAB SOMEONE'S ATTENTION
Just like Alex Mack, you're full of exciting, hidden depths and cool secret talents, so show them off. (I mean, ideally without ruining someone's hat, but if that's what it takes in this competitive dating market, so be it.)
FAKE IT TIL YOU MAKE IT
Just like good ol' Spongebob, you can show the world your confident facade, and no one (besides the pink starfish you happen to have a close personal relationship with) has to know how your true nature.
SAVE THE PSYCHEDELIC TIME WARPS UNTIL AT LEAST THE THIRD MONTH OF DATING
Lead with your Big Pete side, and reveal your freaky Little Pete side when you feel comfortable.
KNOW WHAT YOU WANT, WHAT YOU REALLY, REALLY WANT
And when that doesn't work, just let the Spice Girls take care of all the really tough questions in your life.
HOPE FOR THE BEST...
…BUT PREPARE FOR THE WORST.
ALWAYS TRY TO LOOK PAST THE SURFACE
Because, sometimes, someone's dorky tween brother (with a hair-part that kind of makes his head look like a butt) grows up to be Ryan Gosling.
And you're going to need him when you re-watch this scary shit.
Images: Nickelodeon; theautumnissue.com, 1, 2, 3, 4, 5, 6, 7, 8, 9, 10, 11, 12, 13, 14, 15