Fox Really Wants You To Watch 'Idol' Live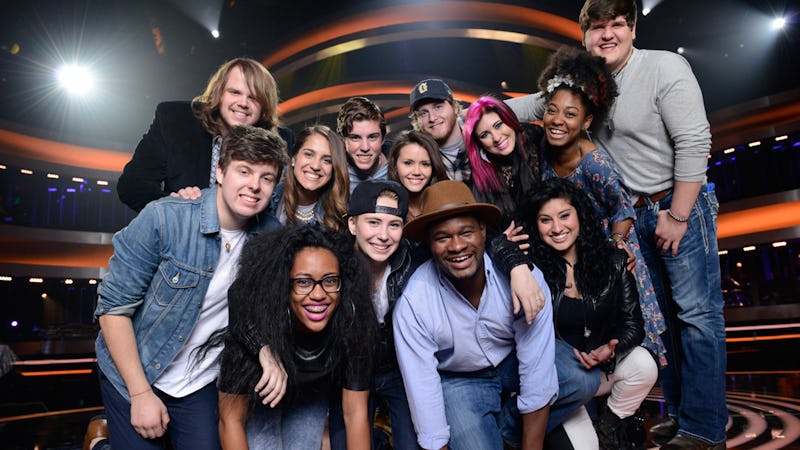 It's almost time to crown a new American Idol. The Season 13 finale of American Idol airs in two parts this Tuesday and Wednesday at 8 PM, and the competition is sure to be fierce between the two finalists. It was just last week that we bid adieu to Alex Preston, the 21-year-old singer-songwriter, who was eliminated after the hometown round. Now Jena Irene and Caleb Johnson must battle it out for the ultimate title. Who will be crowed the Season 13 victor? Will it Irene, the 17-year-old "Wild Card" performer from Michigan who wowed everyone with her rendition of Radiohead's "Creep" last week? Or will it be Johnson, the 23-year-old rock n' roller who belted out the Imagine Dragons hit "Demons?" Both contestants are enormously talented, which means that it's up to you, America, to decide who is worthy of the ultimate prize.
But finding out who will be America's latest reigning champ isn't the only reason to tune in to Season 13 of American Idol. Why else should you watch the singing competition? According to Fox, American Idol may shape up to look very different next year. Though judges Jennifer Lopez, Keith Urban, and Henry Connick Jr. are slated to return along with host Ryan Seacrest, the show may be downsized. According to Fox, there is a chance that American Idol will be only one night a week in Season 14. Though the show may have two-episodes per week in the audition phase of the show, there's a strong chance that Idol will take a page from shows like Dancing With The Stars and trim down to a single episode per week.
This might be the last time American Idol is in its original format, which mean that Idol fans should tune into the show this week. But what if you (gasp!) can't watch the show live? While it isn't the easiest show to watch after the fact (perhaps because of the importance of the "live" aspect of the show) you do have a few options to watch Idol after the winner has been crowned.
And if your friends try to talk spoilers with you BEFORE you watch the show? Tell them to shut up — you can chat about the show after you've seen it.
Hit Up Hulu For Some Juicy Clips
In a perfect world, Hulu would allow you to stream full episodes of American Idol. Unfortunately, we don't live in a perfect world, and full episodes of the show are not currently available on the site. There is good news, though, for fans who are more interested in the actual singing than in the competition: Hulu will allow you to watch clips of the American Idol performances the next day. (This way, you can automatically skip the boring judging part, am I right?)
Head Over To Fox
What does Fox say? Fox says that you also can't watch full American Idol episodes on their website. (Uh, at least we have that answer, right?) Like with Hulu, you can still get a small dose of American Idol with featured clips that are hosted on Fox's AmericanIdol.com and Fox's YouTube channel.
Check Out Your Cable Provider's On Demand Services
Strangely, the internet is not particularly helpful when looking for places to watch American Idol online — even iTunes and Amazon are American Idol-free zones. Luckily you're not at a total loss — if you have cable, that is. Verizon Fios hosts American Idol episodes on demand — as well as a mobile on demand feature — and also features additional "extra" segments for the very passionate Idol fan. You can see the latest American Idol episode the day after it airs and, currently, up to a week after its air date. DirecTV also features Idol on demand, and gives you the option of setting your DVR to record via its website. If you have a DVR, DVRing Idol guarantees that you'll be able to watch the singing competition — and will allow you to fast-forward through all of those pesky commercials.
Sadly, American Idol is one of the most difficult shows to watch after the fact — perhaps because Fox really, really wants you to tune in live. DVRing Idol in advanced is by far your best bet if you're after the entire episode, but luckily, you'll be able watch performances of the show over and over again with sites like Hulu and Fox. (After all, it's really about the music, right?)
The American Idol finale airs Tuesday and Wednesday at 8 PM on Fox.
Image: Fox, giphy