Every One Of Your Crushes Is In This Movie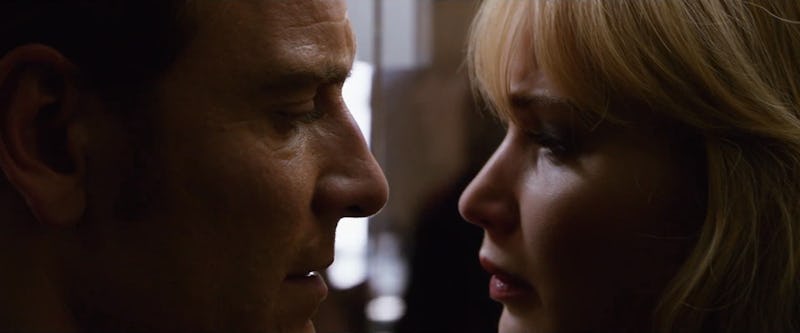 The all-star cast of the latest chapter in the Marvel saga, X-Men: Days of Future Past, is a veritable who's who of Hollywood's A-list gearing up to play a band of mutant superheroes. It's also pretty much everyone that you and the entire Internet have a collective crush on. I mean, look at just some that cast: Michael Fassbender, James McAvoy, Hugh Jackman (never stop dancing, fellas), Everyone on the Planet's Crush Jennifer Lawrence, Nicholas Hoult, Ellen Page, Peter Dinklage, Halle Berry, Anna Paquin, and the Internet's favorite BFFs, the darling Patrick Stewart and Sir Ian McKellen. Are you kidding?! It's like the Internet took all their favorite people, slapped some sexy superhero costumes on them, and made the movie of their dreams. (Hey, and just wait until Channing Tatum joins the mix. All bets are off.)
If we're going pound-for-pound for the most hotties on one screen this summer, X-Men Days of Future Past simply can't be beat. Guardians of the Galaxy makes a valiant effort with Chris Pratt, Zoe Saldana, and Bradley Cooper, while Jupiter Ascending is a threat with Mila Kunis, Sean Bean, and Channing Tatum. Ah, who are we kidding? No one can top the sexy X-Men cast, which has no less than a dozen bona fide crushes.
But does X-Men Days of Future Past (which opens in theaters on Friday) have the most crushes per capita? We take a look back at five other crush-worthy casts:
St. Elmo's Fire
Crush Count: Demi Moore, Emilio Estevez, Rob Lowe, Andrew McCarthy, Ally Sheedy, Judd Nelson, Mare Winningham, Andie McDowell.
Verdict: The Brat Pack made having a crush in the '80s just so damn easy. They all traveled in a pack, after all. While The Outsiders is arguably the most crush-packed '80s movie, St. Elmo's Fire had someone for everyone.
Ocean's Eleven
Crush Count: George Clooney, Brad Pitt, Julia Roberts, Matt Damon, Don Cheadle, Casey Affleck, Andy Garcia, Scott Caan.
Verdict: With faces like that, no wonder they got away with as much as they did.
Star Trek Into Darkness
Crush Count: Chris Pine, Alice Eve, Benedict Cumberbatch, Zachary Quinto, John Cho, Zoe Saldana, Karl Urban, Anton Yelchin, Simon Pegg
Verdict: Sure this is an even nerdier dream girl/guy cast than X-Men, but there's a plethora of out-of-this-world crushes here that's hard to deny.
Thor: The Dark World
Crush Count: Chris Hemsworth, Natalie Portman, Tom Hiddleston, Idris Elba, Kat Dennings, Zachary Levi, Jaimie Alexander, Rene Russo
Verdict: You know it's a top-shelf cast when it's nearly impossible to pick who is the most attractive.
This is the End
Crush Count: James Franco, Emma Watson, Seth Rogen, Jay Baruchel, Mindy Kaling, Rihanna, Paul Rudd, Channing Tatum, Aziz Ansari, Jason Segel, and the Backstreet Boys, among countless others.
Verdict: Okay, this one isn't really fair considering just about everyone in Hollywood made in appearance in this movie. Still, we weren't complaining.
Images: 20th Century Fox; Columbia Pictures; Warner Bros. Pictures; Paramount Pictures; Walt Disney Studios; Columbia Pictures