Why the 'Spring Breakers' Sequel Might Not Happen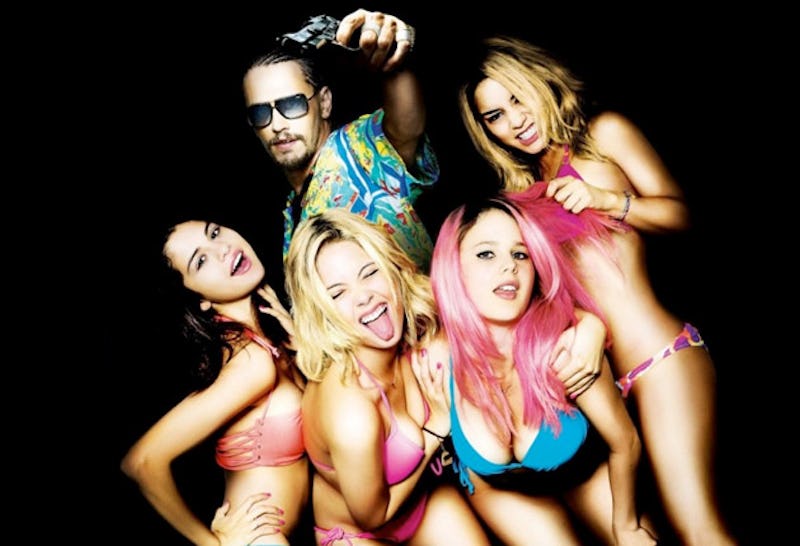 Spring Breakers: The Second Coming producer Chris Hanley can't seem to catch a break this week. First James Franco tantrums at him via Instagram; then, when he tries to deflect that criticism with a rumor of Pussy Riot's involvement in the film, the band calls it out as a publicity stunt; and now, it seems, he's gotten himself into some legal trouble. According to Deadline, not only is Hanley named as part of the $1.39 million dollar lawsuit against the original Spring Breakers by a disgruntled investor, but he and his production company, Muse Productions, are also now being sued by Periscope Entertainment for dodging a $300,000 payment.
The lawsuit, filed on Monday, stipulates that Hanley was already ordered to pay that amount to Periscope following a judgment two months ago, in regards to the film London Fields (a crime thriller starring Amber Heard and Billy Bob Thornton, set for release later this year). Periscope also alleges that Muse Productions tried to get out of paying by having "fraudulently transferred" ownership of London Fields, while also transferring money to Nicola Six Ltd., a company co-owned by — wait for it — Hanley's fellow Spring Breakers: The Second Coming producers, his wife Roberta Hanley and their partner Jordan Gertner. In retaliation for all of this, Periscope is seeking a temporary restraining order, an injunction, and a lien on the Spring Breakers sequel — which essentially means that, until Hanley and Co. pay back their debt, they can't continue production on their new film.
So, while this news does not bode well for anyone who was super stoked on Hanley's proposed "radical innovations" (which, really, anyone?), the fact remains that nothing is officially doomed quite yet, just postponed. And worst case, even if Periscope wins the day and Spring Breakers: The Second Coming is ultimately no more, it sounds like there's enough intrigue in Hanley's own story for a compelling hour plus of screentime. Why not just ditch the sequel itself and get Franco with it — make a movie about trying to make the movie? Honestly, I bet Franco would be super on board.
Image: Muse Productions