Are Her New Heels Too High?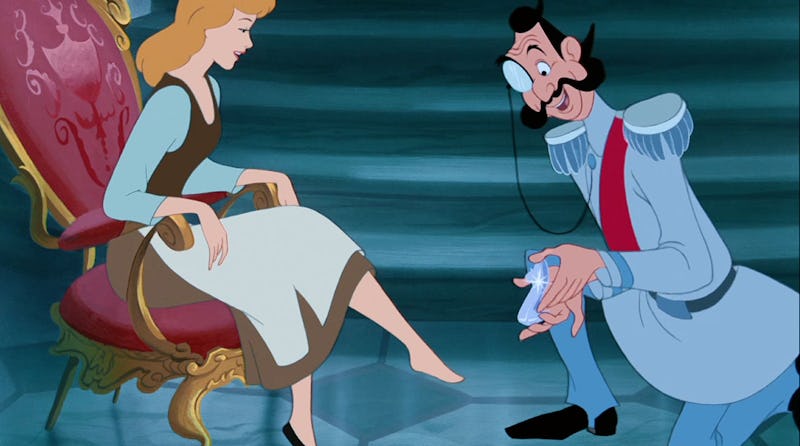 In an incredibly brief blog post, sociology professor Lisa Wade brought all our attention to the glass slipper pictured in the trailer of the Cinderella remake (due out in 2015). There isn't much text, but her headline, "Sunday Fun: Cinderella And The Glass Stripper Slipper" makes her opinion of the new, higher heels pretty freakin' clear. Now people are unofficially (so far) petitioning to let Cinderella wear flats in the new movie because the handsome prince should marry you for your smarts and hilarious sense of humor, not how high your heels are.
And, okay, fair point. And, honestly, the new shoes are definitely a couple inches higher than the original Disney cartoon — despite kitten heels making a comeback in modern, non-fairytale land. Stripper heels, though? I'm not entirely sold on that casually offensive label, mostly because no sensible exotic dancer would ever wear shoes made out of glass. Are you kidding? That is highly impractical. Plus, that butterfly is just sort of tacky.
Still, in a sad world where women are literally getting things called "Cinderella procedures" to alter their feet so they fit better in high heels — am I doing fashion wrong?? — our princesses probably should be making more responsible style choices. After all, wearing sneakers with your ball gown is totally acceptable now. I'll let you check out the side by side below and decide on your own if Cinderellie's heels are out of control.
Images: Disney