Kitten Heels Are Trendy Again? 5 Ways to Rock Them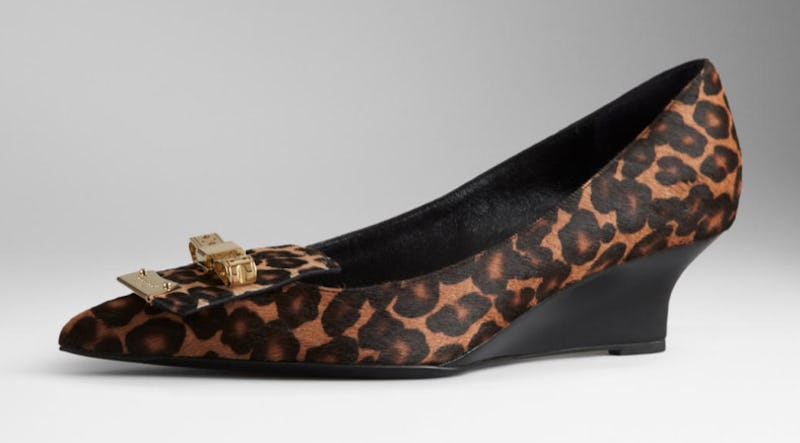 Kitten heels became popular in the 1950s as a way for young girls to practice walking in heels before wearing actual heels. They soon became popular with grown-up women who were looking for an easy heel to get around in. Their past is evident, as the shoe has always had a slightly dated look to it, an air of not-a-real-heel. But fashion is always cycling back around, and kitten heels are trendy again — even the shoe queen herself, Sarah Jessica Parker, is designing a collection. So maybe we should start thinking of kitten heels as timeless instead of a cop-out — after all, they are a refreshing change from a season of creepers.
To keep your tiny-heeled look from falling into the realm of the 1950s school potluck, keep a few stylistic points in mind:
1. Make sure the heel is proportional to the rest of the shoe. You know those super skinny kitten heels that sort of jut out from the sole of the shoe like forgotten icicles? Those look dated and don't do your foot any favors. Look for heels that are a graceful extension of the shoe, not an awkward afterthought.
2. Do patterns. A demure heel in a loud pattern feels very modern right now, and sort of charmingly ironic. If you're worried about looking like a square, let the colors do the talking.
3. Avoid sling-backs. Kitten-heeled sling-backed combinations are available from multiple hot designers right now, but the combination is just so secretarial.
4. Play with texture. Metallics, ponyhair, leather, colorblocking, and ankle straps! Just not all at the same time, please.
5. Cut-outs are sexy. A coy heel with a dramatic cut-out is the ultimate look for femme fatales everywhere this fall. Pair with cuffed skinny jeans and a mysterious mission — suddenly the heel's not looking so kittenish anymore, is it?