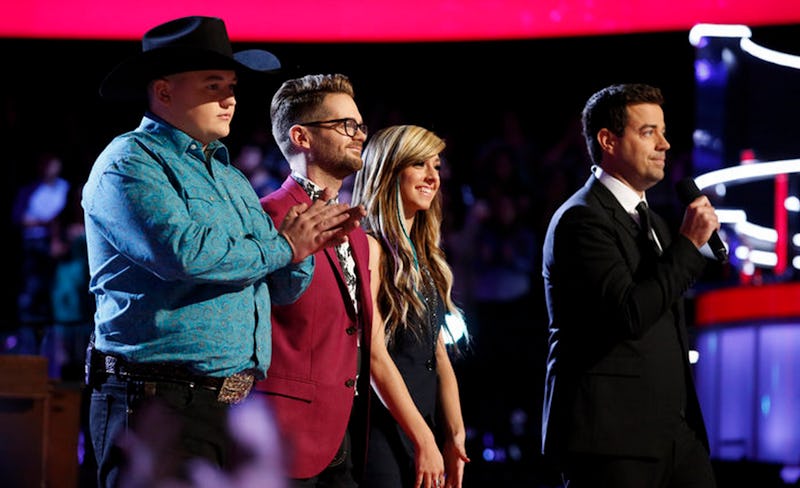 There were a whopping two hours (three, if you count the totally necessary hour-long pre-show recap of Monday night's episode) (can you sense my sarcasm?) of Voice finale to wade through Tuesday night. Part of me worried that the results would never actually happen. Alas, my anxiety was all for naught! The show didn't cut out before the winner was named. Carson Daly didn't pull any last-minute stunts. There wasn't a "JUST KIDDING! The winner will be announced next week! And the Instant Save will return!" moment. (There was an "Oops! The iTunes voting has to be tossed out completely due to a glitch! Don't worry, it didn't effect the outcome!" moment.) As Carson promised, the winner of the sixth season of The Voice was crowned.
So, was it the soulful Josh Kaufman? The teen powerhouse Christina Grimmie? Or darling country crooner Jake Worthington?
Enough jibber-jabber, let's cut right to the chase: Christina landed in the third place spot (WELP, my prediction that she'd win the whole thing was off), Jake took second, and Josh won the show!
YAAAAAAAAAAAAAAAAAAS!!!!!! Oh, this makes me so happy. What a slam dunk of a win. Josh possesses such a dynamic, strong, and freakin' beautiful voice. And! He's been consistently awesome throughout the season. AND!!! I really like him! So stoked he won.
A few finale notes:
My heart melted when Shakira and Usher said their goodbyes and thank yous. It melted a second time when the the coaches did their group hug. And it melted a third time when Carson said, "Come back and see us. Once you have a big red chair, you have it for life." I'LL MISS YA, SHAK AND USHER.
Adam said if Christina didn't win, he'd sign her to his label. Aw, ADAM!
Josh, Sisaundra Lewis, T.J. Wilkens, and Stevie Jo sang "Am I Wrong" and it was not wrong. It was RIGHT. It was so RIGHT. Josh assembled a dream team. Oof, they slayed.
The guest performers included: One Republic, Ed Sheeran, Justin Moore, Alabama, Robin Thicke, Tim McGraw, and Coldplay. Oh, and! Former Season 6 competitors. 'Twas a lonnnnng night.
I'M SO GLAD JOSH WON! AHHHHHHHHHHHHHHH!
Looks like we made it. Look how far we've come, my friend-ay. We mighta took the long way, we knew we'd get there someday.
So long! Farewell! Season 6 is done, Goodbye!
Image: Trae Patton/NBC