Who Has The Best Chance Of Winning The Voice?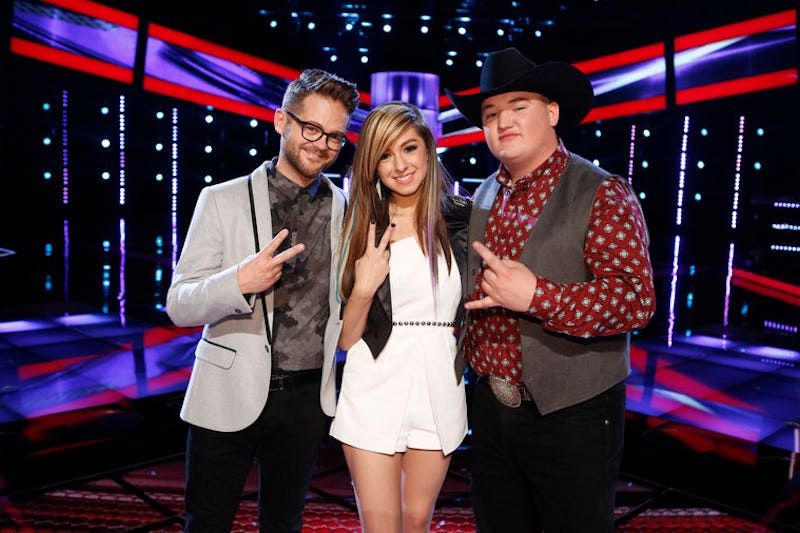 The time has come once again for America to wield way too much power and pick the winner of Season 6 of NBC's The Voice . It's been a competition filled with an obscene number of country singers, remarkable performances, and much-deserved applause. But in the end, there can only be one victor. (If only this show was actually Hunger Games-esque, then it'd really bury American Idol in the ground once and for all.)
The judges have done a solid job of hanging on to their best singers, and now it comes down to Team Adam's Christina Grimmie, Team Blake's Jake Worthington, and Team Usher's Josh Kaufman. (Sorry, Shakira — it was time for you to go.) What's cool about the remaining contestants is that they attract a wide array of fans. Grimmie covers the teenage demographic, Worthington appeals to the country music fans, and Kaufman is for everyone else (which, to be fair, is a lot of people). They're all strong performers in their intended genre, and it's truly up in the air as to who will win — although we definitely have our guesses.
Based on their overall progress and success on the show, let's check out the three remaining singers and what they've brought to the stage:
Jake Worthington
Why he could win: Worthington, the southern cherub of the bunch, truly knows how to woo an audience (mostly because he's completely oblivious to the fact that he's doing it). We've been told time and time again that the humility and gratefulness he shows on stage is a true representation of who he is as a person, and that might just be enough to sway votes his way. And of course, Worthington is an absolutely amazing country singer. As his coach Blake Shelton has mentioned before, Worthington represents an old-school type of country music that hasn't been sung by teenagers in a long time, and that could be the direction that country fans want their music to head in.
Josh Kaufman
Why he could win: To put it simply, Kaufman has one of the strongest voices in the entire competition. Week after week the coaches praise him for the ease in which he sings, and without fail, Adam Levine laments the fact that he gave up Kaufman to Usher (definite mistake). While the dad of three might not have all of the teenager or country votes, he has a unique and cross-generational voice that is a match made in heaven for the radio.
Christina Grimmie
Why she could win: Although her recent outfits might have provoked a few head tilts, the R&B-ish singer knows how to put on one hell of a performance. She might just be a teenager, but Grimmie has the lung capacity to belt out notes that Christina Aguilera would be proud of. Not only that, but she has some serious attitude and flair that shows the audience that she has the potential to be an entertainer, not just a singer.
So Who'll Take The Cake?
Unless Shelton and Levine are able to rally their troops (country music fans and teenagers, respectively), then Kaufman will and should win. But then again, never underestimate the power of teenagers and country music fans (because they can be quite passionate).
Images: Trae Patton/NBC (2); Tyler Golden/NBC (2)