Real Nice, Twitter. Real Nice.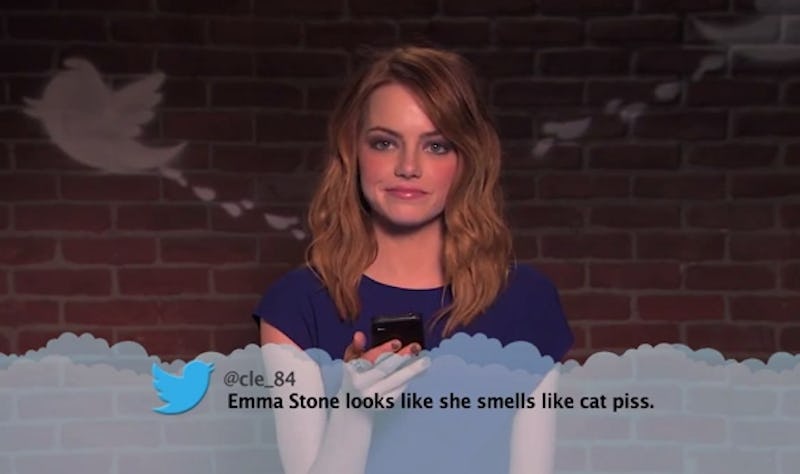 If I had a dime for every time I warned people not to say mean stuff about celebrities on Twitter, I would have several dimes, but they would be earned in vain because people will never stop saying mean stuff about celebrities on Twitter. On Wednesday night, Jimmy Kimmel Live's newest edition of Mean Tweets aired and, as usual, it featured a wide variety of celebrities reading all the terrible things you wrote about them. Well, not necessarily you, but random Twitter users who think that celebrities will never see their tweets. If you've written a mean tweet about a celebrity, they may not have seen it yet but there's a chance Jimmy Kimmel's staff are looking at it right now and will soon share it with the celebrity you so casually mentioned.
The newest round of Mean Tweets includes one from someone who never wants to hang out with Don Cheadle. They wrote, "Don Cheadle seems like the kind of guy who I wouldn't wanna hang around with under any circumstances ever. He's so fucking wack. Honestly." Then there's the one who thinks Emma Stone smells like cat piss as well as someone who thinks Ashton Kutcher needs to get hit by a bus. There's also someone who is unnecessarily mad at June Squibb. "Oh, fuck off, June Squibb." Really? She seems like an odd target.
Check out the video for yourself below for Sofia Vergara, Courteney Cox, Julia Roberts, and more. And, please, try to learn your lesson this time. If you think Matthew McConaughey is a "dick turd," he will find out.
Image: ABC