They're Taking A 'Breaking Bad'-Style Break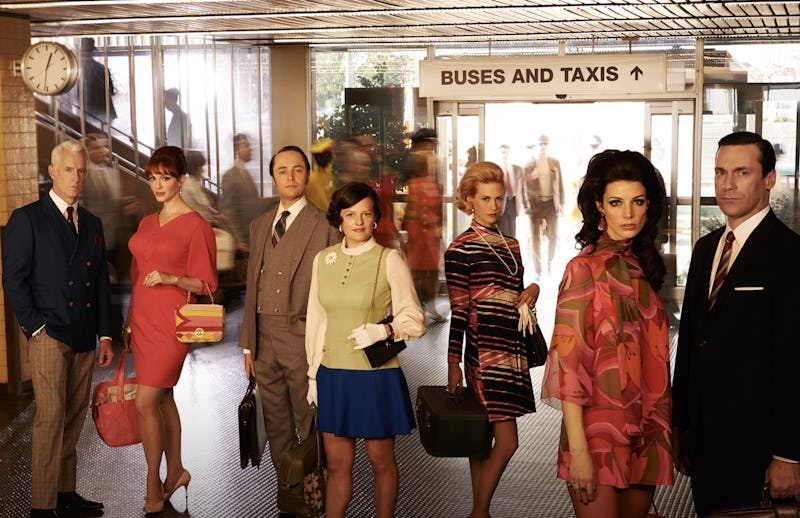 This Sunday marks the end of the first half of Mad Men's seventh and final season. And if that's not confusing enough, Mad Men will return for the second half of Season 7, allowing the series to officially wrap up. We've theorized for months about what will happen in Sunday's midseason finale (Can we all just agree already that Megan is going to die?) but while everyone else obsesses over future episodes, we're obsessing over when we get to see these future episodes (and why Mad Men's final season needs to air in two parts).
All we know about the last half of Mad Men's final season — the end of an era — is that there will be seven episodes, just like the first half and that they will air in the Spring of 2015. We have no new information yet about the exact air date of these episodes or even episode titles. But if the second half of Season 7 follows the trajectory of Seasons 5, 6, and even the first half of Season 7, we can expect the show to return to our screens sometime between the end of March and early April.
But the real question is why? Why divide the current season into two parts? Creator Matthew Weiner and AMC President Charlie Collier gave exactly the same ambiguous and diplomatic answer to this question: Collier said it in the official AMC announcement back in September of last year and Weiner repeated the sentiments on The Colbert Report just a few days ago:
This approach has worked well for many programs across multiple networks, and, most recently for us with Breaking Bad which attracted nearly double the number of viewers to its second half premiere than had watched any previous episode. We plan to take advantage of this chance to have a more elaborate story told in two parts, which can resonate a little bit longer in the minds of our audience.
While it's nice to see that the obvious answer has been addressed by both parties— the idea that they are, as Colbert so eloquently put it, "milking it" for viewers — many, like Vulture's rating guru Josef Adalian, have explained why this particular attempt to get eyeballs for the show won't work as well with Mad Men as it did with Breaking Bad. The gist of this theory is that even thought viewers have the opportunity to catch up on the show via Netflix like so many viewers did with Breaking Bad, Mad Men is not "building toward a big climactic conclusion" the way its predecessor did in its finale.
So for someone who has never watched Mad Men before, it's not as pertinent to catch up on episodes and watch regularly because the stakes simply aren't high enough. That could be one of the reasons the show has been teasing us with hints of Megan Draper's potential Sharon Tate-style death, but even then, there's no comparison to Walter White finally being outed as Heisenberg and meeting his fate in the New Mexico desert.
The other obvious reason for this season stretch comes in the form of heavy, golden statues. Since its series premiere, Mad Men has been a critical and awards darling, scoring Emmy nomination after Emmy nomination, winning a few for Best Drama and winning four Golden Globes for Best Drama and one for Jon Hamm for Best Actor.
However, no individual on the cast has ever won an Emmy and that's got to sting at least a little. While this year will most likely be dominated by Breaking Bad, hopefully Game of Thrones and a slew of fantastic newer shows, it's very possible that the first half of Mad Men's seventh season could get lost among the crowd. If ever there was a chance for the show to take home the big awards, especially for Hamm and co-star Elisabeth Moss, it's going to be in its final, final episodes. We can speculate all we want about the why television decisions are made, but at least there's one thing on which we can all probably agree: Keeping Mad Men in our lives for a bit longer isn't such a bad thing. Now let's get back to those theories.
Images: AMC; Tumblr/ooosaysaysay; Tumblr/ishouldvegonetogradschool