Dealing with 'This is Where I Leave You' Trailer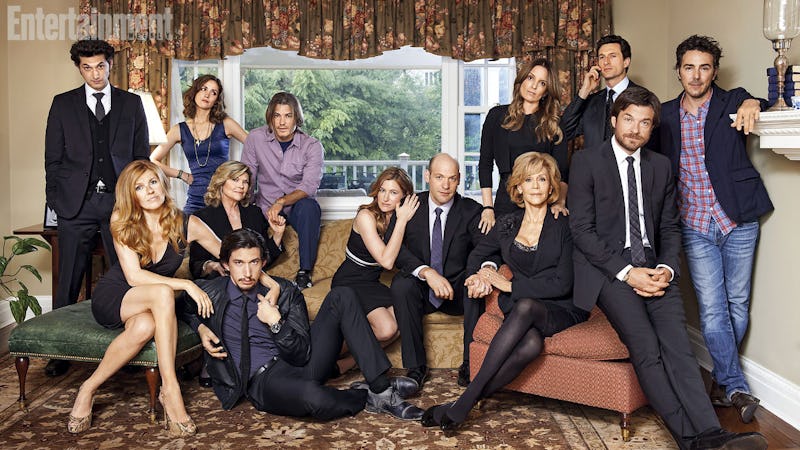 Up until Wednesday, the star-studded cast of This is Where I Leave You , a dramedy opening in September, seemed like a dream come true. No other movie has brought together so many of TV's most beloved actors, like Connie Britton, Jason Bateman, and Tina Fey, under one roof, in addition to some of the film world's best, like Rose Byrne, Jane Fonda, and Kathryn Hahn. A cast like that was all a pop culture lover could want — but that was before the film's trailer came out on Wednesday, and fans found themselves regretting ever wishing that their favorite actors would one day decide to join forces.
Because as great as it is to see all those talented people starring in a movie together, a lot of them are doing and saying things that make us seriously uncomfortable. Even more, some of them are doing and saying these things to people we never imagined them being with. The idea of an actor known for a certain image taking on a dissimilar role is nothing new, of course, but when it's nearly a dozen of them playing out of character, it's a lot to take in.
Strangely enough, though, it works. As unsettling as it is to see all these actors messing with our images of them, it turns out that there's an upside to the shock. People we never expected to see appear in a movie together have perfect chemistry; actors show off ranges we didn't know they had; scenes in which beloved TV characters hilariously interact have us thinking crossover potential. Still, there's no question: it is weird. Five parts of the This is Where I Leave You trailer that shouldn't work, but do:
Serious Tina Fey
Fey plays Wendy, an unhappy wife and mother still heartbroken over an old boyfriend years after she left him behind. In the first minute of the trailer, she consoles her depressed brother, informs him of their father's death, and looks exhausted as she holds a baby. It's a huge leap from the Tina Fey we know and love, and although it takes some time getting used to, her dramatic acting abilities turn out to be just as good as her comedic skills.
Unlikable Dax Shepard
Judd (Jason Bateman) walks in to see his wife cheating on him with an obnoxious liar played by Dax Shepard. While Parenthood fans know that the actor can play annoying all too well, straight out unlikable is completely new territory. Unfortunately, he nails it. Who knew Crosby could be so terrible?
Ben Schwartz Playing a Rabbi
He's only seen for a moment in the trailer, but Ben Schwartz, known to most people as Jean-Ralphio on Parks and Rec, plays a rabbi. Guess Tom Bistro's didn't need any waiters?
Connie Britton Dating Adam Driver
In the movie, Driver plays the spoiled youngest sibling, and Britton is his much older therapist/girlfriend who accompanies him back home. The idea of Tami Taylor and Adam from Girls hooking up takes a long time to get used to, but after awhile, it kind of grows on you — as long as you don't think of Coach Taylor and Hannah Horvath ever getting together, because that's just weird.
These Actors Being Related
At first glance, casting Fey, Bateman, Driver, and Corey Stoll as siblings seems like a horrible idea. Only Fey and Bateman bear any resemblance, and when you add in Jane Fonda as their mom, it makes even less sense. Yet in the trailer, watching these four opposite actors interact as a family seems... right. What they lack in physical similarities they make up for in chemistry, and by the end of the trailer, you might just believe that all four "siblings" actually came from the same two parents.
And One That's Exactly What We Expected...
Jason Bateman Playing the Smart, Exasperated Son of an Embarrassing, Controlling Mother
There's a scene in the trailer in which Judd's mother (Jane Fonda) reveals a bit too much of her surgery-enhanced breasts to her embarrassed son, all while explaining to him that he's overreacting to his family's dysfunction. All she needed was a glass of vodka in her hand, and the movie could be re-titled Arrested Development: Shiva Edition.
Watch the trailer below, and see for yourself:
Images: Warner Bros.