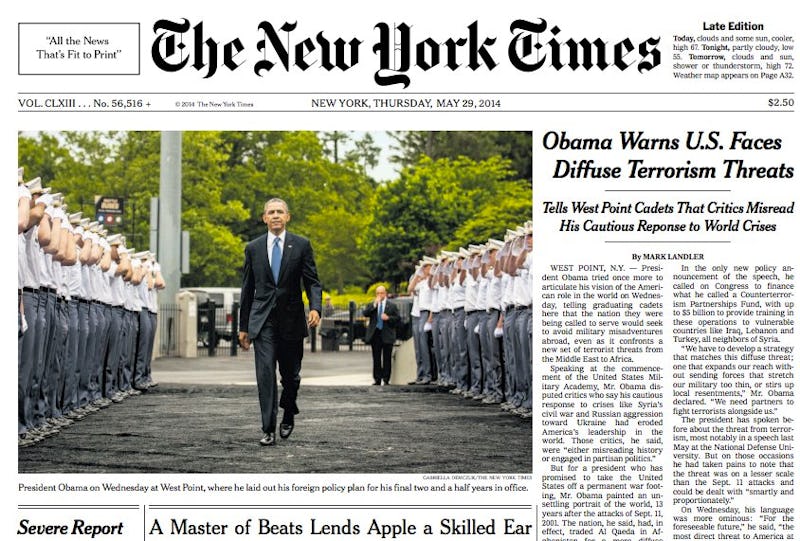 Summer is nearly upon us, which means one thing linguistic enthusiasts among us: the Scripps National Spelling Bee is underway. Miss one letter, and you'll be heading home. But if the runners-up are looking for summer work, they could always apply to copy-edit The New York Times , which contained an awkward front page typo today. And the Times still gets to put out another edition tomorrow? Seriously, how forgiving is the adult world?
In all seriousness, newspaper typos aren't so rare, though some are more embarrassing than others, and the corrections don't always come as quick as they should. But this is a worthwhile benchmark in the new era of Times editorship — it was just a couple weeks ago that executive editor Jill Abramson was controversially ousted from the paper. Perhaps she can take some solace in knowing this front page mishap didn't go down on her watch. That's now under the purview of freshly-minted executive editor Dean Baquet, who replaced Abramson on May 14th.
But, the real question is, did you notice the snafu? We'll blow it up for you to make it a little clearer...
You caught it, right? Okay, okay, but only a little closer.
There we go. Maybe this will be the subject of one of the paper's oddly hilarious corrections? Really, likely not, as "reponse is not how to spell response" doesn't have the zing, say, of admitting you got the wrong My Little Pony.
But this much seems certain — those sweaty-palmed kids awaiting Thursday night's Spelling Bee championship might appreciate it. It'd be a relief to know, at least, that the world's most famous newspaper is held to the same lofty standards that those daring children will face.
Images: The New York Times