15 Movie Posters Deemed Less Graphic Than This One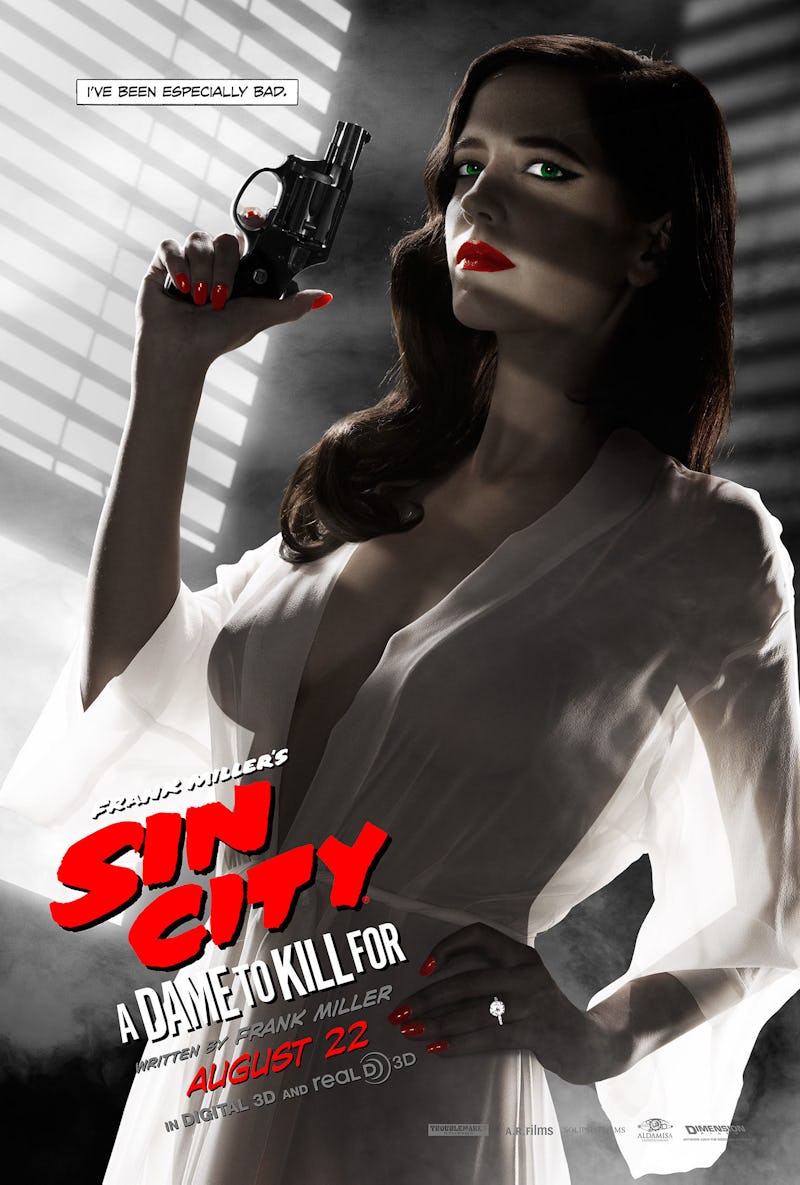 Beware of nipples! The Sin City: A Dame to Kill For poster was censored because (gasp!) you could maybe sorta see a dark circle on Eva Green's breast. That's right, those boobs might have nipples! (I know, this is brand-new information.) But this treatment is nothing new — lately, between the MPAA and Instagram, nipples are catching a bad break. (Note to those who censor: It's just skin — no need to act like it's perverse.)
Though Green's poster was banned in the U.S., there are a large number of movie posters that have managed to sneak by the rating system despite depicting everything from nudity, violence, kidnap, torture, and violence against women. But far be it for a child to see a nipple on a poster, or even a hint of one. (After all, it's not like they were probably breast-fed or anything.) Boobs are scary, violence is not. That's what the MPAA has been saying for years (don't even get us started on that whole Blue Valentine madness), and it's never been clearer than when you see these 15 films whose posters passed the MPAA's sacred rating system. Tell us, again — why was this so bad?
THE GIRL WITH THE DRAGON TATTOO
Sure, there's underboob all over the place, but no nipples! Plus, she belongs to a man, so this poster slipped through the cracks.
HOSTEL PART II
The MPAA okayed this poster as long as the meat wasn't human. The director confirmed with his butcher shop receipt and voila! Mangled flesh on display. Definitely not scary at all because it's not a human. :)
DYING BREED
Australia banned this poster but it sailed by the MPAA in America despite the incredibly graphic suggestion of cannibalism.
CAPTIVITY
Violence against women gets an MPAA stamp of approval.
THE LAST EXORCISM
The UK version of this poster on the left had the stains in red (turns out it's blood, not dirt) and ended up being banned. But the US ran the same poster just in black and white and it was fine. I think the child being possessed here is the biggest problem, not the blood. But apparently the MPAA disagrees.
SPIT ON YOUR GRAVE
Nipples may be bad, but we can objectify women from the back as much as we want to.
SAW
Children are never frightened by bloody chopped-off limbs, right? This poster is totally okay for display.
THE HILLS HAVE EYES 2
The original poster for this film showed this scene from the front with a hand sticking out of the bag. It was banned by the MPAA, but this one above was substituted and deemed fine. I think both are pretty terrifying, but okay.
DEAD SNOW
This Norwegian film got this lovely American DVD cover when it was released in the States. Dead Snow sees Saw's severed arm and raises it a bloody decapitated head. The MPAA says "Okay!"
VILE
You have to appreciate this poster's tagline, "Give till it hurts," and the quote of approval from bloody-disgusting.com praising the film for producing "fear and paranoia." Plus we have this lovely bloody image on the front. It's still less graphic than Eva Green's nipple though.
SHOW GIRLS
Okay, this is bad mostly because it's Showgirls. And that movie shouldn't have gotten past a script writer, let alone the MPAA.
SECRETARY
Ah, more objectification. Raunchiness is clearly okay as long as the woman is in the submissive role.
CALIFORNIA SCHEMING
Completely naked women are still less sexy than an areola!
THE POSSESSION
This poster is the stuff of nightmares, but it passed by the MPAA, no problem.
SILENT SCREAM
Usually the MPAA is pretty good about censoring torture but since this is torture of a woman it seems to be fine. Sigh.
So there you have it: These 15 film posters have been deemed less terrible than Eva Green's sideboob. And that's the real sin about Sin City 2.
Images: Dimension Films; Scott Rudin Productions; Lionsgate [6]; Hoyts Distribution; Anchor Bay Entertainment; Fox Atomic; Euforia Film; Inception Media Group; United Artists; Gravitas Ventures; Revolver Entertainment