The Thrill of the Cut: Michelle Williams Edition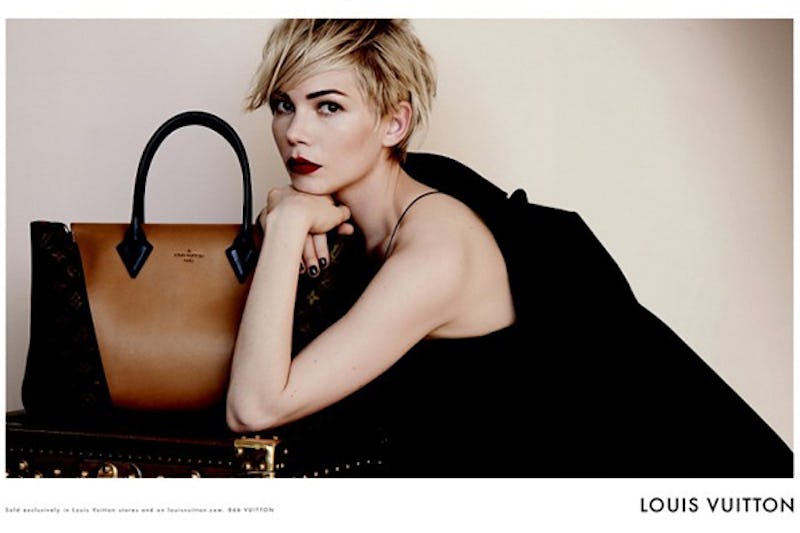 As someone who had waist-length hair for a better portion of two decades — that makes me sound old, and I'm not — I was totally shocked when, last year, after spending too long staring at Daria Werbowy's Céline ads, I marched to my hairstylist and demanded a chop. If you don't remember, Werbowy's locks barely made it past her chin dripping wet. My hair and I were in dire need of a change, and that chop seemed like the perfect way to mix things up. I only went shorter from there.
Cut to about 15 months later, after a few return visits that concluded in even shorter 'dos, and I've since let it grow all the way out — down to my collarbones. While not the mermaid lengths of yore, it now feels like a heck of a lot of hair. Combine that with the recent humidity (and a new affinity for chignons) and I realize I'm reaching for the proverbial scissors again. I want the hair off my neck, but I want to do it with style.
So, again, while flipping and clicking my way through the luxurious fall ads, I've found another enviable style, this time from the usually pixie'd Michelle Williams, wearing a piece-y mane and Louis Vuitton. Look upon her hair and tell me you are not jealous of her ability to pull that off so cooly and gracefully.
Williams' hair was done by none other than Sam McKnight, and if I had him over to my apartment every morning to take care of my tresses, I'd definitely do it. There's no safety in a ponytail with this style, though. It's kind of all or nothing.
It'll take a few more days of staring at nothing but this ad before I run to my stylist with it. We'll see if I have the courage to give in to the haircut addiction, or choose to play it safe. Er... safer. Would you do it, too?