Goodbye, 'Us & Them,' We Barely Knew You
Were you excited to see Gilmore Girls' Alexis Bledel back on the small screen? Sorry, folks... it's not going to happen. At least, not on the would-have-been Fox rom-com Us & Them. Production on the series, which is based on the British comedy Gavin and Stacey, was halted back in October, essentially canceling the show before it even had a chance to air. The series was reduced to seven episodes, which were produced. Unfortunately, these episodes won't see the light of day, or at least not on Fox, as according to new reports, the network isn't planning on ever airing Us & Them. Sorry, Bledel fans.
It's surprising that Us & Them has had such a tough time in the TV landscape. On paper, this show should work. The premise follows Gavin and Stacey, who after falling in love online, bring their relationship into the real world despite their very different families and backgrounds. Sure, it isn't exactly reinventing the wheel, but that's the kind of concept that great sitcoms are made of.
It should also help that the series is a remake of a popular UK sitcom (anyone remember The Office? Because that did pretty well) and stars a seriously funny cast, including Jason Ritter (Parenthood) and Jane Kaczmarek (Malcolm in the Middle). The trailer made me both laugh and swoon — the trademark of a good romantic comedy. (And, no, it wasn't just the Hall & Oats song in the background that did the latter.) So why, oh why, does Fox want to discard of this show so badly?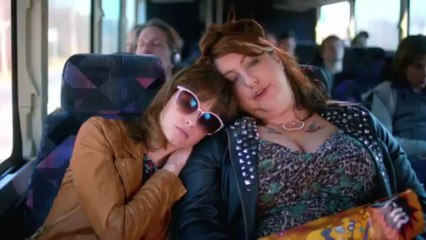 If you're worried about not getting your romantic comedy fix, fear not. NBC already has two new romantic sitcoms in the works, Casey Wilson's Marry Me and A to Z, starring Cristin Milioti. The Mindy Project — a rom-com Fox is definitely keeping around — will also return this fall, hopefully with Danny and Mindy as a for-real couple. While it's sucks that we'll never get to see how Us & Them played out past the seven episodes on broadcast TV, let's hope that the series strikes a deal with online providers like Hulu or Amazon — I'd like to know what we were missing.