Some Big News for Poussey Fans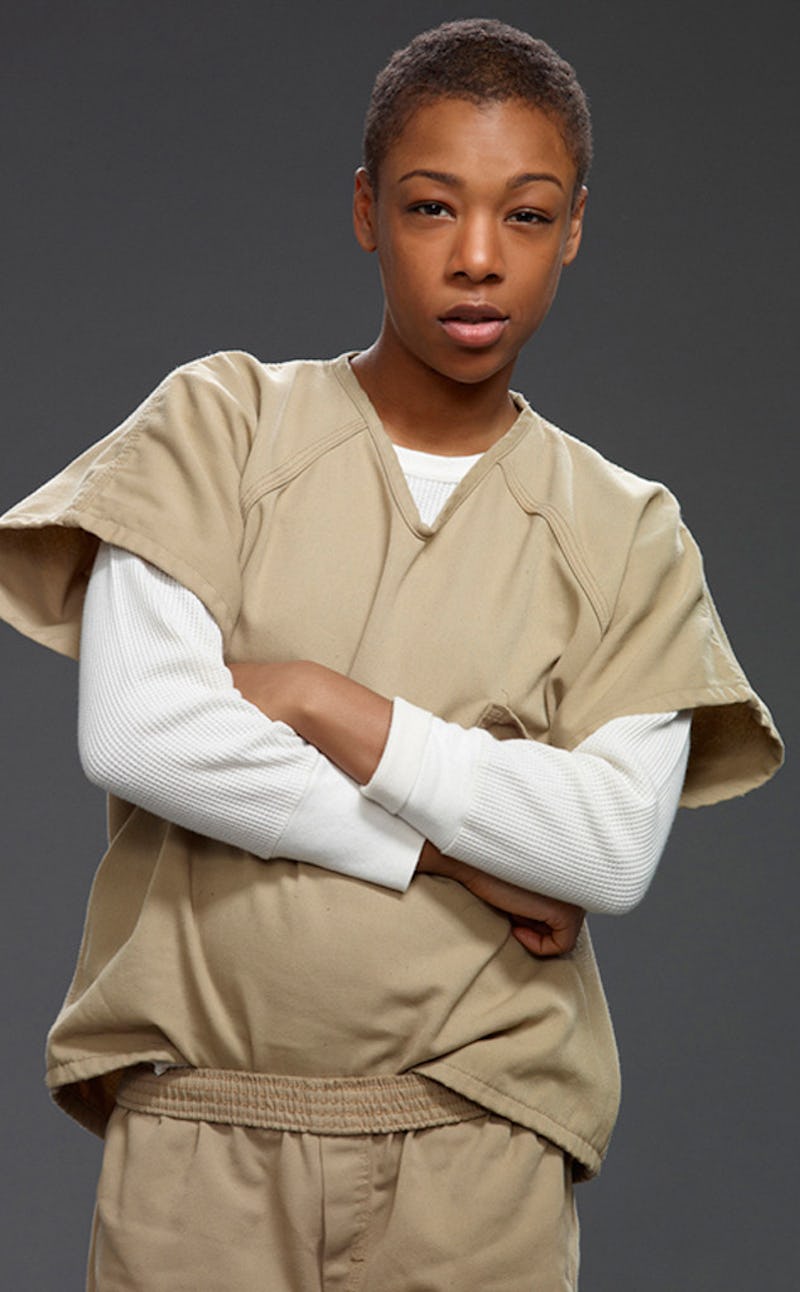 Ask anyone who's already watched (and possibly re-watched) Season 2 of Orange is the New Black and they'll tell you: Poussey freakin' rules. Even more so than she did in Season 1. That's what makes the news that the actress who plays Poussey Washington, Samira Wiley, will be a series regular in the upcoming third season, all the more exciting. (Some OITNB spoilers ahead.)
Wiley has appeared in most of OITNB's two seasons (24 of the show's 26 episodes to date, to be exact) and finally joins the ranks of her co-stars who have already been bumped up from guest star to series regular, including Uzo Aduba (Suzanne "Crazy Eyes" Warren), Taryn Manning (Tiffany "Pennsatucky" Doggett), Selenis Leyva (Gloria Mendoza), Adrienne C. Moore ("Black Cindy" Hayes), Laura Prepon (Alex Vause), and Danielle Brooks (Tasha "Taystee" Jefferson).
Not only has Wiley had had more than enough screen time to prove herself as a series regular, but Poussey has become one of the show's most compelling and lovable characters. The strain put on her relationship with her BFF Taystee — thanks to Vee's evil scheming and Poussey's unresolved romantic feelings for Taystee — has been one of the best and most heartbreaking story lines of Season 2. (Thank goodness they worked things out and became friends again by the end! We always need more Amanda and Mackenzie in our lives.)
In addition to the Vee drama (which also included a horrific moment in which "Crazy Eyes" beat her up in the bathroom on Vee's command), we also learned more of Poussey's backstory, including an ultimately doomed relationship she had with a girl in the German army base where her father was stationed. Because of her girlfriend's awful, homophobic mindset, Poussey and her family were transferred from the base, and she (presumably) never saw her again.
Mercifully, it wasn't all bad for Poussey in Season 2. In addition to getting her friend back and sticking up to Vee, she also had the best definition for love on Valentine's Day ("Not wanting to go to sleep, because then you might be without 'em for a minute") and came up with a genius invention for the bathroom, a pee funnel called Stand and Deliver.
In other words, we couldn't get enough of Poussey (and the, scene-stealing, Emmy-worthy Wiley) in the first two seasons of OITNB, and can't to see what else is in store for Season 3. And never forget, it's "Accent à droite, bitch!"
Images: Netflix; Buzzfeed.com [2]; Caniable.tumblr.com