What Really Happened At The Kimye Wedding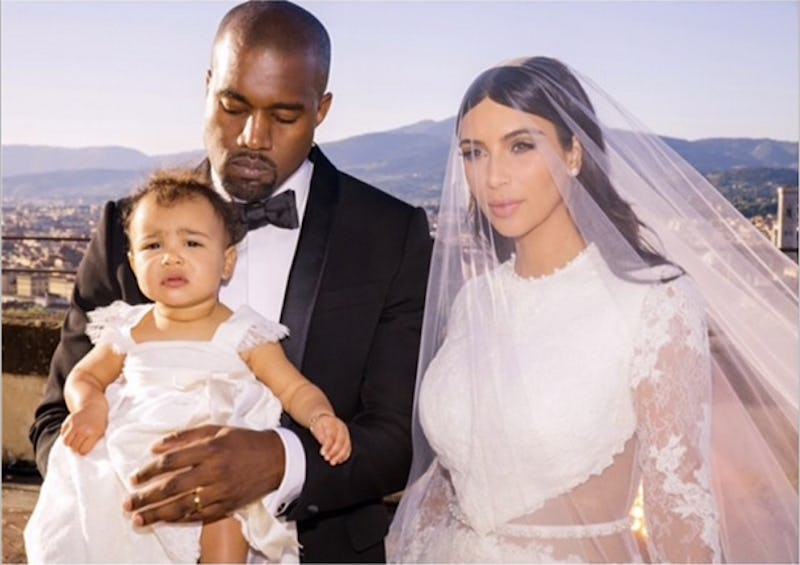 The Kimye wedding is truly the gift that keeps on giving. Two weeks ago, Kim Kardashian and Kanye West released the first round of wedding photos from their May 24 nuptials in Florence, Italy. Since then, there's been a steady stream of photographic proof that this was truly a magical affair and on Wednesday night, Kimye released new wedding photos. That, while equally magical, are kind of like, "huh?"
Since Keeping Up with the Kardashians Season 9 premiered last Sunday, I assumed we'd have to wait for more Kimye wedding realness, because naturally, they'd want to release photos on the show. I mean, they have to keep viewers' interest somehow, right? And if we can't get North West this season, they'll at least keep us hooked with wedding coverage promises.
But! I can't say I'm not happy that, out of what I assume is a thousand-photo-long wedding album, Kimye chose these three photos for the world to see. Seriously — they're just asking for a tabloid to do a "Caption This Photo" contest with them. And, well, who am I to not join in on the fun?
On Wednesday night, after E! published the exclusive photos, Mrs. Kanye West posted this one to her Instagram account:
The reality star captioned it, "My Everything." Which is adorable — I just love when Kim gushes about her family. But, does anyone else feel like they have no idea what the hell is going on here? Were Kim and Kanye both supposed to look at North and she missed the memo? Honestly, it looks like Kim got photoshopped into this photo. Which leads me to believe this is what went down:
Kanye: "Kim, check out this great shot of North — she's so expressive. That's a true, born artist."
Kim: "OMG, honey! This photo is SO adorable — you HAVE to photoshop me in. I'll choose a photo of me for you."
There's also this great photo of Kanye commanding the female Kardashian troops that looks, well, kind of sinister:
Seriously, why do they all look so horrified? What was Kanye saying to the sisters Kardashian-Jenner — I've got a few ideas:
Kanye: "Okay, everyone, don't panic — but there's a dead rose on one of the flower walls."
Or
Kanye: "Jay just What'sApp-ed me, he and Bey just cancelled at the last minute."
And last but not least, this photo of Yeezus looking literally kissed by God while standing with pastor Rich Wilkerson Jr.:
Kanye: "I just feel so #blessed today — I just wish they'd power-washed this stone."
See — truly the gift that keeps on giving. Kimye Forever.
Images: KimKardashianWest/Instagram (2), KardashJennerIN/Twitter (2)