The 8 Books You Don't Want to Miss in July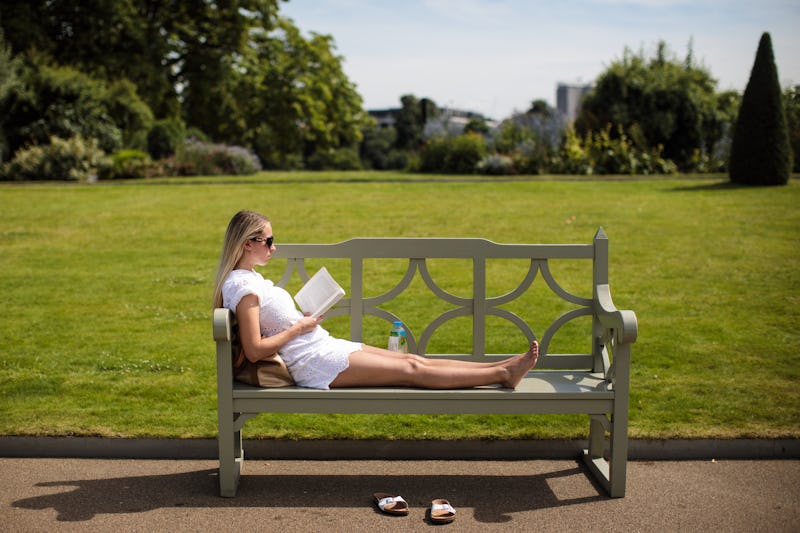 Jack Taylor/Getty Images News/Getty Images
Now that we're into July, hopefully your summer reading adventures are well underway. We've had great books in May, epic ones in June, and now July is proving to be a powerhouse, too. (What happened to summer being a time when publishers lay low?) With one look at the list below, you'll agree that there's going to be a lot more good stuff to add to your ever-growing stack.
No matter where you're physically bringing your books — on vacation or simply into your backyard for a lounge 'n' read session — these novels (and one memoir) will certainly take you to some fascinating and unexpected destinations all on their own. July's selections will have you traveling across the country, from the glittering stages of 1940s Hollywood to the decaying forests of post-apocalyptic Los Angeles to a mini golf course in middle-of-nowhere Wisconsin. And international travel is on the agenda, too: you'll head to the Caribbean island of St.Thomas, and go to a futuristic Russian city where the citizens are bathed in endless sunlight.
So, toss aside your embarrassing passport photo (why do they always look terrible?), hit the freshly stocked shelves of your local bookstore, and get ready for some mental globetrotting.
1. THE SLEEPWALKER'S GUIDE TO DANCING BY MIRA JACOB (Random House; July 1)
Mira Jacob makes a resounding entrance onto the literary stage with her first novel The Sleepwalker's Guide to Dancing. It's a bold debut with a powerful pulsing heart in which Jacob freshly captures the complexities of the Indian immigrant experience. The book is at once a messy, joyous, painful, and tender portrait of modern family life illustrated through the eyes of Amina Eapen and the complicated characters of her Indian-American family.
Amina has fled her hometown, her past, and a hopeful photojournalism career in New Mexico for a new life in Seattle where she works as a wedding photographer. When her father's odd behavior motivates her to return home, however, Amina is forced to face the elements of her past from which she has so desperately tried to distance herself — the judgment of her overbearing parents, the stinging memories of her older brother Ahil's suicide as a teen, and the lingering remnants of a young romance past. At the same time, Amina attempts to unearth the truth behind the behavior of her father, a brain surgeon with a complicated past of his own.
Rhythmically told, The Sleepwalker's Guide to Dancing alternates between early 1980s and late 1990s as it leaps across the globe from the raucous streets of suburban India to the steamy desert lands of New Mexico to plunge into the heart of one family's tangled history. It's a punchy, memorable debut in which Jacob offers a keenly observed meditation on grief, unfathomable loss, and the strengths and weaknesses of familial bonds.
2. ONE PLUS ONE BY JOJO MOYES (Penguin; July 1)
In best-selling British author JoJo Moyes' latest tale of family dysfunction and unexpected romance, prince charming comes in the form of a geeky tech millionaire.
Jess Thomas is a single mom working tirelessly to scrape by and keep up with her two quirky children. Her preteen daughter Tanzie is a math whiz with a partial scholarship to an acclaimed private school that Jess still can't afford, and her stepson Nicky is a quiet, pot-smoking teen who's struggling to ward off school bullies. Jess spends her days cleaning houses alongside her best friend Nathalie and her nights tending bar at the local pub, both jobs that give her access into the private, and often embarrassing, lives of her fellow residents, including her wealthy cleaning client Ed Nichols, a dorky, yet self-concerned tech executive who is far from Jess's type. But when Nichols, who has fled to his summer home in the aftermath of insider trading accusations, drunkenly stumbles into Jess while she's working at the pub, an unexpected relationship is set in motion, and soon Jess finds herself, and her two kids, in his posh Audi on a lengthy road trip to a math tournament in Aberdeen, a tournament with a potentially life-changing cash prize. Mishaps abound, but as their mutual detestation gradually gives way to attraction, a lopsided romantic comedy unravels.
With surefire prose and a likeable protagonist, Moyes captures the comic charms of single motherhood and middle-aged dating in this humor-filled, haphazard love story that's happy ending if far from simple or expected. Serious beach read potential here, friends.
3. THE GREAT GLASS SEA BY JOSH WEIL (Grove Press; July 2)
With vivid prose and soaring imagination, Josh Weil's debut novel, The Great Glass Sea, fast-forwards to a near future in a capitalist Russian city where the sky is covered in space mirrors that provide perpetual daylight. Designed as a science experiment, the once-torpid city of Petroplavisk is now one of ceaselessly activity, "the first place on earth illuminated by the sun 24 hours a day. Here twin brothers Yarik and Dima work alongside each other at Oranzheria, a gigantic greenhouse. After their father's death, they spent their childhood working on their uncle's farm, an inseparable pair, but years later, the monotony of their endless urban toil has begun to divide them. Yarik has become an ambitious family man and Dima a naïve dreamer, pining for their rustic past.
Beyond the endless daylight, too, hides an eerie darkness of conspiracy and deception. And when Yarik and Dima get a glimpse of it first hand through an encounter with the Oranzheria's oligarch owner, it forever changes them and threatens to divide them further.
The Great Glass Sea is an inventive dystopian tale from a brilliant storyteller about a not-so-far-fetched alternate present, a tale about family and brotherhood that simultaneously brings to light poignant political and philosophical inquiries. It's a stunningly imagined debut that will dazzle and mesmerize readers as they disappear into its visionary depths and resurface with a new and more profound understanding of fraternal love.
4. CALIFORNIA BY EDAN LEPUCKI (Little Brown; July 8)
Edan Lepucki's California is not a place you want to spend your summer vacation, at least not in real life. But as a summer read, the forests of California make for a thrilling destination.
With her psychologically engrossing debut, Lepucki envisions a California like you've never seen it before, reimagining this sunny vacation destination within a post-apocalyptic future where the citizens have been forced to flee a ravaged and crumbling Los Angeles. Cal and Frida, expecting a baby, struggle to survive in the desolate wilderness where food and supplies necessary for survival are sparse. When they stumble upon a secure encampment, they work tirelessly to convince the members of the commune that they can be assets to the group, all the while hiding Frida's pregnancy. But the commune is hiding secrets of their own.
Told from the couple's alternating perspectives with the tense pacing of a thriller, California keeps surprising as the pages turn. And turn. Lepucki creates a richly textured reality that is frighteningly not difficult to imagine, and the reader holds her breath right up through the last page.
5. MY FAMILY AND OTHER HAZARDS BY JUNE MELBY (Henry Holt; July 8)
In her wickedly funny — and, okay, occasionally cheesy — memoir, former comedienne June Melby takes readers on an unexpected summer adventure to the remote and quirky Wisconsin town of her childhood. Here she spent countless sweltering afternoons on her parent's mini golf course, Tom Thumb, a gimmicky yet charming tourist attraction purchased by the couple on a whim one summer.
Naturally, when June grew up she couldn't wait to flee the doldrums of her small town and the concession stands of her parents' business for the excitement and glam of Hollywood, but when her parents decide the time has come to sell Tom Thumb, June surprisingly finds herself running back home to try and save the place and the many memories that made it an icon of her childhood.
Readers will be impressed at how adeptly the former stand-up comic brings her quips to the page to craft a tender ode to the carefree summers of youth and the simpler era they represent. Like a mini golf course, the coming-of-age memoir is sprinkled with unexpected hazards of growing up. Filled with heart-warming nostalgic scenes of summertime and the hilarious pitfalls of running a family-owned tourist playground, My Family and Other Hazards makes for a warm and refreshing summer read, one that explores the meaning of family and the emotional significance of losing a childhood home.
6. LAND OF LOVE AND DROWNING BY TIPHANIE YANIQUE (Riverhead; July 10)
In her debut novel The Land of Love and Drowning, St. Thomas-born writer Tiphanie Yanique delivers an intimate and magical multi-generational family saga told against the scenic backdrop of the U.S. Virgin Islands during an era of transferring rule and rapid social change.
When Owen Arthur Bradshaw, a wealthy cargo ship captain, dies suddenly, he leaves behind two daughters and an unacknowledged, illegitimate son. Now deprived of their considerate wealth and faced with the consequences of their father's lustful habits, Eeona, a frighteningly stunning beauty who was her father's former lover, and the younger Anette, an orphan who barely knew her parents, but is deeply tied to her heritage, must navigate the tumultuous world of their homeland on their own, one that is ever-changing thanks to social conflict, tourism, and modern development. Eeona, ever-grieving the death of her father, refuses every suitor that asks for her hand, while fate eventually unites Annette with Jacob, the half brother she doesn't know exists. These three children, along with an insightful third-person narrator, relate the dizzying journey that ensues, a journey involving incestuous passions, family secrets, questioned loyalties, and natural disasters.
Colored with local folklore and enriched with historical depth, Yanique's debut delivers a beautiful and tragic tale of love and lust, a seductive Caribbean saga brought to vivid life by the enchanting voices of the islands' native people. (And did we mention it's one of the year's best books so far? Because I think we did.)
7. THE HUNDRED-YEAR HOUSE BY REBECCA MAKKAI (Viking; July 10)
The star of Rebecca Makkai's cleverly conceived new novel is a mischievous, purportedly haunted turn-of-the-century mansion with an intriguing family history. Readers will dive into The Hundred Year House and get lost within its spooky, richly dimensioned halls for some 300-odd pages as Makkai sends them backtracking through the decades.
This riveting generational saga told in reverse opens in 1999 with quirky literary couple Zee and Doug. Cash-strapped Zee, a Marxist literary scholar working at the local college, and her writer husband have just moved into the carriage house of Laurelfield, her family's lush estate, along with Zee's stepbrother and his aspiring artist wife. While Zee is away at work, Doug secretly composes cheesy teen novels for fast cash when he's supposed to be hard at work on his current literary project, a biography of the poet Edwin Parfitt, who once resided at Laurelfield when it was used as an artists' colony in the 1920s. Distractions abound, but Doug hopes that being in the former artists' space will cure his writer's block. While researching for the biography, though, he becomes obsessed with the history of his new residence and the secrets of the old-money family who has owned it for a century, secrets Zee's mother keeps locked away in a pile of dusty files in the attic. As these mysteries begin to unravel, the two couples must also grapple with fraying marriages, flailing creative ambitions, and the doom and destruction the impending millennium may bring.
8. LUCKY US BY AMY BLOOM (Random House; July 29)
Follow half-sisters Eva and Iris as they embark on a zigzagging expedition across the exciting landscape of 1940s America in Amy Bloom's latest heartfelt novel Lucy Us. Iris is the gorgeous wannabe movie star. Eva is the devoted sidekick, humbly working in the shadow of her sister's spotlight. The duo's engrossing story is one fueled by glitzy dreams and sequined dresses, sexual scandals and blistering heartbreak.
Recently abandoned by their mothers and left only with an irresponsible and rather inadequate father, the teenage pair leave behind their small town Ohio homes in search of something better, a quest that takes them from the dreary Midwest to the glittering stages of Hollywood, from raucous Brooklyn beauty parlors to dark Long Island jazz clubs. Together, with the help of an eccentric assortment of relatives and comrades — a con-artist father, a gay Mexican makeup artist, and a black nightclub singer, among them — the quasi-orphaned sisterly duo survive their peripatetic lifestyle and the many challenges they face along the way.
Lucky Us is a tragi-comedy with impressive literary flair, a poignant novel that will have you teary-eyed and chuckling with each turn of the page.