LGBT Symbols You Didn't Know About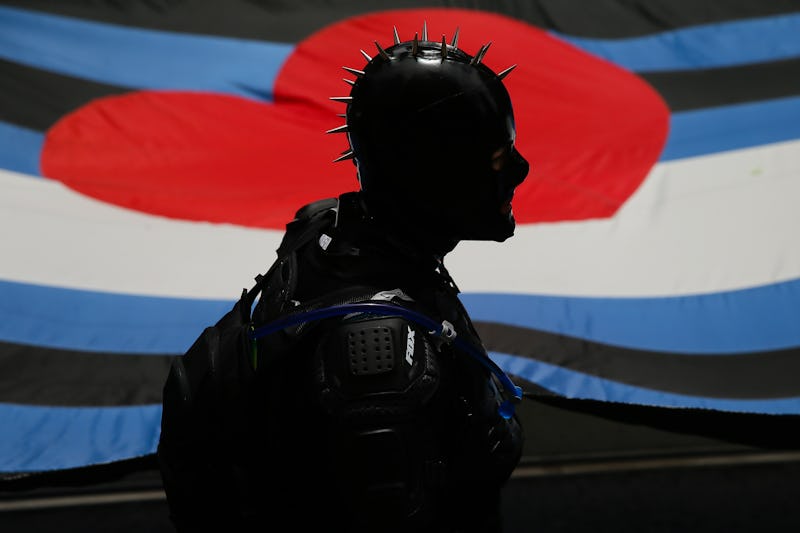 Elijah Nouvelage/Getty Images News/Getty Images
Gay pride is stronger than ever, especially given the momentum of the #20ToGo campaign, which strives for the legalization of gay marriage in the American states that still discriminate against homosexual couples. The ubiquitous rainbow flag hangs from every Chelsea street corner and LGBT-friendly storefront, and, just in time for Pride Month, Mashable traced the history of this infamous flag.
It was originally designed in San Francisco by Gilbert Baker, who chose eight colored stripes to represent sexuality (pink), life (red), healing (orange), sun (yellow), nature (green), art (blue), harmony (indigo), and spirit (purple). Pink was eventually eliminated from the flag because the bright dye (used to represent sexuality) was not economical. Eventually, Indigo was also eliminated in order to have an even number of stripes. The flag made its debut at the 1978 Gay and Lesbian Freedom Day March, and was also used by the 1979 Pride Parade after California's first publicly gay political was murdered.
Though the rainbow flag is the most recognizable of LGBT symbols, other markers of gay pride have made their debut in recent decades, and Mashable looked into where these universal images of LGBT pride come from. The historical background behind many of these symbols might surprise you.
ASTROLOGICAL SYMBOLS
Lesbian women have adopted the astrological sign of Venus to create an interlocking symbol of pride (left). The planet Venus represents happiness and tenderness, and her energy is thought to be is responsible for the way we relate to others. Of course, Venus was also known as the God of Love in ancient times. She was associated with beauty, and encouraged her people to celebrate their senses and the beauty of the world.
Gay men have also looked to astrology to create a symbol of pride. The interlocking symbol of Mars (right) references the planet's energy and passion. In ancient times, Mars was known as the God of War, and was often very violent. Contemporary astrologists say this passionate energy still emanates from the planet, but believe that it can be harnessed as a force of goodness.
SYMBOLS OF OPPRESSION
The pink triangle was invented to denote gay men in Nazi Germany. Hitler revised paragraph 175 to prohibit men from engaging in any kind of sexual acts. Offenders were sent to prison, and later to concentration camps. The black triangle was given to lesbian women, though it was used to distinguish other minorities as well. The Nazi's gave the black triangle to all "asocial women," which could include feminists, prostitutes, and women who lacked a motherly instinct, in addition to lesbians. Since then, both triangles have been reclaimed as a symbol of pride and solidarity to celebrate LGBT communities.
Head on over to Mashable for the history behind tons of other LGBT signifiers — many of which you probably never knew existed.
Images: Wikimedia Commons/bazi, fiobannaci, feorag