2014 Emmy Awards: Everything You Need to Know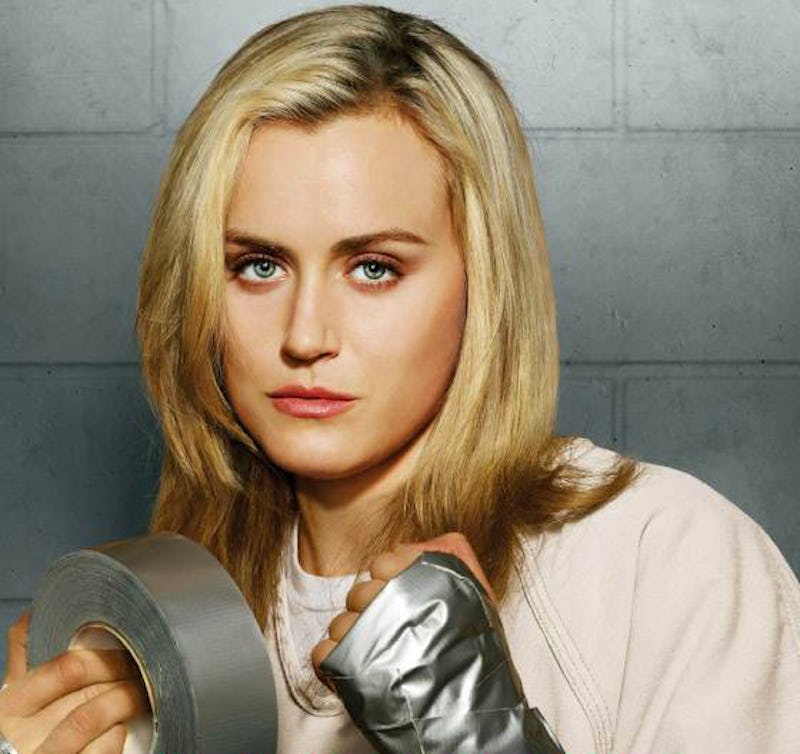 The 2014 Emmy Awards nomination ballots were sent out to voting members of the Academy of Television Arts and Sciences (ATAS) on Monday, which can only mean one thing: Emmy season has officially begun! We've watched the shows, we've taken in all of the nifty "For Your Consideration" ads, and now, we're less than a month away from the live nominations announcement on July 10. It's time to get excited, people!
We here at Bustle want to make sure that you are as prepared as humanly possible for this year's Emmy Awards (which air live on August 25 on NBC with host Seth Meyers — don't forget!) Sure, we all know that the Emmys seek to recognize the most outstanding television programs and performances each year (though they don't always get it right), but not nearly as many of us understand how the nomination and voting processes actually work — or even how the winners are determined. And now that we've had a chance to take a peek at the nomination ballot, there are some really important facts about this year's race that you absolutely need to know.
So, whether you're looking to blow your friends out of the water during your annual Emmys prediction pool or you're just a television lover who's curious about how this whole thing goes down, we've got your 2014 Emmy Awards scoop.
So, How Does the Nomination Process Work?
Nomination ballots for the 66th Primetime Emmy Awards were sent out Monday, June 9 and must be returned by Friday, June 20. That gives academy members a little less then two weeks to cast their votes. Nominations will be announced via a live webcast on the Emmys website on Thursday, July 10 at 5:30 a.m. PST. I know, that's super early — but don't fret. Bustle will be covering the nomination announcement so you don't have to worry about getting up at the crack of dawn.
The eligibility period for the 2014 Emmy Awards is June 1, 2013 through May 31, 2014 (though there can be exceptions). As GoldDerby's Paul Sheehan explains, the roughly 16,000 members of ATAS are divided into peer groups: actors, writers, directors, etc. In order to decide the nominees, each peer group votes in the categories that cover their specific area of expertise.
GoldDerby's Sheehan says that all academy members, regardless of peer group, are allowed to vote on the nominees in the program categories (Outstanding Drama and Comedy Series, Outstanding Variety Series, etc.). Academy members either cast their votes online or by filling in numbered bubbles on a Scantron form, just like you did in school for all those years. Make sense?
Okay, So How Are the Winners Determined?
Once the nominees have been decided, GoldDerby's Sheehan notes that academy members "may judge up to five categories." Again, all members are eligible to vote for the program awards, while the peer groups decide the winners for all other categories.
Acting nominees who appear in a drama or comedy series must select one episode that they feel best represents their work. That's right: Emmy voters are not required to watch an entire season of a show before casting their votes in the acting categories. As GoldDerby's Sheehan points out, they must simply sign an affidavit attesting that they watched each nominated performer's chosen episode.
Wait, what?
It's true: the winners in the acting categories are not necessarily determined by which performers did the best, most consistent work throughout an entire season, but rather, by which performers chose the most impressive, stand-alone episodes for consideration. Of course, some academy members will be familiar with the entire season of a particular series, and that can undoubtedly affect how they vote regardless of which episode a performer submits. However, if a nominated performer appears on a show that some academy members have never seen before, they are still only required to watch that performer's selected episode before casting their votes.
This voting process can create some really interesting situations. For example, let's pretend for a moment that I'm an academy member (I wish!). I might not feel that Elizabeth Moss from Mad Men submitted her "best" episode this year (this is a purely hypothetical situation— I have no idea if Moss will be nominated), but because I watch the show religiously and am a fan of her work in general, I may decide to vote for her anyway.
On the flip side, maybe I've never seen the show Scandal before, but because I'm so impressed by Kerry Washington's episode, I might end up voting for her over other performers in the category because, in my opinion, she simply had the best offering of the bunch. (Again, no idea if Washington will be nominated.)
Similarly, as GoldDerby's Sheehan explains, a show's entire season is not necessarily taken into consideration before academy members cast their votes in the series categories. Instead, producers are tasked with selecting their respective show's six best episodes, and then splitting those episodes into three two-episode pairings. These pairings are then randomly distributed among voting members. Again, similar to the acting categories, the winners in the series categories are not necessarily determined by which shows had the best season-long run, but rather, by which shows chose the best two-episode pairings.
According to GoldDerby's Sheehan, in both the acting and series categories, "voters rank the nominees" from 1 (highest) to 6 or 7 (lowest), "depending on the total number in the category." The Emmy Award goes to the nominee with the lowest total score. It's like golf, but not nearly as boring or terrible.
Okay, now that we're all on the same page regarding how the Emmy nomination and voting processes work, as well as how the winners are determined, we can talk about all the super important things we learned from the 2014 Emmy Awards nomination ballot.
Orange Is the New Black Is Competing as a Comedy Series
That's right — according to The Hollywood Reporter, Netflix's smash hit Orange Is the New Black is competing in the Outstanding Comedy Series category. In reality, the show contains a pretty healthy mix of both comedy and drama (possibly leaning toward the dramatic side), but when networks are forced to pick one category or the other, you're bound to end up with some less-than-ideal situations. However, Netflix probably didn't want OITNB competing against their other wildly popular show, House of Cards, in the Outstanding Drama Series race, anyway. Will OITNB's category placement affect its chances at a nomination? I wonder, I wonder…
Shameless Is Also Competing as a Comedy Series
After competing for several years in the Outstanding Drama Series category, Entertainment Weekly reports that Showtime's raunchy series with a heart, Shameless , enters the Outstanding Comedy Series race for the first time. Again, is Shameless really a comedy series? That's certainly up for debate. Will the category change help the criminally underrated show nab its first nomination? Sadly, I kind of doubt it…but here's to hoping!
True Detective Is Competing as a Drama Series
Despite the fact that True Detective's debut season only contained eight episodes, and the characters, settings, and plot lines will be completely different next season, Deadline reports that the show is competing in the Outstanding Drama Series category and not in the Outstanding Miniseries category. Some networks (like CBS, for example) are pretty ticked off about True Detective's category placement. After all, is it fair that The Good Wife's roughly 16 hours worth of footage is competing against True Detective's eight?
No, probably not — but that's part of the reason why each nominated series is asked to choose its six best episodes for consideration. In theory, this levels the playing field. No, it's not a perfect solution, but outside of forcing every show on television to produce the same number of episodes each season, I don't really know what else could be done!
The Outstanding Miniseries or Movie Category is Being Split Up
Though the Outstanding Miniseries or Movie award was just created in 2011 when the Miniseries and Television Movie categories were merged "due to a general industry downtrend of the genre," Entertainment Weekly reports that they're being split up again — but only for the overall program awards. The rest of the categories (acting, directing) will remain combined, but the number of nominees will increase from five to six.
The Outstanding Reality Program Category Is Getting Split Up, Too
According to Entertainment Weekly, Outstanding Reality Program is being split up into two separate categories: Outstanding Structured Reality Program and Outstanding Unstructured Reality Program. This way, shows like the Food Network's Restaurant: Impossible or the Discovery Channel's MythBusters don't have to compete against series like E!'s Keeping Up With the Kardashians or A&E's Duck Dynasty.
There Could Be 7 Outstanding Drama & Comedy Series Nominees
Again, according to Entertainment Weekly, due to a new rule, the Outstanding Drama and Comedy Series categories could have up to seven nominees. Previously, the maximum amount of nominees in these categories was six.
All of These Performers Were Left off of the Ballot
It's sad, but true: According to GoldDerby, all of the performers listed below were left off of the 2014 Emmy Awards nomination ballot. (Note: While television studios often submit performers' names for consideration for them, it is ultimately the responsibility of the performers to ensure that they are entered in the race.)
DRAMA
Stockard Channing, The Good Wife, Outstanding Guest Actress
Alan Cumming, The Good Wife, Outstanding Supporting Actor
Michael J. Fox, The Good Wife, Outstanding Guest Actor
Hunter Parrish, The Good Wife, Outstanding Guest Actor
Laurence Fishburne, Hannibal, Outstanding Supporting Actor
Cynthia Nixon, Hannibal, Outstanding Guest Actress
Jimmy Smits, Sons of Anarchy, Outstanding Guest Actor
Glenn Fleshler, True Detective, Outstanding Guest Actor
COMEDY
Sarah Michelle Gellar, The Crazy Ones, Outstanding Lead Actress
Brooke Elliott, Drop Dead Diva, Outstanding Lead Actress
Matthew Morrison, Glee, Outstanding Lead Actor
Cloris Leachman, Raising Hope, Outstanding Guest Actress
Rebel Wilson, Super Fun Night, Outstanding Lead Actress
The 2014 Emmy Awards Ceremony is on a Monday
Yes, although most prestigious award shows are held on Sundays, Variety reports that the 2014 Emmy Awards ceremony will be held on a Monday in order to avoid clashing with football. Gosh, football ruins EVERYTHING! JK...but think about it.
Stay tuned for Bustle's Emmy nomination coverage on Thursday, July 10. Remember: the 2014 Emmy Awards ceremony airs live on August 25 on NBC with host Seth Meyers. I can't wait!
Images: Netflix; Showtime; HBO; E!; AMC; gifs-for-the-masses/tumblr