Clarks Shoes Is Being Majorly Sexist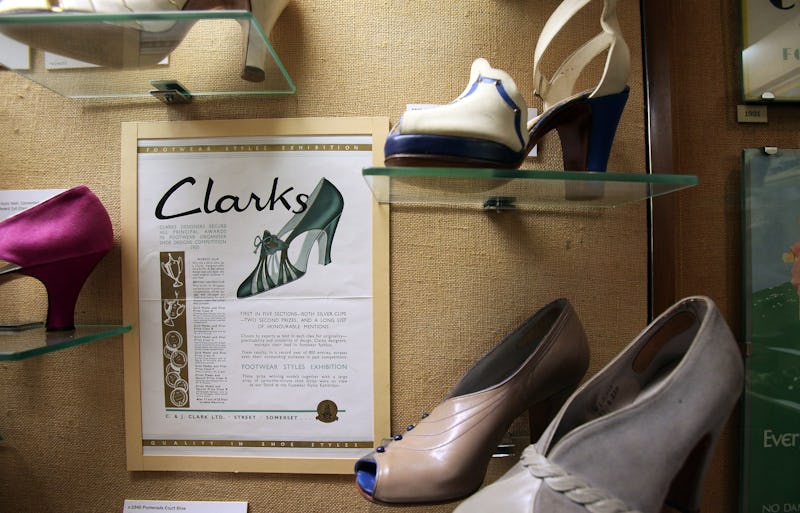 Matt Cardy/Getty Images News/Getty Images
"Girls like pink and prettiness. Boys like blue and getting physical." If that sounds to you like a nursery rhyme from the 1800s ("Sugar and spice and everything nice, that's what girls are made of"), then you're not alone . Unfortunately, this is also the sexist message of a recent Clarks shoes advertising campaign that encourages boys to "test shoes to destruction" (blue shoes, no less), while promoting the idea that girls "love comfort and style."
After seeing these signs in a Clarks store in Westfield, Stratford, in the United Kingdom, Emma Dixon Tweeted the photograph and set the hashtag #LetShoesBeShoes trending. Her petition asking Clarks to "remove outdated, sexist signage" from its stores reached 500 signatures earlier today. On the website change.org, she wrote that it reinforced "damaging social stereotypes" and "deprive[d] both sexes of the opportunity to become who they really are."
And she's right. These ads are undoubtedly problematic. Hey Clarks, what about boys who like fashion? What about girls who like running around and making mess...or even just the color blue? And what about kids who don't wish to identify as either gender? Where do they fit in this pink-versus-blue binary?
The irony of all this is the fact that Clarks' campaigns from years ago did a better job of challenging a gender binary. An old ad for their "Wallabee" line of shoes featured a grown man next to the quote "In my eyes, Wallabees are practically beautiful." That's right, a man who loves practicality and style.
Another vintage Clarks ad featured a female film star, alongside a blurb that read: "But she considers comfort as well as style." Yes, you spotted it, this is the exact same phrase from the recent ad, about 50 years later. At least the old ad depicted a career woman, unlike the recent one that encourages female passivity.
Other old adverts feature entire families out frolicking in the sunshine in their Clarks shoes. Drawn in black and white, they made no gendered color divisions.
Clarks, you're moving the wrong way!
Unfortunately, this is just the latest in pointlessly gendered products targeted towards children. For instance, the "Barnes and Noble Classics Series" includes separate bundles of books for boys and girls. The "Classics for Boys" include tales of "action, adventure, and exploration" such as Mark Twain's The Adventures of Tom Sawyer, and Journey to the Center of the Earth by Jules Verne. The Classics for Girls are described as "heartwarming tales" that reminds us that "friendship is the most priceless and enduring gift of all." This is basically a "classic" binary of male physicality versus female emotionality.
Such gendered marketing is what encouraged a collection of parents in the United Kingdom to begin "Let Toys Be Toys," a campaign that advocates against pointless gendered divisions in children's products. Today, they, too, Tweeted about the sexism of the Clarks campaign..as well as about a photo of Prince George wearing pink dungarees. That's right. #Pinkisforeveryone.