14 Essential Movie Soundtracks for Summer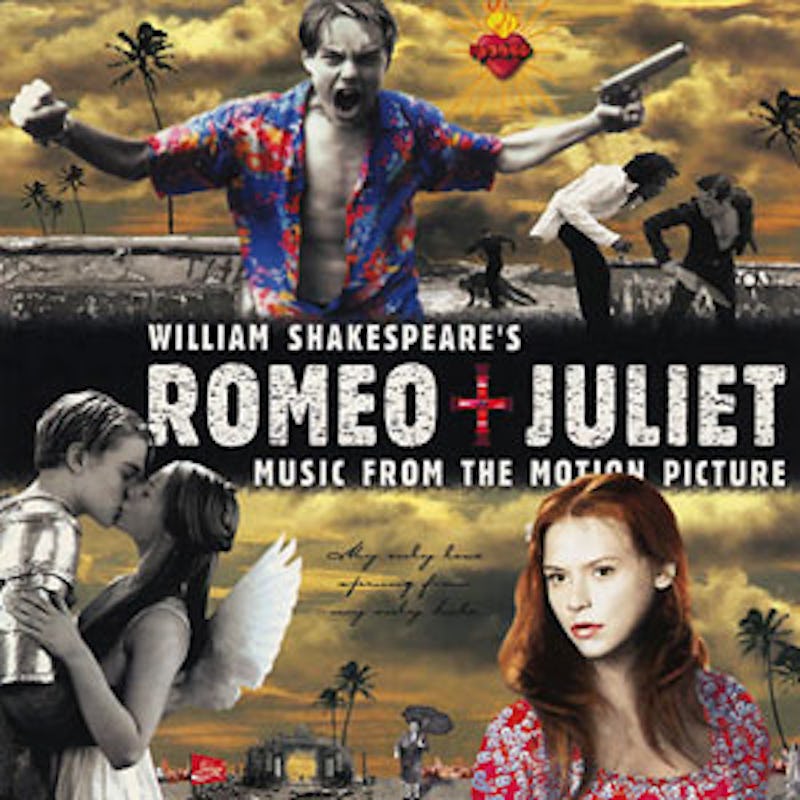 Summer is on the horizon and that means the next few months will be jam-packed with pool parties, backyard BBQs, and road trips to the beach, which means you'll need plenty of summer-friendly jams to accompany you. Now, we don't just mean summer anthems new ("Turn Down For What") and old ("Surfin' Safari"), but the best kind of summer mix tape possible: the soundtrack. 2014 has already provided us with some great soundtracks, including The Fault in Our Stars (Charli XCX's "Boom Clap" will undoubtedly be on repeat until Labor Day) but picked 13 classic soundtracks that are essential listening this, and every summer.
Now, some of these soundtracks weren't necessarily released in the summer of the year they came out, but they just have that quintessential summer sound. (Case in point: the '90s staple William Shakespeare's Romeo + Juliet came out in October 1996, but The Cardigans' hit "Lovefool" is a breezy summer jam if there was one.) From veritable greatest hits compilations like Forrest Gump to the albums that bring you right back to your childhood like 10 Things I Hate About You , these are the 13 nostalgia-heavy soundtracks that we love to listen to this time of year, in no particular order.
William Shakespeare's Romeo + Juliet (1996)
Baz Luhrmann knows how to put together a modern soundtrack for classic tales. Case in point: Romeo + Juliet. There's a perfect blend of genuine pop songs and romantic ballads that capture the very essence of his hyperactive, but effective take on the Bard. I mean who doesn't look through a fish tank without hoping to see Leonardo DiCaprio on the other side while Des'ree plays? Chalk it up to the beach settings of the film or Leo's Hawaiin tee shirts, but this soundtrack always sounds best in the summer.
Essential songs: "#1 Crush" by Gargbage, "Kissing You" by Des'ree, "Lovefool" by The Cardigans, "Young Hearts Run Free" by Kym Mazelle, and "Talk Show Host" by Radiohead.
The Great Gastby (2013)
Did we mention that Baz Luhrmann knows how to put together a soundtrack? Released in May 2013, this compilation of rock, pop, and hip-hop was as unique a summer listening experience as it was a take on F. Scott Fitzgerald's classic novel.
Essential songs: "Young and Beautiful" by Lana Del Rey, "Love is Blindness" by Jack White, "100$ Bill" by Jay-Z, "Crazy in Love" by Beyoncé, and "Together" by The xx.
Forrest Gump (1994)
The Forrest Gump soundtrack — which spans three decades of music — is worth listening to year-round thanks to its jam-packed track list of some of the greatest rock and pop songs of all-time. But whether it's because Forrest Gump was a summer movie or because it features songs like "California Dreamin'" its perfect for this time of year in particular.
Essential songs: "For What It's Worth" by Buffalo Springfield, "California Dreamin'" by the Mamas & the Papas, "Sweet Home Alabama" by Lynyrd Skynyrd, "Fortunate Son" by Creedance Clearwater Revival, and "Go Your Own Way" by Fleetwood Mac.
(500) Days of Summer (2009)
Hey, summer is right there in the name. Sure, this choice is a little bit more moody and melancholy than some of the others, but it's the perfect soundtrack for reminiscing about summer romances or if you're throwing a party on your trendy Los Angeles roof.
Essential songs: "Sweet Disposition" by The Temper Trap, "You Make My Dreams" by Hall & Oates, "Us" by Regina Spektor, "Mushaboom" by Feist, and "Please, Please, Please Let Me Get What I Want" by The Smiths.
10 Things I Hate About You (1999)
If you were class of '99, this album was everything. If you listen to it today you can practically be transported to driving out of your school parking lot blaring this soundtrack. While the album (shamefully) doesn't include Heath Ledger's rendition of "Can't Take My Eyes Off You," it does have plenty of songs that bring up good memories of the movie and the summer of your final year of high school.
Essential songs: "Cruel to Be Kind" by Letters to Cleo, "I Know" by Save Ferris, "F.N.T." by Semisonic, "Wings of a Dove" from Madness, and "I Want You To Want Me" by Letters to Cleo (this soundtrack was clearly Ben Wyatt's jam).
A Hard Day's Night (1964)
The soundtrack to A Hard Day's Night is considered one of the best soundtracks of all-time, and with good reason. Essential listening for any Beatles fan. That is to say, any fan of music. Songs like "A Hard Day's Night" and "Can't Buy Me Love" are meant to be played while you're cruising with the windows rolled down.
Essential songs: "A Hard Day's Night," "Can't Buy Me Love," "And I Love Her," "If I Fell", and "Things We Said Today" by The Beatles.
Saturday Night Fever (1977)
Like Romeo + Juliet, the soundtrack Saturday Night Fever was actually released in the fall of the year their respective film was released, but it just sounds so much better in the summer. Who doesn't want to strut down a hot summer street in the city while listening to "Stayin' Alive" by the Bee Gees? A must-have for any fan of '70s music.
Essential songs: "Stayin' Alive" by the Bee Gees, "Boogie Shoes" by KC and the Sunshine Band, "Disco Inferno" by The Trammps, "Night Fever" by the Bee Gees, and "If I Can't Have You" by Yvonne Elliman.
Go (1999)
1999 was a great year for movie soundtracks (see: Cruel Intentions, Magnolia, Rushmore, and of course, 10 Things I Hate About You) and Go was no exception. Between '90s powerhouses like No Doubt and one hit wonders like Len, it's a perfect timestamp of the late '90s that still sounds good in the sunshine.
Essential songs: "Steal My Sunshine" by Len, "New" by No Doubt, "Gangster Trippin'" by Fatboy Slim, "Good to Be Alive" by DJ Rap, and "Shooting Up in Vain" by Eagle Eye Cherry.
Trainspotting (1996)
There are countless cool soundtracks from cool '90s movies to choose from (Pulp Fiction, Singles, Swingers) but we give Trainspotting the slight edge, a soundtrack so popular it spawned a second album. If you're backpacking through Europe this summer, this Britpop compilation is pretty much a must-have.
Essential songs: "Lust for Life" by Iggy Pop, "Sing" by Blur, "Mile End" by Pulp, "Perfect Day" by Lou Reed, and "Deep Blue Day" by Brian Eno.
Can't Hardly Wait (1998)
Let's call a spade a spade: the '90s produced some seriously great soundtracks to listen to in the summer time. Can't Hardly Wait was one of those albums thanks to its party-friendly mix of rock, hip-hop, and pop. Time to get freaky!
Essential songs: "It's Tricky" by Run-D.M.C, "Graduate" by Third Eye Blind, "Paradise City" by Guns N' Roses, "Dammit" by Blink-182, and "Flashlight" by Parliament.
American Graffiti (1973)
Between American Graffiti and Forrest Gump, you'll pretty much have every song you would need to hear from the '50s and '60s. A perfect compilation of golden oldies for the summer.
Essential songs: "Surfin' Safari" by the Beach Boys, "Green Onions" by Booker T. & the M.G.'s, "Goodnite, Sweetheart, Goodnite" by The Spaniels, "See You in September" by the Tempos, and "Johnny B. Goode" by Chuck Berry.
The Last Waltz (1978)
Hey, just because school is out for the summer doesn't mean you can't learn an important lesson in rock and roll. Kick off your shoes, make yourself an ice tea, sit on the porch and let The Band's farewell wash over you.
Essential songs: "Up On Cripple Creek" by the Band, "Forever Young" by Bob Dylan, "The Night They Drove Old Dixie Down" by The Band, "Who Do You Love?" by Ronnie Hawkins, and "Coyote" by Joni Mitchell.
Purple Rain (1984)
Purple Rain was the soundtrack to the summer of 1984, and subsequently every single summer since then. A timeless album.
Essential songs: "Purple Rain," "Let's Go Crazy," "Darling Nikki," "When Doves Cry," and "I Would Die 4 U" by Prince.
Image: Capitol Records; Giphy.com