How to Work '90s Shoes Into Your 2014 Wardrobe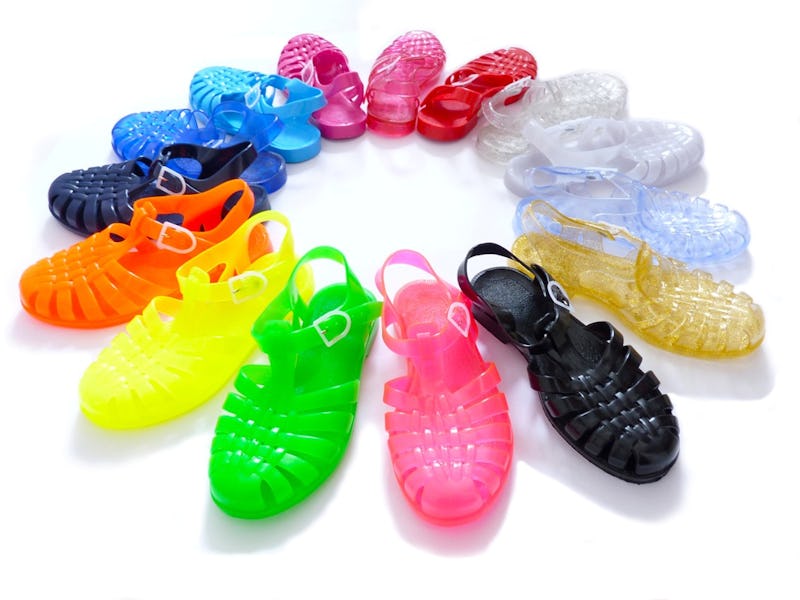 The '90s just keeps on giving this summer, with the latest nugget of nostalgia coming to us in the form of a sandal. A jelly sandal to be exact. Oh, you know the ones. Picture yourself as a kid gearing up for a day of school with only one important question on your mind, "Which color of jelly sandals am I going to wear today?" Decision making was tough back then, but nothing was going to stop you from coveting the perfect collection of jelly wear.
And now, wearing plastic is back in vogue. The good news? The rubber shoes for sale in 2014 feel way more chic than the glitter-encrusted kicks of your past. The bad news? Pairing these classics with a modern ensemble can be a bit tricky. It is definitely because the late '80s and early '90s were a time of cheesy trends, and bold statements that are slowly inching their way back in our hearts. These shoes can totally complete the right outfit, but I'm not saying you should swap out your heels to pair some bright pink jellies with an LBD.
So instead of like, going postal over your fear, check out these totally rad ideas on how to bring these look together. I mean would I steer you wrong? As if!
1. USE SOFT, FEMININE PIECES TO FEEL DRESSED UP AND GIRLY
This is one case where socks and sandals is totally acceptable.
2. GO TOTALLY RETRO, WITH ALL OVER THROW BACK ITEMS
Tattoo choker necklaces are back too, in case you haven't heard.
3. MAKE IT MODERN BY PAIRING ALL YOUR FAVORITE TRENDS TOGETHER
Such fashion.
4. ELEVATE YOUR STREET LOOK WITH SIMPLE STATEMENT PIECES
If you're going to rock jellies, you might as well go all out with a pair of overalls, too.
Images: Polyvore