Taylor's Cats Can Teach Her a Lot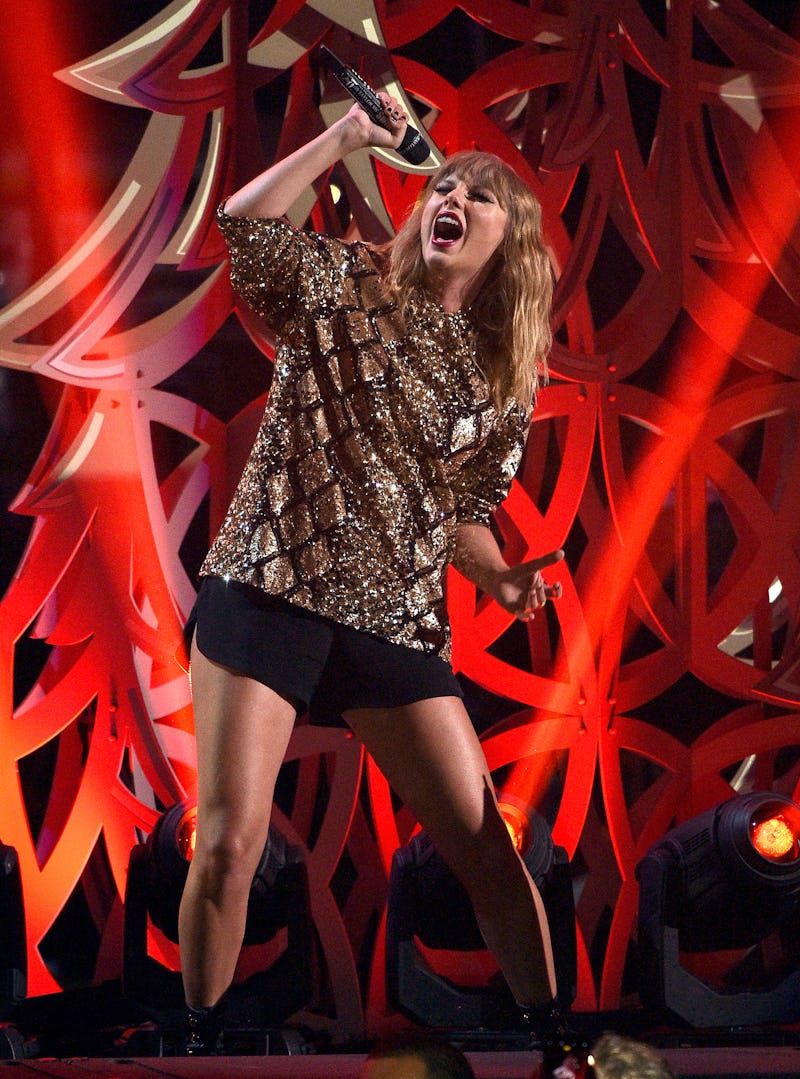 Kevork Djansezian/Getty Images Entertainment/Getty Images
In the name of all things adorable in the universe. Taylor Swift's been pretty busy lately, what with drinking whiskey sours with Ina Garten in Food Network Magazine and chatting with fans on Instagram. But she wasn't too busy to expand her cat-family — on Wednesday, Swift got a new kitten and named her Olivia Benson after Mariska Hargitay's badass character on Law & Order: SVU. And it's damn adorable, like so adorable that you involuntarily want to squeeze it — that adorable. Olivia Benson joins Swift's first cat, Meredith (named after Ellen Pompeo's Grey's Anatomy character), and well, it appears that the Red singer really loves a good, strong female lead on primetime television.
The self-proclaimed cat lady debuted white, fluffy, and unbearably cute Olivia Benson on her Instagram account, reminiscent of Meredith's introduction in 2011. In the photo, the kitten, which looks vaguely similar to Kim Kardashian's deceased cat, Mercy (RIP), sits in Swift's lap, staring up at the singer. And Swift looks down on Olivia with an expression that can only be read as, "OMG HOW CUTE ARE YOU? I'M GOING TO LOVE YOU MORE THAN HOMEMADE CHOCOLATE CHIP COOKIES." See the perfectly sweet photo here:
I know, you're overwhelmed — she really is that adorable. So, why exactly did the singer name her cat after Sergeant Olivia Benson of the Special Victims Unit? Possibly because youths vandalized Swift's mansion this week and she felt like she needed some back-up. Or maybe Swift just wants to be surrounded by strong women, if that's the case, here's a few traits we hope Olivia and Meredith have inherited from their TV namesakes:
Olivia Benson
This Disapproving Look
How else will Tay Tay know that her Met Ball dress is not cutting it?
A Clear Sense Of Right & Wrong
She'll make Tay feel better about whatever jerk breaks her heart next because it's not your fault, Tay.
Sheer Badassery
Who doesn't love a little, tough cookie — maybe Olivia can teach Tay a little something about adding some sour to her sweet.
Meredith
Strength To Power Through
It's hard out there to be Taylor Swift sometimes.
And To Give In
It's okay to have an off-day sometimes, Tay.
The Fiercest BFF Loyalty Of All Time
Tay's got a lot of BFFs, but all you really need is your person.
I'll let you cats take it from here, Olivia and Mere.
Images: TaylorSwift/Instagram (2), poorlilhershey/Tumblr, alexquintas/Tumblr, eandoshow/Tumblr, keepcalmandfandoms/Tumblr (2), Rebloggy