The Blue Ivy Hair Petition Was Just a Bad Joke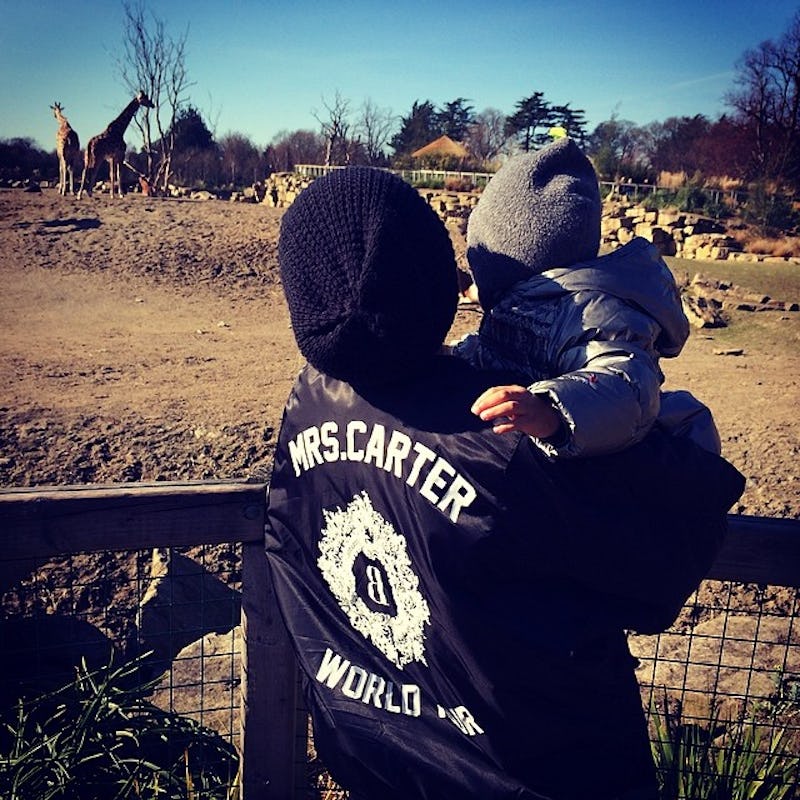 Remember last week when a Change.org petition to comb Blue Ivy's hair circulated online and everyone was outraged? Jasmine Toliver, the petition's creator, claims it was just a joke and that we're all way too sensitive. But guess what? I don't care if the petition is a joke. That "joke" still says terrible things about society's treatment of women.
Last week, Toliver created a Change.org page entitled "Comb her hair" after photos surfaced of Jay Z carrying a sleepy Blue Ivy around New York City immediately after returning from a family vacation in the Hamptons. Sure, her hair looked a little frizzy. Whatever, she's a toddler. Toliver appeared very concerned about the issue, writing the following description on the Change.org page:
As a woman who understands the importance of hair care. It's disturbing to watch a child suffering from the lack of hair moisture. The parents of Blue Ivy. Sean Carter A.K.A Jay-Z and Beyoncé has failed at numerous attempts of doing Blue Ivy Hair. This matter has escalated to the child developing matted dreads and lint balls. Please let's get the word out to properly care for Blue Ivy hair.
The media latched on to the story, because publicly criticizing a little girl's physical appearance is horrible no matter who that little girl's parents are. Just because someone is famous, that doesn't give us a right to launch large-scale criticisms about their parenting based on a tabloid photo. Jasmine Toliver, however, finds the petition and subsequent backlash HI-larious. She posted a Facebook status on June 13th letting us all know how ridiculous we are for taking this seriously.
I'm just so over with society! Obviously the petition was a joke! It just goes to show you how dumb people really are to believe I would really deep down in my heart start a petition to comb her hair and be DEAD SERIOUS! Your suppose to laugh at stuff like that. Shake your head and keep strolling. A discussion with 4 friends and a joke when I said "I'm going to start a petition to get this baby hair combed" turned global!!! I guess petition sounds important like its judicial.Something that has to be notarized.. Like the courts or police officers has to be involved.! Like its a subpoena! Like if it does get a billion signatures a change will ACTUALLY HAPPEN!!!!! Lol yo it just goes to show people will fall for anything! Especially a petition as stupid as that! Really "COMB HER HAIR" lmao this was genius! I mean I knew I needed to be on somebody television one day because I come up with some crazy topics and jokes but DAMN. My petition has put the damn world at a stand still. Yes the baby needs her hair done I'll stick by that.! Tuh! But the petition is obviously a joke and thanks to everyone who had common sense to realize it. Doesn't mean anything but a laugh among friends and family member when I pointed out that it was a mess. But again I'm done with society it's so easy to get blood sucked into it and brainwashed. I'm going to CONTINUE TO BE ME! NOTHING WILL CHANGE. My thick skin got me through this hilarious experience! I was raised in a no nonsense household and tell it how it is. That's exactly what I did.! Thank god for alllll of my friends and family members on FB on and off to agree with me and seen the humor in it. I made it baby!!! Google me b*tches! Lmao!
This defense makes it abundantly clear that Jasmine Toliver is the one who doesn't understand, not the media. I'll try and explain: The backlash had nothing to do with whether the petition was effective in getting Blue Ivy's hair combed or not, although I would venture to guess that Beyonce and Jay Z were planning on doing so before Toliver offered the generous suggestion. The backlash had everything to do with the absurd scrutiny that we put women under from the time that they are small. Until we stop writing joke petitions about how ugly Blue Ivy's hair is, we will never stop having women who hate the way they look.
Toliver would do well to remember that once you put something on the Internet, it becomes part of the cultural dialogue and is open to interpretation, no matter the original intentions. Even if Toliver didn't take her own petition seriously, there were plenty of people who did. At the time that I reported on the issue last week the petition had only 10 online "signatures" but today it has reached 5,000. Of those 5,000 people, many of them made comments proving how dead serious they were about their "concern" for Blue Ivy's hair. Some joke.
Image: beyonce/Instagram