She's Glad They're Not Married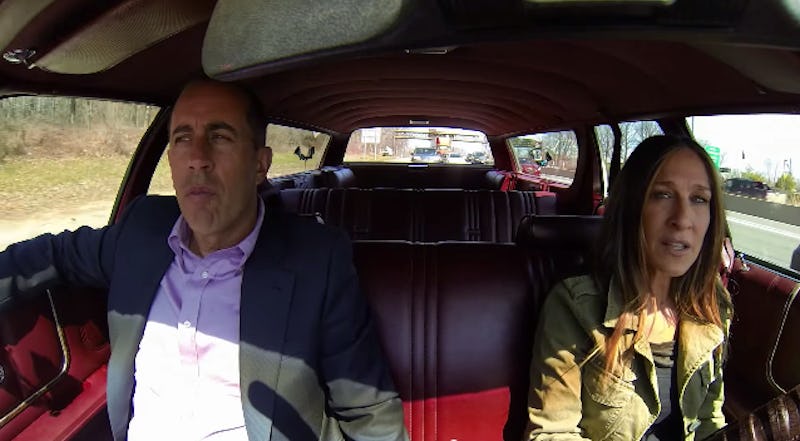 Sarah Jessica Parker is the guest on the Season 4 premiere of Jerry Seinfeld's Comedians in Cars Getting Coffee . As they, well, drive and get coffee, SJP and Seinfeld are hilarious. They take turns telling long, inane stories as the other giggles. It becomes incredibly clear how similar the two are, a fact that they both make note of. "We're both a little hyper-aware of little things," says Seinfeld as Parker nods.
But they have more in common than just that. Both starred in two of the most popular sitcoms of all time, and they're both very New York: At one point, they argue about the fastest way to get to their destination. It's super cute. The show's funniest moments, however, come when the two are talking about the "little things." Seinfeld thinks the cup holder defines our culture. Parker is amazed by the fact that everyone around her will eventually be going to sleep ("You sound like you're high," says Seinfeld). They then discuss their similarities. "You remind me of me. I can see why I exhaust people," Seinfeld tells Parker.
They also discuss their similar level of fame, wondering what people think they're doing at a café. Of course, their similarity is a double-edged sword. There's a lot of bickering, and Parker eventually expresses her relief that they're not married.
It's fun seeing these two stars, both a little past their celebrity peak but happily so, joke around together and reminisce, almost like an old married couple. It also bodes well for the new season of CICGC, which boasts such guests as Aziz Ansari and Jon Stewart. We can't wait.
Image: Crackle/Youtube