7 Of The Best Cara Maria-isms From 'Free Agents'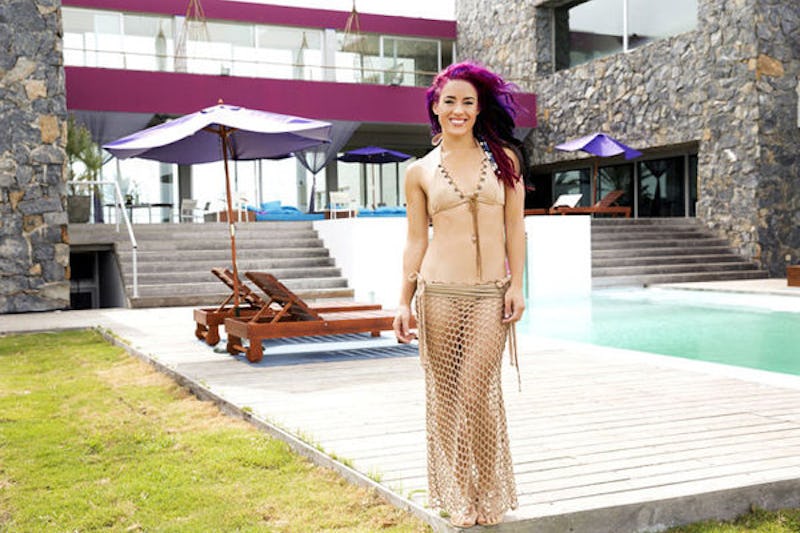 It was a long and painful road for our favorite Challenge competitor Cara Maria, and unfortunately, her time on Free Agents ended on Thursday night after a grueling elimination against Laurel. As much as everyone was rooting for her, she just couldn't get past "The Wall" with a broken hand and mental roadblocks. In her own words, "Tried. Got flustered. Failed. Can only blame myself. Should have fought harder. Sorry guys." No one could blame her though, after fighting so hard all season to only be voted in due to some foul play by Johnny Bananas... well, it was a low blow, plain and simple.
As gutted as we are to not see Cara Maria in the final, we are at least glad that this was the season she was recognized for being the strong, honest, and full-of-heart competitor that she's always been. She was sent into eliminations by votes and by chance more than anyone else, and rather than complaining, she put her head down and got to work. Unlike a lot of players who use politics and scheming to get by, Cara Maria always advanced because of her physical strength and determination. We have no doubt she'll be back for more Challenges in the future.
To give props to our favorite technicolor-haired badass, here are our favorite Cara Maria-isms — the moments that made us snort with laughter and cheer along. Get it, girl.
When She handed it to Theresa
"That's what happens when you don't campaign for votes."
Oh daaaaaaaaaaaaaaaang.
When she made the best of a disgusting situation
That burrito challenge was the absolute worst!
When she made up this metaphor
When she expressed herself like this
"I'm frolicking in left field!"
Yeah, we'd feel that way too if we were trying to make sense of Laurel's attacks.
When she gave the best advice in Challenge history
When she spoke the most important truth
When she said the most Cara Maria thing ever
"I hate heights. I hate water. Imagine a cat hanging over a bathtub, holding onto a rope. That is pretty much me."
We feel you, girl. We really do.
Images: MTV(4); genevievester/mtvchallenges(3)Tumblr