Cara Maria & 3 others Were Eliminated Last Night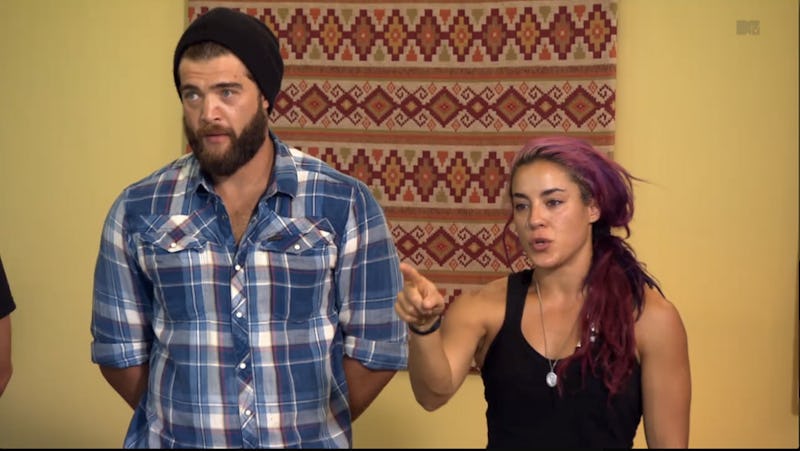 It's one thing to face "The Wall" in an elimination round on The Challenge: Free Agents. It's a whole other thing to do it while nursing a broken hand. For all the heart and determination Cara Maria had going into Thursday's elimination, her injury kept her from performing at her best. Sadly, our girl was sent home by her rival/frenemy Laurel. It was painful to watch, so we can't even imagine how painful it was to actually endure. After ringing the bell, Laurel did muster up enough tact to hug Cara Maria and say, "Sorry" into her ear. However, it wasn't long before she was gloating over her victory back at the house. Just one of many reasons we were all rooting for Cara Maria. Sigh.
Cara Maria's elimination wasn't the only heartbreaker of the night. First CT sent the lovable Leroy packing in the men's elimination, then The Challenge threw a wrench into the whole thing when a secret "Final Elimination" was thrown into the mix. Early in the episode, the cast relocated to the Andes Mountains in Chile. There, TJ greeted the remaining eight competitors with a shocking twist — only six people would be moving on to the finale. By the luck of the draw, Laurel and Theresa faced off and the two biggest rivals CT and Bananas were paired for elimination.
Unlike every other elimination, the final elimination wasn't a test of brute strength. Rather, it was a series of puzzles which sent both Theresa and CT packing. Laurel got by within just a fraction of time, while CT (who is usually a puzzle champ) got stuck in the mental mud. Not only were these two just moments away from starting the final challenge, they were also flown to a new location and then sent home almost immediately upon arrival. Ah Free Agents, how you love to torture your players.
The finale also has the Free Agents signature element of chance. The last challenge is divided into four parts, and in the first three, players rotate partners in which each guy and girl must work together. The final leg of the battle is an individual race, however the winner will be determined by who has the fastest combined time of all of the events. Naturally, the fellas moaned and groaned about the "nightmare" that it is to do athletic competitions with women. So when Devyn takes it home, all of the macho dudes can wipe their tears with the discarded sleeves from their shirts.
Game on.
Image: MTV