Rob Lowe and Rashida Jones Leave 'Parks and Rec'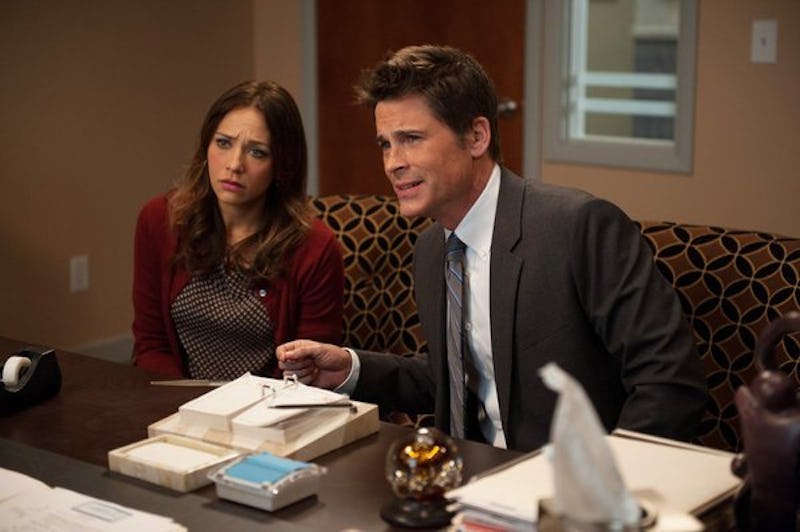 Pawnee-ins, this is LITERALLY the worst news ever - Rob Lowe and Rashida Jones, who play Chris and Anne, respectively, are leaving Parks and Recreation , the Hollywood Reporter has confirmed. The TV parents-to-be will make their exit after the 13th episode of the show's upcoming sixth season.
Neither of the actors' reps have commented on the departures, so it's up to us to speculate on why they would choose to leave the only good comedy left on NBC. Lowe's experienced a career revival of sorts over the last few years (in huge thanks to his role as neurotic, health-freak Chris Treager on Parks), with an acclaimed supporting role in Behind the Candelabra and a highly anticipated turn as the president in National Geographic's upcoming Killing Kennedy. Next up is To Appomattox, a Civil War mini-series; maybe Lowe's trying to capitalize on his good fortune, and that means, unfortunately, leaving Parks to free up time. Jones, meanwhile, fresh off the success of 2012's Celeste and Jesse Forever, which she co-wrote, is spending more and more time behind the camera. She has a a development deal with Warner Bros. Television, and recently directed a Sara Bareilles music video. Perhaps she felt acting, and thus Parks, was becoming too limiting.
Whatever the reason, the fact is that Lowe's and Jones' exits don't bode well for Parks and Rec, which has already faced more than its share of trouble over the past few years. Chances are, the critically beloved but ratings challenged show will be heading for cancellation this year or next, now that it's losing two of its most familiar faces.
It's not all bad news for Parks fans, though; it's been announced that Henry Winkler and Kristen Bell will be making appearances on the show this season. Also, Chris Pratt now looks like this. But still... without Chris and Anne and their weird, not totally understandable chemistry, Pawnee will feel pretty empty. We miss them already.