Taylor Swift's Best Outfits So Far This Summer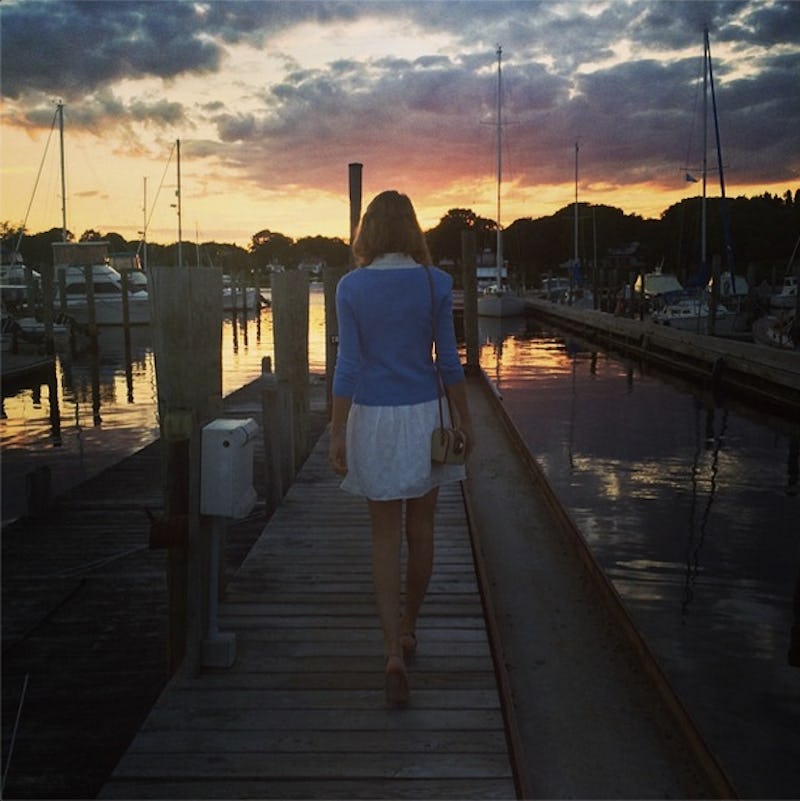 Taylor Swift is having a moment. Okay, fine, she's perpetually having a moment. But since moving to New York earlier this spring, she's been getting lots of notice for her high-profile friendships with fellow NYC A-listers like Lorde, Lena Dunham and Karlie Kloss (Are you jealous? Because I kind of am). She's on the top-40 radio stations what seems like every other song, she just finished an international tour, and heck — even her (admittedly adorable) Instagram of her new kitten, Olivia Benson, blew up social media and dominated the celebrity gossip circuit for days. Oh, and don't forget she'll be making her movie debut this summer in The Giver . It's not that she wasn't before — not even that she hasn't been for the last five years — but take note, because Ms. Swift is a bona fide, capital-S Star.
She's also been drawing attention with her oh-so-envious-street style — long gone are the days of curly halos of blonde hair, cowboy boots, and sequin dresses; now we have an ultra-polished Swift who looks like she could give Kate Middleton a run for her money (just switch out the British Temperley London for American mainstay Oscar de la Renta and you've got a match). Yes, her new style DNA is one part Duchess of Cambridge class, one part Zooey Deschanel retro cutesy quirk, and one part Alexa Chung It-girl prep.
Let's get some summer inspiration from some of her latest looks!
1. Retro-classic in Oscar de la Renta
Here's a royalty-worthy look: that Oscar de la Renta fits her like it was made for her (and who knows, it probably was), and the matching kelly green pumps and boxy purse complete the look perfectly.
2. Prep school chic in A.L.C.
Who knew short shorts could look so fashionable? I suppose they are oxblood, a color that can make pretty much anything look in vogue. The navy cardigan, high-heeled oxfords, and crisply-collared shirt certainly don't hurt her case, either.
3. Crop toppin' in AQUA
I'm slowly coming round on the whole crop top trend, and I think this is a nice example of playing it right. This is the outfit she wore to unveil her new kitten, after all.
4. Resurrecting rompers in MINKPINK
I've been staunchly opposed to rompers throughout their whole reigning tenure as the trend of summer, but this one has pretty much singlehandedly changed my mind. Also, as with all the other outfits in this post, her accessories are on point. I mean, a snakeskin heart-shaped shoulder bag? Yes!
5. Going LWD in 1.State
I don't think it gets more summery than white eyelet. It conjures images of Jane Austen heroines frolicking on a picnic.
6. Fitted Florals in Oscar de la Renta
Taylor wore this confection of a gown out on Fathers' Day. The cut is gorgeous (though would you expect any less from Oscar de la Renta?), and the golden print looks amazing with her signature red lipstick.
Images: taylorswift/Instagram, OfficialRED13/Twitter