5 Reasons Why You Should Be Watching 'GMW' Tonight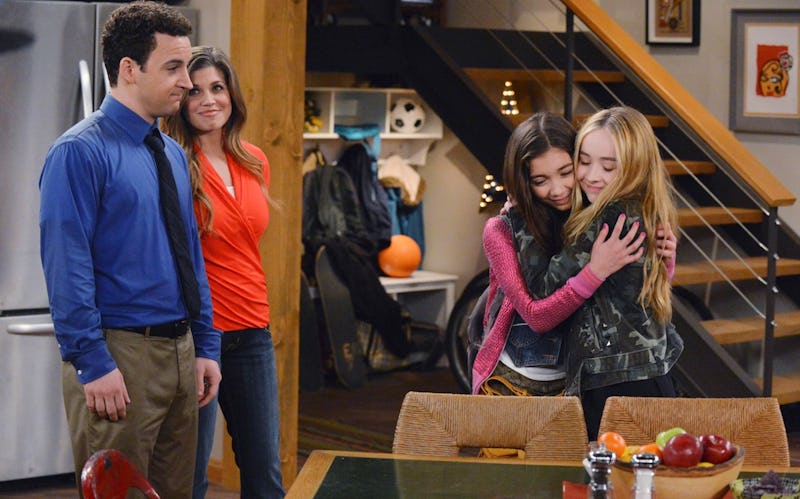 As you may have already heard, Girl Meets World is available online (or via the Disney App on AppleTV) for your viewing pleasure. Unfortunately, you have to be subscribed with a cable provider in order to watch the episode early. Luckily, for anyone having trouble accessing it online, you only have to wait a few more hours for Girl Meets World's premiere on Disney Channel at 9:45 p.m. EST. Icouldn't stop myself from stealing my friends UVerse password and getting a sneak at tonight's episode and t was almost like watching the pilot of Boy Meets World. It's a little cheesy with the dialogue, but there's always a lesson to be learned. That seened to be BMW's mantra and it certainly has flowed right into Girl Meets World. Now that you know how to watch Girl Meets World, here are five reasons why you should.
A SERIOUS DOSE OF NOSTALGIA
One thing that you have to remember going into the series is that it's not Boy Meets World . The show is not about Cory and Topanga, but about their daughter. All of Cory's quirkiness is still there, which makes you completely nostalgic for the original show. In fact, I plan on marathoning the series as soon as i finish this article. Girl Meets World makes you remember all the things you originally loved about Boy Meets World, that are still very much present in the spinoff series. As long as you go into it knowing that it's meant for a new generation, you'll enjoy Girl Meets World. Even though Shawn Hunter's glorious hair may not be there, Maya and Riley will easily remind you of the first time you saw Cory and Shawn together.
SPECIAL GUEST STARS
Guest stars will be popping up throughout the season for us old people who want to see Shawn and Eric again, but we know they are trying to limit the amount of things they bring back from Boy Meets World. I will say, however, that there is a very special guest star in the Girl Meets World pilot who you'll definitely want to see.
THERE ARE STILL LIFE LESSONS TO BE LEARNED
Whether or not you have kids of your own, it's nice to know that this show will be teaching kids the same (if not updated) life lessons that we learned from Cory and Topanga so long ago. You know what, even as a 20-something, some of us could still use a refresher on how to deal with certain life situations. Just because I'm 24 doesn't mean that I have all the answers. In fact, I have zero answers because I still don't know how to make the world my own. At least Riley has Cory to teach her.
BECAUSE CORY AND TOPANGA
Cory and Topanga gave us a sense of hope when it came to lasting relationships. We grew up with them as a couple, we learned so much about relationships from them, and the world is a much better place when they are in our lives. As long as Girl Meets World keeps them together forever, I will be an avid fan of the show.
IT'S ESSENTIALLY THE SAME
Riley is the spitting image of Cory and Topanga, and acts like it too. In the first episode you meet Shawn, err I mean Maya, who is currently teaching Riley how to be cool like she is. She holds a rebellion to stop homework, influencing Riley to join along. Sound familiar? Not to mention Farkle (Minkus' son) is in class with them and is 100 percent identical to his father. It's very much the same characters transplanted into the next generation, and we will take it.
Images: Disney Channel, daniellefishel/Instagram, ABC, Tumblr