The Internet Loves Clint Dempsey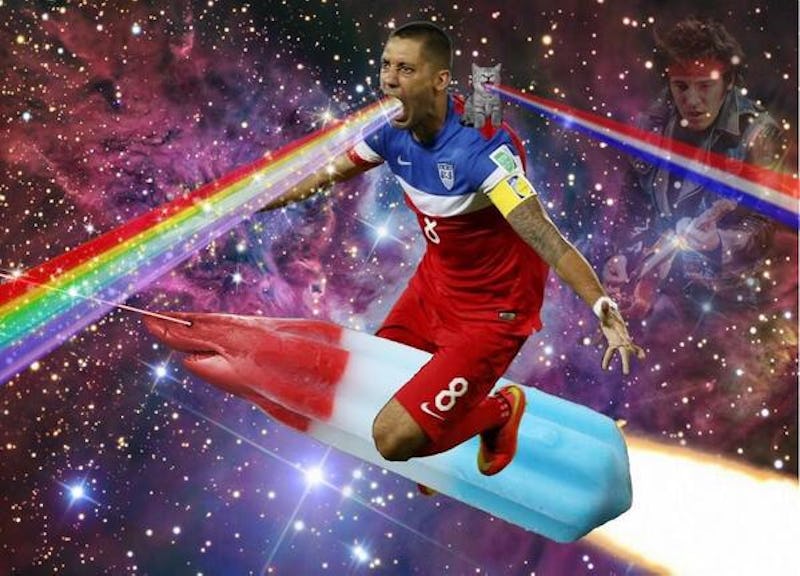 He scored the first goal of this year's U.S. World Cup run, which also happened to be the fifth quickest goal scored in World Cup history. He heroically broke his nose against Ghana. Under Dempsey's leadership, this U.S. team became the first to advance to the knock-out round two World Cups in a row. And even if the U.S.'s loss to Belgium Tuesday proved the knock-out round would be as far as 2014 team would go, you have to salute Dempsey's leadership. He's the captain and champion of the red, white, and blue. But most importantly, Clint Dempsey is one of the Internet's favorite World Cup sweethearts, perhaps second only to Future President Tim Howard.
Since the U.S. transplanted itself to Brazil last month, the Internet has had a lot of fun with our captain's meme-ability. With a wide-open scoring mouth, an eagle-like wing span, and the easily transferable title of "Captain America," Dempsey has opened himself to Photoshop fun that has stretched through the weeks.
And man, has the Internet delivered. It gave us rainbows, eagles, and an influx of our nation's colors. It's enough to make you want to scarf down one million hot dogs and train your pet eagle to cry out the national anthem at once. That is, assuming, that you have a pet eagle. But dammit, doesn't Dempsey want to make you buy a pet eagle?!
Suffice to say, Dempsey and the Internet have been the pivotal part of the U.S.'s World Cup spirit. Lucky you, we've rounded up our favorite memes surrounding the captain.
If this was the first thing that we saw while boating into NYC, we'd be pretty content.
I think R. Kelly said it best here: "I BELIEVE I CAN FLY."
This just rounded up every one of my favorite Internet attributes: Space, rainbow vomit, KITTENS?! Oh yeah, and all of that somehow relates to Dempsey. Somehow.
Oh, come on now. What does your game face look like?
Guns and middle fingers, AMERIKAH.
I feel like someone made this in serious patriotic spirit, which, despite it being hilari-bad, makes it instantly fantastic.
Mountain an eagle and riding our way to victory. U-S-A! U-S-A! U-S-A!
I don't know how the hell Dempsey got to ride a unicorn into space, but you bet that he's going to take an American flag to plant on the moon when he gets there. On a unicorn. Because America.
And, of course, this wouldn't be complete without a muscle car with guns mounted on it. With an eagle perched close by. Thank you, Dempsey. A real American hero.