Meet the Star of 'Finding Carter'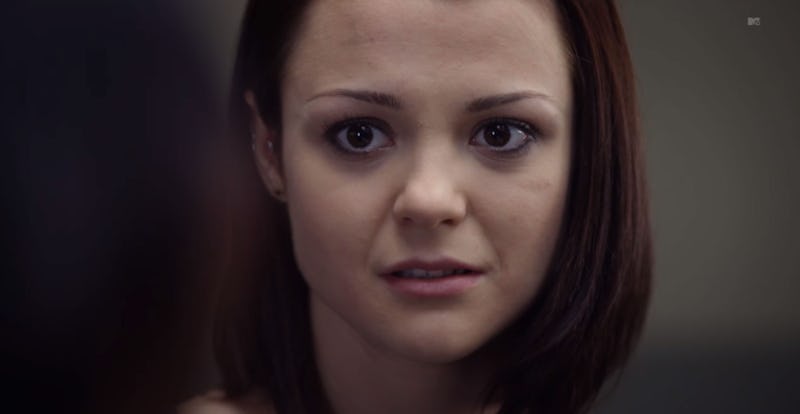 Get ready for an MTV drama that's almost as addictive as your frozen yogurt habit. The trailer for MTV's Finding Carter hit the internet back in April, and MTV unveiled the show's latest promo earlier this week. For those of you who have missed both, the series is about a girl named Carter who gets the shock of her life when she learns that the woman she thinks is her mother is really the woman who kidnapped her when she was only a toddler. Now a teenager, Carter is returned to her "real family," only to realize that she seriously misses the mom who raised her. It's emotional and deliciously dramatic (there's a particularly tense scene in a frozen yogurt shop featured in the trailer that will make you feel all of the feels). So who is this Carter making us feel all of these emotions? The "Carter" in Finding Carter is played by Kathyrn Prescott, and she's no stranger to gut-wrenching emotional drama.
If you're like me, you're already slightly obsessed with Prescott, an alumni of the Bristol-set TV series Skins, a show about a group of hard-partying British teenagers who come face to face with some seriously tough stuff. The show, which changed casts every two seasons, featured Prescott's character Emily Fitch at the beginning of the second "series" of the show. (Technically, its third and fourth seasons.) Emily quickly became a fan favorite, due to her complex relationship with girlfriend Naomi and her sometimes-tense relationship with her sister, Katie, played by Prescott's real-life identical twin, Megan.
Prescott was one of the characters who returned to Skins for the final seventh season of the show, after being absent from Skins for the third series. Prescott appears in the two-part episode "Skins Fire," which, if you're a Emily/Naomi shipper, will totally break your heart. (You'll need a full box of Kleenex for this episode... you've been warned.)
While Skins was by far Prescott's biggest (not to mention most beloved) project, Prescott's no newbie to the TV world. She's had guest appearances on shows like Casualty, Bedlam, and the UK's Being Human. (If you haven't heard of any of them, don't worry — they all air in the UK.) One show that you might be familiar with is The CW's Reign, on which Prescott had a recurring role as Penelope, the kitchen maid with some very devious intentions, which made our recapper call her the potential "Anne Boleyn" of the French court. I'd buy it.
Prescott is a talent, and it's exciting to see her (with an American accent, no less!) on a show that has the scandal of Reign and the emotional pull of Skins. MTV picked the right star for its new drama, and I can't wait to see what she'll bring to Finding Carter.
Finding Carter premieres July 8 at 10 p.m. on MTV. Set your DVRs now.
Images: MTV, siemaziomm/tumblr, nic0tine-kisses/tumblr, look-at-me-and-breathe/tumblr