Halle, Aliens, & Babies Because Why Not?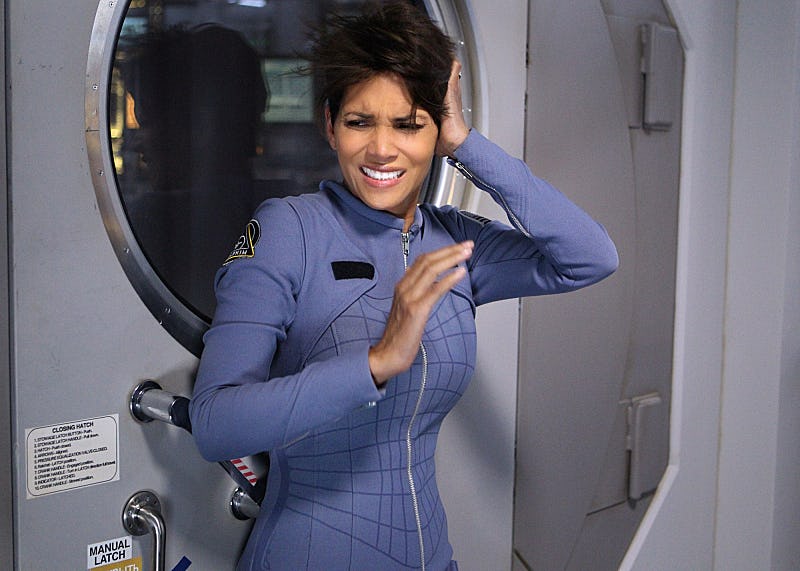 I don't know about you, but my summer is seriously lacking science fiction. Now that my beloved Orphan Black is over for the season, I'm looking to the stars for my new sci-fi fix in the form of the new CBS series starring Halle Berry, Extant . Apparently I picked a good series to prematurely latch onto, because Extant is sort of a big deal. The show, which is produced by Steven Spielberg, stars a major movie star in one of her first big TV roles: Extant marks one of Halle Berry's few TV performances, and considering this lady is an Oscar winner and a flawless actress (I've already erased Catwoman from my brain, and damn it, I kind of liked that movie Gothika) I'm thrilled to see her take on this small screen role.
So what's Extant actually about? Call it Rosemary's Baby in space. Molly Woods (Berry) is an astronaut who goes on a solo space mission for 13 months. While floating around in the middle of space, reading her back issues of People Magazine (or whatever it is astronauts do without WiFi) Berry gets a surprise "visitor" — her ex-lover, Marcus. From the teaser trailer, we see that Marcus doesn't exactly appear human — for one thing, the lack of gravity has no effect on his body. He's also repeating Woods' words in a way that reads as very alien-like behavior. And, of course, let's remember that this is space — there's no way that ex-lovers can knock on your door without some serious scientific intervention. The clip, which is an Entertainment Weekly exclusive, shows Marcus touching Woods' stomach before it cuts away — a little bit of an issue, considering that Woods comes back from mission pregnant.
So that's where we see Woods in the very beginning of the series. Obviously, the show will pose some major questions. For one thing, how is Woods pregnant? If she is pregnant with Marcus' baby — which is something the clip teased, but did not confirm — then she'll have a lot of explaining to do when she returns to her husband and son back on Earth. But how exactly can you explain that you were maybe-impregnated by a maybe-alien version of your ex? Sorry, but even Jerry Springer won't be able to handle that situation.
According to the Extant producers' interview with The Hollywood Reporter , the show will ask big questions about the human condition. The show will feature artificial intelligence technology, with Woods herself having a child who is an "AI," not unlike in the Spielberg-directed film AI: Artificial Intelligence. (Also known as the one movie to make me sob uncontrollably whenever it comes on HBO. It's insanely depressing.)
Not much else is known about the plot of Extant, and maybe that's a good thing. We can't wait to see Extant's mystery reveal itself throughout the summer. Let's hope that Extant can deliver its promise to make us think about the human condition — or, at the very least, entertain us thoroughly.
Images: CBS; reactiongifs; whatthebuck20/tumblr; trick-or-pete/tumblr