Last Night's 7 Best Fireworks Displays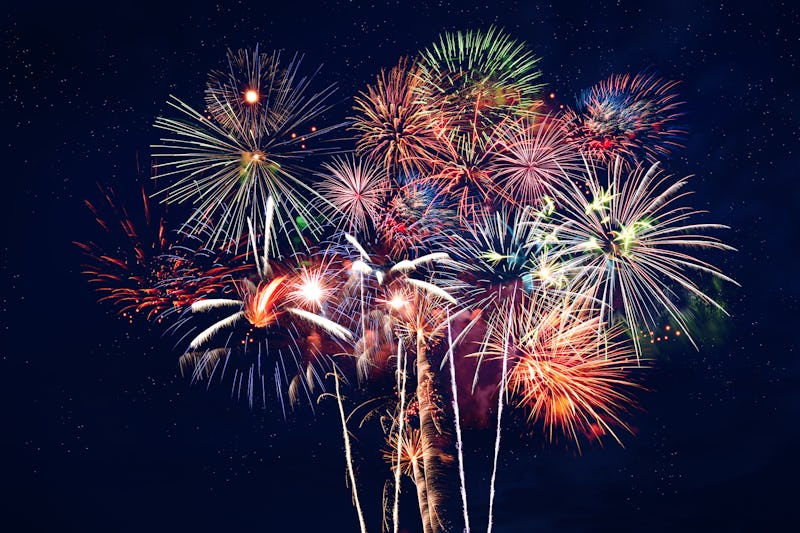 Gino Santa Maria/Fotolia
Happy post-4th, Bustle readers! I hope you had a spectacular holiday filled with whatever it is that you generally get up to, whether that's a barbecue, sipping classy cocktails, or — if you're like my family — watching that most patriotic of movie musicals, 1776. (See, I am not the only one who does this!). And, of course, watching fireworks displays. Whether you trekked out to see them close-up, watched them on TV, or missed out on the extravaganzas, here's your chance to take a look at some of the best fireworks celebrations in the country. In no particular order, here are 7 of our favorite shows:
1. Lights on the Lake (South Lake Tahoe, CA)
Recognized by the Today Show as one of the best places in the country to get your pyrotechnic partying on, the "Lights on the Lake" show usually draws around 100,000 people to Lake Tahoe. It's put together by the same people who craft the Macy's display, so you can be sure of a quality show. This year's display included simultaneous music on local radio stations KRLT-FM 93.9 and KOWL-AM 1490.
2. Macy's 4th of July Fireworks Spectacular (New York City, NY)
Perhaps the most famous of all 4th of July extravaganzas, this king of fireworks shows attracted millions of people last night. For the first time in 5 years, the Macy's fireworks centered on the East River instead of the Hudson River. The show is always nationally televised and is considered the biggest in the United States. Every year, it features a star-studded cast of performers to accompany the lights. The 2014 show was hosted by Nick Cannon and graced by Miranda Lambert, Ariana Grande, Hunter Hayes, and Lionel Richie.
3. Kaboom Town (Addison, TX)
With a population of less than 15,000, Addison isn't as big as the other cities on this list. Nevertheless, this Dallas suburb is known for one of the most meticulously-planned fireworks shows. Kaboom Town is a production that is always months in the making and uses thousands of individually-made fireworks. Almost every single one of Addison's 170 restaurants has a Kaboom Town celebration on July 3rd, when the show occurs.
4. Municipal Pier Fireworks (San Francisco, CA)
The San Francisco extravaganza is generally considered the largest on the West Coast. This year, two set of synced fireworks were fired from the Marina Green and Fisherman's Wharf to ensure maximum viewing potential. Mobility, a jazz, rock, and blues group, and Tainted Love, an 80s cover band, serenaded revelers yesterday afternoon and evening before the fireworks went off at 9:30.
5. A Capitol Fourth (Washington, D.C.)
What more fitting place for a patriotic shindig than in the nation's capitol itself? Washington, D.C. is known for its free concert on the Capitol's West Lawn. This year's lineup included Sara Evans, Phillip Phillips, Patti LaBelle, John Williams, Jordin Sparks, and plenty of other performers. The fireworks themselves were comprised of about 6,000 shells fired off in 17 minutes. That's pretty impressive, no matter how you slice it.
If you like some actual history to go along with your celebration, PBS' Capitol Fourth page has a Fourth of July history quiz for your edification and enjoyment.
6. Fair St. Louis (St. Louis, MO)
This annual, free celebration began in 1981 with the Veiled Prophet Organization, a secret society founded "to promote the City of St. Louis." Fair St. Louis calls itself "America's Biggest Birthday Party" and features an entertainment lineup with the likes of the Flying Wallendas and the Lake Saint Louis Water Ski Club. Although this year's fireworks celebration had to be moved to Forest Park because of construction at the traditional location, the Arch, Fairgoers still had a blast.
7. Boston Pops Fireworks Spectacular (Boston, MA)
This show along the Charles River Esplanade also gives stars a chance to show off their chops before the fireworks begin. The 2014 schedule included performances by the Boston Pops Esplanade Orchestra, The Beach Boys, Megan Hilty, and the lead performers from Phantom of the Opera. The musical section is traditionally concluded by a rousing rendition of the 1812 Overture, with real cannon blasts and the ringing of church bells from all over Boston. This is followed by the fireworks themselves, which used about 5,000 pounds of explosive material this year. That's roughly the level of energy your heart will generate during your lifetime.
And if you just can't get enough of these fireworks displays, check out this video of a drone flying straight through one. The future is here, guys, and it's breathtaking.
Images: Nathan Rupert, Flickr; Steve Dunleavy, Flickr; Douglas Palmer, Flickr; David Yu, Flickr; sarahmilford, Flickr; hbp_pix, Flickr