You're Going to Love This 'LOL' Cast Member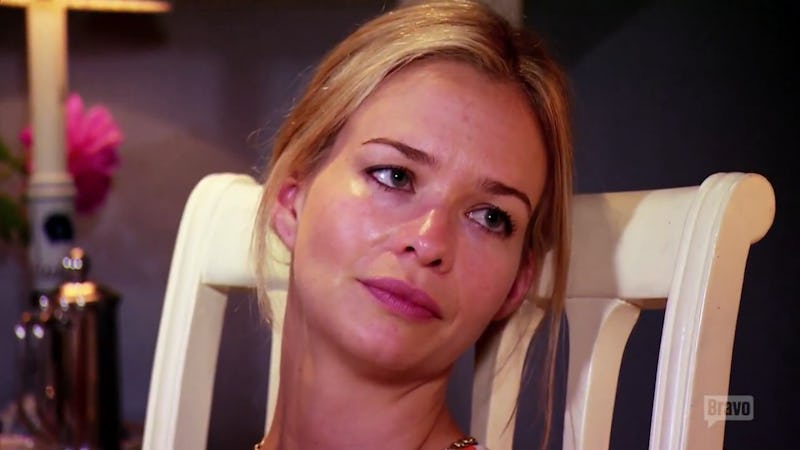 It looks like we're finally going to get some Bravo-worthy drama on Ladies of London , and none other than Marissa Hermer, who has tried to stay away from any conflict so far this season, will be at the center of it all. During Monday night's episode, it looks like Caprice Bourret will skip out on traveling back to London with the rest of the ladies, who then of course have to talk about it behind her back. Things will get heated when Marissa defends Caprice's behavior, citing exhaustion from her late-stage pregnancy as the reason, and Juliet Angus doesn't buy it. When Juliet says she was "the nicest person ever" when she was pregnant, Marissa responds, "I wish I had known you then." Yikes.
Hold onto your fascinators, ladies. It sounds like we're going to see a different side of the usually peaceful Marissa during Monday night's episode. But aside from trying to keep these women from killing each other and encouraging Juliet to sing "The Star Spangled Banner," Marissa has actually carved out a place for herself in British society.
So how did she get there, and what makes her one of the more prominent women winning London right now? We've rounded up seven things you should know about your soon-to-be favorite lady of London.
She's an American girl
Don't let the name of this series fool you; most of the cast, including Marissa, are American expats living in London. Marissa is a California girl at heart, having been born in Laguna Beach and raised in Newport Beach. She originally moved to London to pursue a career in public relations after graduating from Middlebury College in Vermont. After moving back to the States to New York for some time, she returned to London in 2008.
She married a Brit
Marissa moved back to London to be with her future husband Matt Hermer, chief executive of Ignite Group, which owns and operates popular restaurants, bars, and nightclubs. The two married in 2010, and Marissa claimed on the show that women in British society didn't want anything to do with her until after she married this high-profile entrepreneur. That must not have been the greatest feeling, but at least it looks like Marissa has remained down-to-earth throughout her newfound fame.
She's a PR maven
Marissa has led a massively successful career in public relations, working for such firms as Nadine Johnson & Associates, Inc., Syndicate Media Group, and Camron. She's now director of special projects at Ignite Group, helping to "grow the family business," as her official bio states, which includes hosting the party where "knickergate" went down.
She Has Two Adorable Children
We've seen Marissa's first child, Max, on Ladies of London, and she gave birth to her second son, Jake, earlier this year. Marissa loves posting photos of her little tykes on Instagram, and we don't blame her.
She's an anglophile
Marissa is by far the most jazzed about anything British out of anyone in the Ladies of London cast. Whether it's a polo match, tea time, or hanging out at an English estate, if it's British-sounding, Marissa is all about it.
She's a foodie
It's not surprising that someone whose career is mostly about restaurants would be a food-lover. Just take a look at her Instagram, and you'll instantly be jealous about and hungry for all of the delish dishes Marissa encounters and documents on a daily basis.
She has an affinity for novelty Sunglasses
Forget Chanel. Marissa is so fun-loving that she'll put on some silly shades basically any chance she gets. I don't think Caroline Stanbury, a.k.a. Ladies of London 's fashion police, would approve.
Images: Bravo, marissahermer/Instagram