Scott & Bruce Want To Take Flight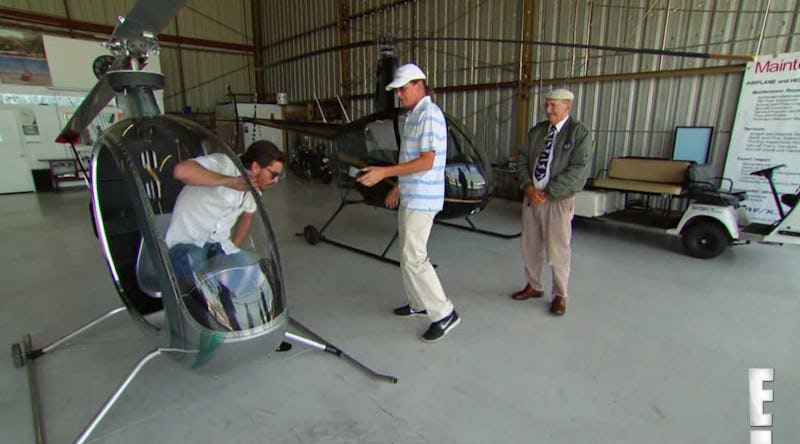 First, there were the private jet carpet swatches. And then, he rented a mobile office. So, what's on Sunday night's docket? Oh you know, Scott Disick wants to acquire a helicopter. That's all. Why does he want the helicopter? Doesn't matter. If the summer half of the ninth season of Keeping Up With the Kardashians continues on this path, I hope it means we can look forward to Scott attempting to rent The Endeavour for a beach party. Or perhaps the producers will de-heighten the bit and the finale will just be Scott selling all of his vehicles and opting to cruise around in a Power Wheels Jeep. I'd be happy with either.
So, how does Sunday night's ep play out? Does Scott purchase the helicopter? Does he put a helipad in his and Kourtney's new backyard? No and no. Don't be silly! Once again, Lord Disick's transportation fantasies are thwarted by reality and pragmatism.
Instead, he buys a giant tube slide for Mason. As amped as Scott is over the prospect of helicoptering to and from Las Vegas, he figures the slide is a more fiscally responsible, family-friendly choice. Mason is STOKED about the slide. As he should be. The slide is awesome. Scott asks Mason if he'd rather have a slide or a helipad.
"I don't know what a helipad is," Mason replies, all the while going HAM on the mega-slide.
Don't worry, Mason. The slide is way sicker than the helipad would've been. You aren't missing out.
Bruce Jenner and Scott might disagree with me, however. While the rest of the family gives Scott the side eye back when he brings in a helipad consultant and meets with a helicopter salesman, Bruce supports his helicopter dreams 110%. Of course he does. He even agrees to be Scott's pilot. OF COURSE HE DOES.
Sadly, we never see Bruce in that pilot's uniform, zipping around in a helicopter with Scott sitting shotgun. I wanted to see those wingless birds take flight at least once, but the Lord Disck/Bruiser chopper trial run never happens. Sigh.
"This is amazing!" Bruce beams back when he believes in his heart of hearts that Scott will buy a copter. "I could never get Kris on board with something like this."
(Sidebar: We do find out Bruce did get Kris on board with flipping on the auto pilot so that they could do the dirty in their private plane way back when. Well, well, well! If Bruce and Kris weren't the pair of sassy molassies!)
The helicopter dream wasn't just Scott's dream. It was Scott and Bruce's dream. Their dream. Their dream that never came to be.
After watching an entire episode of Bruiser and Lord Disick dreaming, scheming, shopping, and palling around, something struck me: Those two should get a Kourntey & Khloe Take Miami-style spinoff.
Oh my god. Forget a TV show, Bruce and Scott should get a movie. OH MY GOD BRUISER AND LORD DISICK SHOULD REMAKE A BUDDY COMEDY. And yes, I do have an idea. I know exactly which movie they should tackle. The recurring transportation theme this season is just too perfect. Planes, Trains, & Automobiles starring Scott Disick and Bruce Jenner. I can see it now. And it's beautiful. Just imagine Scott and Bruce delivering this classic PT&A exchange:
SCOTT as NEAL: Let me close this conversation by saying that you are one unique individual.BRUCE as DEL: "Unique"...? What's that, Latin for "asshole"?
AHHHHHHHHH I would be the first person in line.
Image: E!