How to Dress Like Marge Simpson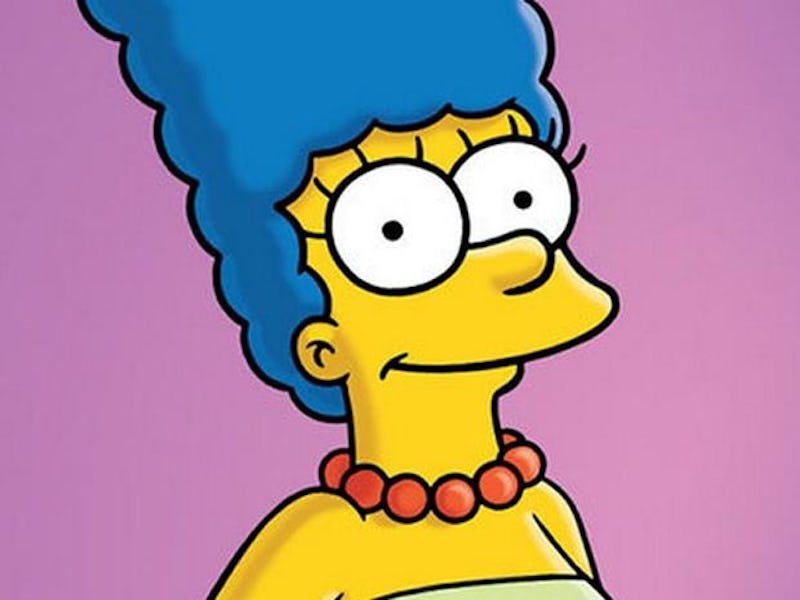 Marge Simpson is having a moment. After spending 25 seasons on television, raising three kids that never seem to grow any older, and making a household name for herself, The Simpsons character is sliding her way into a new resumé-building venture, this time bringing her charismatic influence into the beauty world. Building on its pop culture and celebrity makeup collaborations and professional products, MAC's Marge Simpson-inspired line is hitting stores on Sept. 4 and the Web on Aug. 28. But those attending Comic-Con in San Diego will be treated to a preview: Pret-a-Reporter reports the collection will be available for one day, on July 26, at the festival.
If you can't wait until then, start getting excited about the collection now, which includes lashes that look a lot like the bold lash look that Marge wears each and every day, lip-glosses (is that a bright yellow that I see?), nail stickers, and a four-shadow palette. The color names are recognizable, wonderful, and fitting — just see "Beehive Blue" and "Lisa's Spikes." The collection will range in price from $16.50 to $44, and if you plan on picking up any of these pieces, let me advise you to get online early to secure your items. Take it from someone who missed out on snagging some killer Kelly Osbourne for MAC lipstick.
If you're not huge on makeup, which, if we're being honest, Marge rarely ever wore, there are other ways that you can turn to the cartoon-diva for fashion inspiration. If you think you're too good to dress like a cartoon, you might reconsider after looking at how chic Marge really is.
Give blue hair a chance
Bad Boy Blue by Manic Panic is only one of the many blue hair dye options that you have, but it is a classic product. Blue hair doesn't have to look like a Halloween costume. Marge pulls it off well, and you can too, especially in the summer months. Just be careful not to let the pool water turn it from a Simpsons blue to the green color of her dress. Speaking of that floor length green gown ...
It's easy being green
This LULU*S Exclusive Rooftop Backless Sea Green Maxi Dress is definitely an updated version of Marge's green gown, but its color and length stay true to her intentions. Coming in at only $49, it has a flow-y skirt and sexy backless cutout make this dress perfect for summer too. And it's simple enough to be accessorized with a bold necklace.
Don't be afraid to be too bold
This necklace is a lot, yes, but Marge's signature red necklace is pretty bold too. So embrace this piece of jewelry, which incorporates plastic, metal, pearl, and rhinestone into one giant, beautiful package. Therefore, it goes with (almost) everything, and it can spice up a simple green maxidress. I'd like to think Marge would be proud of this Candy Crush Faux Stone Necklace from Forever 21, which costs a sensible $13.80.
So pick your poison or pair them all together, but don't sleep on Marge Simpson. Because you're sure to have a cow, woman, seeing her MAC collection.
Images: FOX; MAC, Manic Panic, LULU*S, Forever 21