This Date Stopped Haters In Their Tracks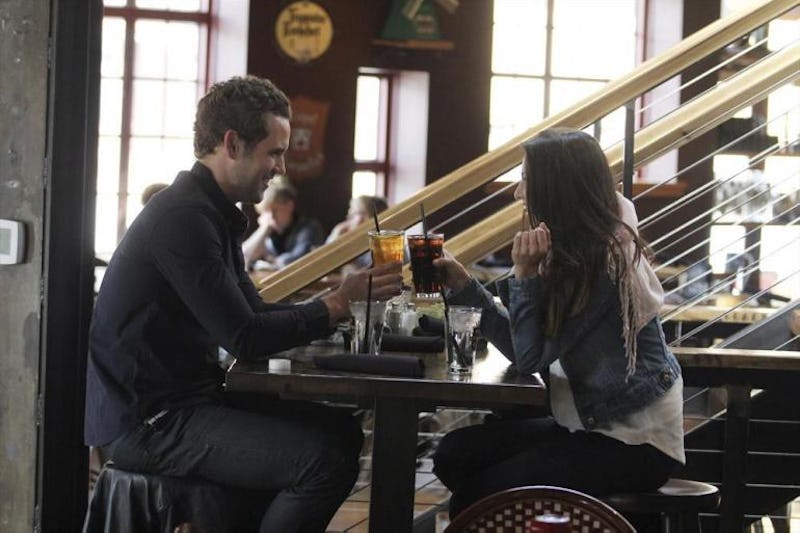 No more hating on this guy. For anyone still unsure of the Bachelorette's Nick Viall, his hometown date should assuage their concerns. Nick has seemed kind of pouty and stalker-y in the past episodes, but now that he's away from the other guys vying for Andi's heart he's a whole new guy — and we like it. Nick kicked his hometown date off in a really down-to-earth normal fashion with a brewery tour and polka dancing. Being from Wisconsin, I can tell you that's a pretty standard Wisconsin date. It's a good gauge of what an average day-in-the-life with Nick would look like.
From there, Nick took her to meet his 700-member family (not really, but this guy has a ton of siblings) before opening up to his sis about how he loves Andi. It was kind of adorable. "Do you think you love her?" his sister asked, as Nick responded with a sweet, bashful nod.
The cutest and most redeemable part of Nick's date, however, was his interaction with his younger sister Bella. She had to be about 10 years old and she questioned Andi about her feelings before reporting back to her older brother. Ultimately, her words gave him the confidence he needed to know Andi felt pretty good about him. It also made us fall for Nick a bit harder after seeing him be cute with his little sis.
Later Nick cried (again) while talking about how much he liked Andi and said "half of me is missing" when he's not with her. Basically, if this date doesn't secure him Andi's heart, it's probably enough to win him the next Bachelor slot. I've been a Nick doubter since the start (sometimes he has creepy serial killer eyes), but now I'm kind of rooting him on. It's amazing the change one date can make, even for staunch Nick-haters.
If Andi feels at all how the viewers undoubtedly feel, Nick has this thing in the bag.
Image: ABC