Should Callie's Dad Be Around On 'The Fosters'?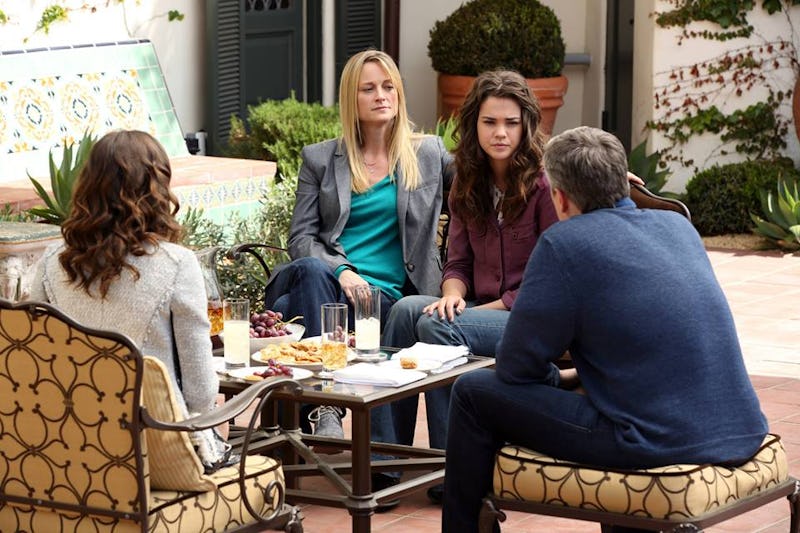 We're all still just trying to figure things out. If there's one thing ABC Family's The Fosters excels at, it's making us all realize that adults, especially parents, don't always know all of the answers. And, even though Monday night's episode blatantly ignored Jude's sexuality storyline, it took on something important — parents doing the right thing for their kids. After taking Callie to meet Sophia, Robert Quinn's daughter and her half sister, Stef realized that maybe she doesn't have all of the answers and it might come in handy to have a little extra help one day.
It's been a long road for Stef and Lena and both their adoptive and biological children. There was that drama with Anna that's yet to be resolved, Stef's possessive behavior with Brandon, Callie's paternity issues, and the decision to used Timothy's sperm to impregnate Lena and him backing out on their contract at the last minute. Since last season Stef and Lena have been taking the path of the most resistance because, well, they want Callie, Jude, and all of their children to be exactly that — theirs. And only theirs, with little-to-no outside influence on their lives. But, on Monday night, Robert and Sophia Quinn's request to meet Callie changed Stef's mind in a big way.
Naturally, Callie was getting cold feet about her decision to meet her sister and the effect it'd have on Jude and the rest of her new family. And Stef, instead of letting her back out, explained that it's okay for Callie to want to meet her half sister and her biological father because they're a part of her. Stef explained that kids who have their biological parents have the luxury of being able to find out why they are who they are just by asking, but for Callie, Jude, Jesus, Mariana, and even Stef and Lena's new baby, there are things that their moms can't explain. Everyone has a right to know their history and that's what Callie got to do with meeting her biological family.
And, even when Stef was taken aback by Quinn's offer to set up a college fund for Callie, her reaction was surprising because she was actually taking her own advice. Instead of telling him to piss-off, which would be so within her range of usual emotions, Stef politely said she'd talk to Lena about it. And by the time she did, she'd come to a revelation not just about Quinn having that involvement in Callie's life, but also in letting Timothy be involved in their new baby's life. Stef decided that there's always room for more love and more support in any family and that was a huge breakthrough for her.
The Fosters regularly focuses on the kids and what they're going through and Season 2 started off on a low-note for Stef and Lena. But it was refreshing to see not just Callie and the rest of the Foster children evolving, but to also see Stef go through an major personality change also. We can't control everything and everyone around us and it's fine to accept support, even from someone you initially thought was manipulating your kid.
Image: ABC Family