Frankie & Ariana Have the Cutest Relationship Ever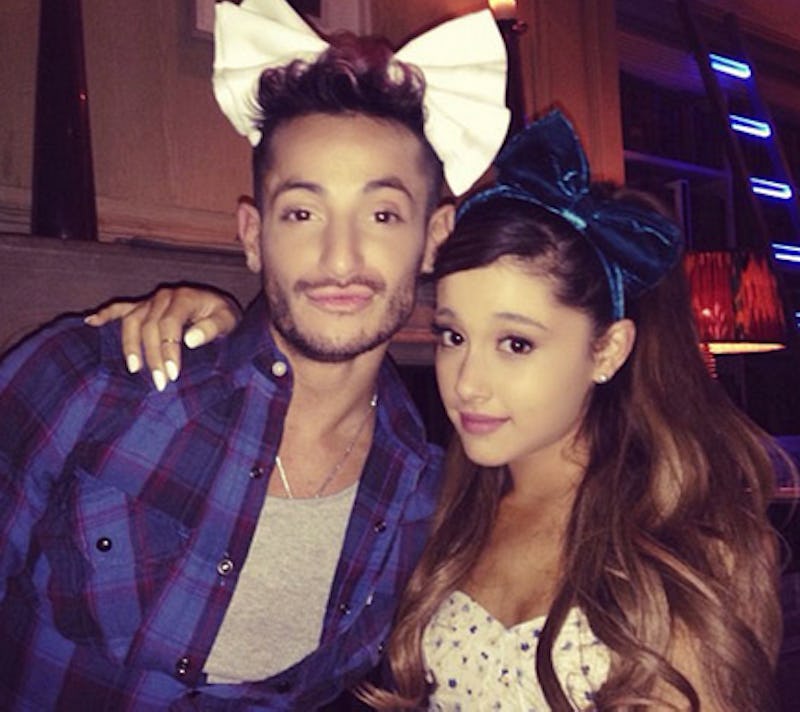 Frankie Grande seems to have gotten the memo that everyone knows he's Ariana Grande's brother. He's gone from mentioning that he is Ariana Grande's brother every five seconds in the Big Brother premiere to barely, if ever, bringing it up at all. It might seem like an annoying plug to casual Big Brother fans, but Frankie actually does have a legitimate reason to be mentioning his sister in his diaries all the time. Frankie Grande and Ariana Grande are incredibly close to the point where it's actually hard to figure out how Frankie is managing to cope in the house without getting to talk to her.
If you look at Ariana Grande's Twitter and Instagram, or Frankie Grande's Twitter and Instagram, both websites are chock full of references to, and inside jokes with, one another. The two Grandes are best friends and their relationship is going to make you jealous that you don't have one like theirs, especially if you have a sibling of your own. Frankie might be Ariana's half-brother, but you'd never be able to tell that they're "half" anything. They are each other's biggest cheerleaders, biggest source of support, and biggest source of comfort.
But don't take my word for it. Here are 11 times that Ariana and Frankie Grande proved that their sibling relationship is the best ever.
1. She's been running his Twitter while he was gone.
Frankie Grande has no access to the Internet while he's in the Big Brother house, so those following him on Twitter might have been confused to see his account releasing a steady stream of tweets. That would be Ariana Grande, using Frankie's Twitter to encourage people to vote for him for Team America and to keep his Twitter followers updated while he's gone. Aww!
2. She ships Zankie, too.
Although Zach and Frankie are going through a rough patch at the moment, by far the most popular showmance for Frankie on Big Brother is pairing him with Zach Rance — known as "Zankie" by fans. If you needed any more reason to want those two together, look no further than the fact that Ariana Grande herself is totally loving it.
3. He supports her no matter what.
Frankie Grande didn't let a little thing like being trapped in the Big Brother house stop him from supporting Ariana Grande in her music career. He was caught on the live feeds telling his fellow guests to buy her latest single "Break Free" on iTunes when they got the chance. Now that's dedication.
4. They have the cutest baby pictures.
Frankie tweeted this picture as one of his many Throwback Thursday posts, because he clearly wanted to break our brains with cuteness.
5. No, seriously, the cutest baby pictures.
Seriously.
6. He came with her to meet her boyfriend, Jai Brooks.
Ariana Grande met her now-boyfriend Jai Brooks online before they ever met up in person. She brought Frankie Grande with her to film the epic moment when she and Brooks did meet — and it was almost as cute as their baby pictures. Almost.
7. They wear matching costumes.
At any given opportunity, you can bet that Frankie Grande and Ariana Grande will be wearing elaborate and matching costumes just for the hell of it.
8. He gushes about her constantly.
Frankie tweeted a New Years' message to Ariana Grande that said, "What can I say about my little sister? Ariana, you make me prouder and prouder every day. You ground me when I'm up amongst the clouds and you lift me up when I'm down on the ground. Thank you for the example you have set and the strength you have given. 2013 was huge and 2014 will be monuments! And I'll be for you as I know you will and have been for me. I love you. I thank you. Happy New Year, Ari!"
9. They are the king and queen of selfies.
Enough said.
10. They both love their grandparents.
It's near impossible to go near Frankie and Ariana Grande's Instagrams without seeing pictures of their Nonna and Grandfather. There's respecting your elders and there's revering your elders; the Grande siblings definitely do the latter.
11. They both look amazing with dyed hair.
Does anyone even care what their real hair colors are anymore? I didn't think so.
Image: FrankieJGrande/Twitter; arianagrande/Instagram; FrankieJGrande/Instagram; Tumblr (1; 2)