'Exodus: Gods and Kings' Trailer Has a Problem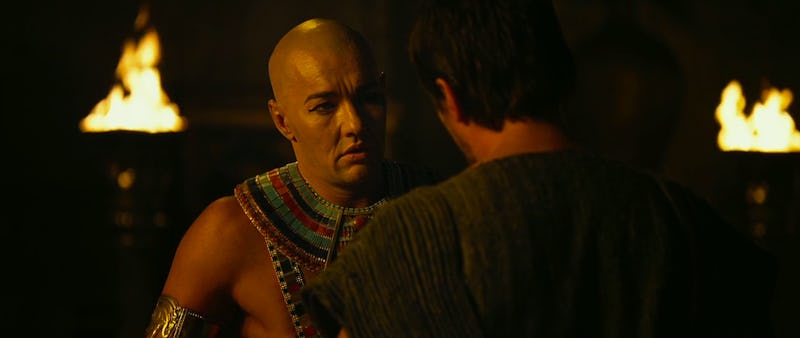 Ridley Scott is back to entertain us with a new, Gladiator-esque film. The first trailer for Scott's Exodus: Gods and Kings just premiered, and while the trailer has more than a few things going for it (Christian Bale! Awesome special effects!) there's one thing that is somewhat troubling in the trailer — the film's apparent lack of accurate racial casting.
Exodus: Gods and Kings tells the story of Moses' hand in leading the Israelite slaves out of Egypt. The film acts as a sort of homage to the biblical epics of the past, such as The Ten Commandments. With modern filmmaking technologies, these biblical stories can truly come to life on screen (the parting of the Red Sea is briefly shown in the first trailer.) Unfortunately, while Exodus: Gods and Kings may have improved upon older Bible epics' special effects, one thing that continues to disappoint is the casting of white actors in non-white roles.
Though the film is set in Egypt, the film's top billing are all white actors, including Breaking Bad's Aaron Paul, The Great Gatsby's Joel Edgerton, and Bale. Perhaps most notable is Sigourney Weaver's role as Egyptian royalty Tuya — not exactly a racially accurate casting choice.
Exodus: Gods and Kings is hardly the first film in recent memory to portray non-white characters with white actors, and that's part of the reason why it's so disappointing. There are already so few parts available for non-white actors that it's frustrating to see Hollywood white wash the stories that are specifically about an underrepresented race.
The 2010 film The Last Airbender cast two white actors in roles originally developed for Asian actors. (It didn't help that the non-white actor that was cast in the film played the villain.) Later that same year, Jake Gyllenhaal was cast as the lead role in Prince of Persia: Sands of Time. Disney's The Lone Ranger came under fire in 2013 for casting Johnny Depp in the role of Native American Tonto, a role that Depp quickly excused as acceptable given the actor's alleged Cherokee background. Apparently, no one has learned their lesson, because the upcoming live action Pan movie — a re-telling of Peter Pan — cast Rooney Mara as Native American Tiger Lily earlier this year.
It's a catch 22 — if we want to see non-white actors as big Hollywood names, someone needs to start casting them in roles with breakout potential. Let's stop slapping spray tans and heavy makeup on white actors and start using the minority talent that exists — it's clearly out there... even if films like Exodus: Gods and Kings refuses to use it.
Check out the trailer for Exodus: Gods and Kings below.
Images: 20th Century Fox (2)